6 Hours of OC, Nov. 5, 2005
by Mario Correa

I like races that are close to home. Just get up, pick up the support crew, setup and start racing all within two hours of leaving home. My friend, Gillian, agreed to help me out in the pit for this one. Gillian brings me good luck when it comes to avoiding mechanicals.

As my last race of the year, Lynda had this one scheduled as an experimental race.
The goal was to have fun and practice a different approach. Now having fun and trying something new don't necessarily go together. I was a bit hesitant about the whole thing because experiments often have undesirable results. Nevertheless, if Lynda says we're going to try something then we're going to try something and I know it'll payoff at a future race.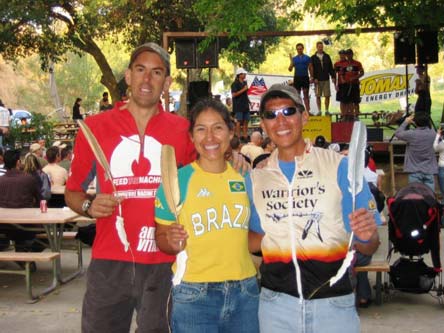 The race got underway after the shortest Le Mans start I've ever run. I like that. The first few laps went by in a flash since the course is only 4.6 miles long but with 1,125 vertical per lap they'd be getting longer as the race progressed. I'm starting to feel uncomfortable with the different approach after awhile and I'm itching to revert to my normal way of racing. I convince myself that I've got to stick to the plan since I'm collecting data. "Yeah. I'm collecting data." A couple more laps go by and I'm having a harder time trying to stick to the plan since it doesn't feel natural. So I decide to listen to my mp3 player and try to go with the flow. That worked for a few laps then I was back to where I started. I was definitely not enjoying the experiment and was thinking the whole thing was a waste of time, "this sucks!" But thanks to the cheers of my teammates and club members along the course and encouragement from friends like, Dean Scheetz & Manuel Prado, I kept on…"I'm collecting data." My mind started to wonder with a couple of hours to go. I was thinking of the races I went to this year; Old Pueblo, Temecula, The NORBA 24 Hour Nationals, The Puff, my whole Transalps experience, the Transrockies disaster where my partner quit on me on day four (I still have to post that race report), the Bootleg race… I rode the last lap wondering where I'd be applying what I learned today…"Maybe the Rockies, Costa Rica or Alps. Yeah that's it---the Alps." In the end, I was six minutes off of first so didn't get the win but I'm happy with the results.

As always, I couldn't have done it by myself. Thanks to:
Gillian for being my support crew – No mechanicals!!
Tim from Switchback Cyclery for working on the bike in the pit
Lynda – I can't say this was a "fun" one but I know we're going to rock in Europe next year!
All my teammates and the club members that were out on the course

-Mario