NORBA 24 Hour Solo National Championship
May 28-29, 2005
By Mario Correa

I wasn't planning on doing this race until my buddy Shaun convinced me that I should try it. That was back in April. The Wednesday before the race I'm stuck on the freeway in LA traffic and it doesn't look like I'm going to make it in time to pick up Shaun, head to the airport, park the truck, catch the shuttle and check our gear in. All because I forgot to pack a jacket and had to drive back home after work. This isn't starting out well...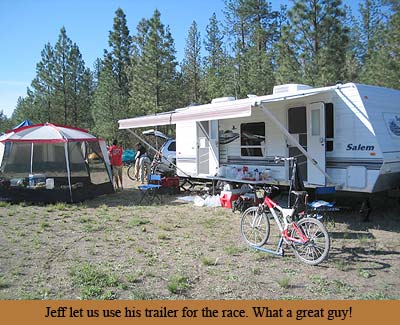 Finally get to the ticket counter and a new employee is telling us how much it's going to cost for our overweight and oversized luggage. "How much did you say?!" Ever the sweet talker, Shaun was able to get our fees down to something more reasonable and we saved over $100. Maybe this isn't going to be so bad after all.

The next morning we're putting our bikes together and Shaun notices that my rear derailleur hanger is broken. Darn. I was hoping my bike would make it through one more race. It's been falling apart the last 2 races...literally. For example, I've actually got zip ties holding the bottle cage to the frame. I was supposed to have a new bike in mid-April and I'm still waiting for it but that's a different story. We head out to find a funky looking 2002 S-Works FSR rear-D hanger...in a small town in Idaho. I couldn't believe our luck when the guy at the first bike shop we found, Mountain View Cyclery & Fitness, and had one in his own personal stash. We're back in business.

In the next 36 hours, we pre-ride the course twice (once with Monique & Ron), stop by a store to get food and a post race six pack for each of us, visit with Shaun's in-laws, get some last minute stuff at REI like the swimsuit edition of Triathlete magazine, grab a spot in the solo pit area and setup.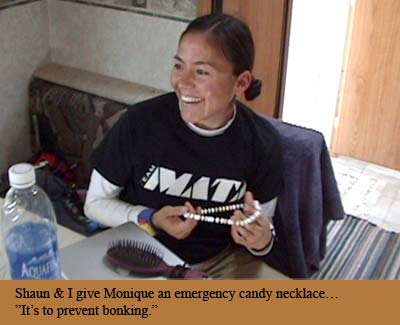 The morning of the race our awesome support guy, Jeff, is getting everything organized and going over details as we get ready for the race. It's 10 o'clock and the temperature is rising so we're (Jeff, Shaun, Monique & Ron) hanging out in the RV trying to stay cool as we wait for the pre-race meeting. I'm trying to convince Monique and Shaun, it's her first and his second 24 hour solo race, that it's all about the Le Mans start. "If you're not in front in the run then you shouldn't even have registered for the race guys." =)

Monique, Shaun and I are in the second row of racers behind Tinker, Chris Eatough, Cameron Chambers, Nat Ross and Mark Hendershot waiting for the start gun and I'm telling Shaun that I'll block for him in case someone tries to pass him up..."I'm telling you dude, it's all about the run. " =)

So the gun goes off and we're on our way....first lap, second lap (damn it's getting really hot)! Third lap and sun is beating down on everyone. I'm getting a little light headed but it's manageable. About 2 miles from the start/finish I lose a contact. Crap! At least it's not as bad as seeing double (that's happened to me before as the result of a bad crash in a race down in Costa Rica ...but that's a different story). Fortunately, I didn't forget to bring a second set and I'm off on my fourth lap. Jeff is doing an awesome job and it's like he's reading my mind because he's got exactly what I want ready when I come into the pit.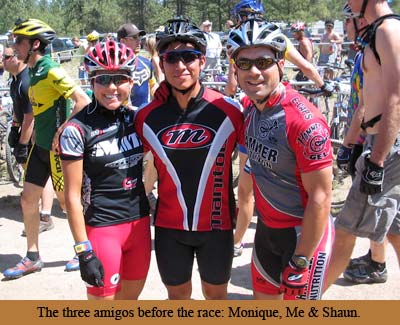 The course is great and I'm having fun on laps 5 through 8. It's the same course and same length that's been used for the previous two years. Each section has a name, like Devils up, Devils down, or Nurse Ratchets revenge, and a sign and by now I've memorized all of them....the fun sections, the fast ones, and the tough one...Stone Temple. On lap 5, another solo tells me that Nat Ross had crashed and is out. That might have been him on that I saw on the course as other riders were attending to him. That sucks. I hate crashing in a race.

On lap 7 or 8 I have to put on my lights but I don't really have to use it until the following lap since it doesn't get dark until late. Somewhere along the way I realized that Shaun is helping Jeff in the pit when I come in. Maybe he couldn't wait to open up the post race beer. That's no fair man!! I'm stuck with water and powder. The night laps are going by fast and surprisingly it's pretty warm out on the course. It really must have been a hot day! Sometime during the night Ron tells me that I'm in third. Ok, I just have to keep on doing what I'm doing. I have a scare on the lap right before dawn. I switch batteries and I didn't notice until I was out on the course that my battery light didn't have much juice. I start having flashbacks of the Temecula night lap ordeal, the Old Pueblo, and the Whistler light issues. Crap!! So that lap I turn on my emergency LED light on the climbs and some of the flats. Fortunately, I make it back to the pit without a problem.

It's not until one of the morning laps that I see Monique on the course for the first time since the start. We actually ride together for more than half a lap. She's looking good and as strong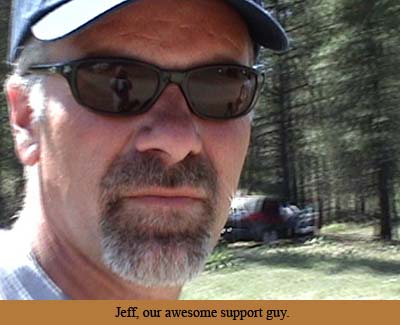 as when she started. The morning laps go by quickly but my feet and my arse are feeling the effects of hours of racing. I hate the Stone Temple section...a slow rocky, bumpy, arse pounding, elbow & wrist jarring section. Who the heck thought that would be a good idea to have a part of the course? "Rolling rolling rolling keep my wheels a rolling... gotta freaking rawhide!" Ye haw!

Sometime during the morning Shaun had hopped back on his bike and kept Monique company on her last three laps. I happened to pass them on my very last lap, my 21st and Monique's 19th. What a performance in her very first 24 hour solo race!

As soon as I cross the finish line for the last time someone tells me, "We have some friends that would like to talk to you." "Cool!" It happens to be the drug testing crew. The top 3 men and top 2 women will be tested. I have to drink half a gallon of water before I'm ready to submit my sample. I'm thinking the whole thing is going to be interesting since I've only heard/read about this type of thing. I have absolutely no clue what's on the banned list. (After I got back to LA, I checkout the USA Cycling site and found some info.)


So I get into the RV and someone actually has to watch me, yeah watch me, give a sample...."Ok here we go... oh, maybe not. Sorry. Stage fright I guess. Ok here we go... success!" I'm dehydrated as hell. Then it is on to the questions: "Have you taken any vitamins or supplements in the last 3 days?" "Ummmm. (The lady is asking someone who at this point is really having a hard time remembering what he ate for breakfast the previous day. So I'm thinking to myself, 'I have vitamins but did I take any? Shit I can't remember. I don't think so. I had Ensure and it has vitamins but it's not a vitamin per say.' )
"No."
"Any blood transfusions?"
"No. (That one is easy)"
"Any medications?"
"No. (Hey this isn't so bad)"
"What about supplements?"
"Supplements?"
"Have you taken anything else?"
"Do electrolytes count?"
"No. Anything else?"
"Oh, yeah. Let's see. Tylenol-my toes were killing me, still are."
"When and how many?"
"Today. Ummm...not enough. (Crap! I can't remember how many so I gave the best estimate I could)"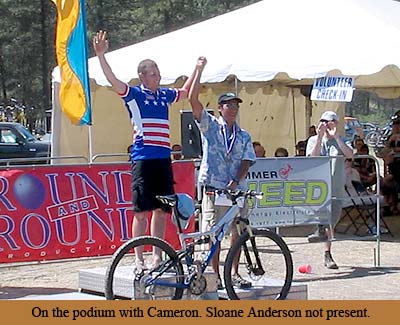 So that goes on for a while then I ask, "What's on the banned list of substances?" I get a blank stare and she tells me to look at the USADA or WADA site. "Ok, thanks" I'm tempted to ask a stupid question like "Is yohimbie on the list?" but Nurse Ratchet here looks far too serious and probably wouldn't be amused by that. That would probably get written down somewhere in a comments section....subject mentioned yo-him-bie. (Later I realized that I forgot to tell her about my leg cramp pills that I picked up from Whole Foods. It's probably nothing. Unless it's got some sort of contaminants then I end up being mentioned in an article....mountain biker stripped of 3rd place because of doping. That would be pretty embarrassing and what could I say? "The supplements I was using were contaminated." That would be freaking ironic.)

Although solo 24 hour racing is all about one crazy person riding in circles, a solo couldn't do it without help. I'd like to thank the people that helped me out in this race.

Thanks to Shaun for all the help with support, bike maintenance, taking care of logistics and so much more.
The Kobinator (Lou Kobin) for the great tips you always give me.
Gillian for the lights, they made all the difference.
Jeff for the support, the RV, and your generous hospitality. You Da Man!
Lynda Wallenfels for the wonders you've done for my racing.
And Monica, you're awesome baby!

Next up: The race with some of the best singletrack I've ever ridden, the Cascade Cream Puff 100.

-Mario