Team Fresh Air Experience & The Adidas Mighty Minny Team
Do The Transalp Challenge - Part 1
July 16-23, 2005
by Mario Correa
Difficulties are meant to rouse, not discourage. The human spirit is to grow strong by conflict -William Ellery Channing:
This race tops all my previous races with respect do dealing with obstacles, adversity, and less than ideal circumstances. Up to this point, my first time to Costa Rica back in 2002 was the most challenging race both on and off the course. My midnight flight was cancelled a few hours before I was supposed to board. Once I got to CR my gear didn't arrive. I barely made it to the airport before it closed the night before I had to catch the bus headed for the start in a little surf town called Jaco. Once the race started, two hours into it, the pivot bolt behind the chainrings comes out and I had to deal with that for two more days. I crash hard on day 2 and that eventually caused problems with double vision. But I finished. Now I thought that was bad, but my partner for this race, Fraser Atkinson, told me his experience of his first La Ruta race that was also in 2002 and my experience pales in comparison. For this race we were facing all challenges together.
Prerace
"I knew I was going to take the wrong train, so I left early." -Yogi Berra
Getting to the airport and checking baggage in went smoothly this time around. The fun didn't begin until I got on the plane (I'm flying Air India) and discovered that I was within three seats of three babies. The crying started while boarding and didn't stop till after dinner. Note that we were sitting on the ground for 40 extra minutes while something with one of the engines was being fixed. So we're finally taxing and an annoying bell is going off the whole time. This flight happens to have a lot of German passengers (first stop is Frankfurt) and some of them start freaking out calling the terminal and airport officials trying to get the plane to stop to figure out why the bell is going off before we take off. The Indian passengers, on the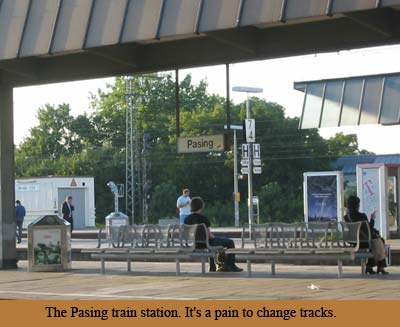 other hand, are wondering and asking the German passengers what their problem is, they just want to get on with it. Keep in mind that this is an Air India flight and in the airline magazine that I'm browsing through I see and ad with basically the following text, 'Come soon and enjoy the monsoon'! ( As of the writing, a recent monsoon in India killed about 900 people at last count). Okay so there are two different concepts of danger here. The tension is very high and I was sure a fight was going to break out. "Oh man it's going to be one of those trips!" We get off the ground and I'm ready for dinner. The great thing about flying Air India is the food, Indian food is my favorite type of food, and the Bollywood movies. Unfortunately, the Aishwarya Rai movies were only being shown in first class so I slept.

I get to Frankfurt and nearly miss my connection flight to Munich. I make it to the gate as the last people are boarding. Whew! Turns out that I really didn't need to rush since one of the engines on the plane has a problem so it's almost an hour before we get on another plane and are on our way. Finally get to Munich so all I have to do now is get a train ticket to the little town of Mittenwald where the race is going to start. It only takes me forever to find a place where I can get a ticket. I sort of understood what the lady told me about caching a certain train and that I have to transfer at some place called Pasing and that I'd have to do it fast because there is only ten minutes between the two trains. My German is limited to a few words: Danke, Bitte, Guten Tag, Farfugnugen and the all-important wiesbeer (wheat beer).

It's 10:22 pm, German trains are usually on time to the minute, when I arrive to Mittenwald, practically the last person on the train. I had bought a first class ticket but later I found out that I was riding in second class. Oh well. Anyway, the train station is empty and the one taxi that was waiting took off when I stopped to look at a map of the town. It was of no help.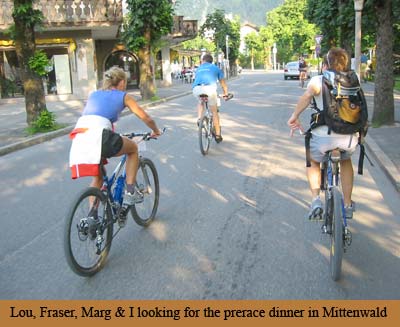 Sooooo. I pull out the name of hotel that I had scribbled on a piece of paper before I left my place 20+ hours earlier so I can try to ask directions from a couple sitting on a nearby bench. No luck tying to communicate so I'm heading down the street towards the center of town with my heavy bike box and gear. Not good. "Ok if I don't see a taxi in the next 10 minutes I'm pulling out the sleeping bag and sleeping on the grass that I saw back at the train station." I flag down a taxi and get to the hotel. It's probably the hotel furthest from the station and up on a hill. Success! Sort of... I'm starving. I realize that I haven't eaten since breakfast on the plane, but I'll have to wait till the morning.

Fraser was supposed to get in at 10 on Thursday, but he never checked in (he had problems with his flights and had to stay in London). I meet Marg when I'm waiting for Lou's train, she is Lou's partner for this race. They are one of the 10 Adidas team members and are unofficially known as the Adidas Mighty Minny Team. After dinner we head back to the hotel to see if Fraser's in but no luck. It's Friday morning and still no Fraser. Maybe I'd better start thinking of possibly starting the race alone. Anyway, the three of us register, stop by the Adidas tent at the event Expo so Marg & Lou can get/exchange clothes, and then head back to the hotel so we can go for a spin. Fraser gets to the hotel as we're leaving for our ride.
Day 1 (Saturday) Mittenwald, Mayrhofen - 111.74 km, 2184 vertical meters.
"We made too many wrong mistakes" -Yogi Berra
Since our hotel was up on a hill and very far from where we need to leave our stuff we called a taxi to transport bike boxes, suitcases, and TA gear bags for the four of us. Mistake #1 - Fraser and I dropped the gear bags off where everyone staying in the TA camp was dropping off their bags. We should have dropped them off where the people staying in hotels were leaving their bags. There weren't any signs but we should have asked. Mistake #2 -- we got in line to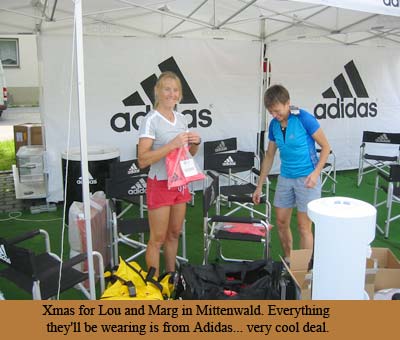 check into the start blocks a little too late so we're in the very very back at the start. Looks like were going to have to start working our way through at least 350 teams as soon as the race starts. Lou and Marg are up at the very front, being one of the Adidas teams (the main race sponsor) has it's perks.

We hear the gun go off above ACDC's Highway to Hell that's playing, but it's minutes before we start moving. I didn't see the time on the clock as we pass under the start banner but we immediately start weaving through traffic; left side, right side, seems like riding sidewalks is fair game here in Germany so we do that too.

My legs feel like crap on the first hill and I'm trying to keep up with Fraser as he makes his way though the crowd. Fortunately, that was a small climb and I still have some time to warm up before the first big climb. I tell Fraser that he'll have to slow down just a little. We're just trying to get away from the big crowds because we've heard that the Euros aren't good technical riders... mostly roadies (no offense to the roadies). Just as we're talking about that the guy right in front of us takes a turn too fast and slides across the road. "See what I mean? How silly is that?" We catch up to Lou and Marg about halfway up the first climb so I know we've gone through a lot of traffic. On the backside I realized what everyone has been telling me about the Euros technical skills. Now I'm not that great at the downhills compared to some of my teammates who can fly down the technical trails, but I'm telling you I felt like a downhill champion passing riders like it was nothing! When we get to the first aid station at the base of the second climb it starts to rain hard, Costa Rican hard. We're riding with Katrin (former German national champion) and her partner for most of the second climb. By now my legs are feeling good and I'm ready to start hammering the rest of the climb but Fraser tells me not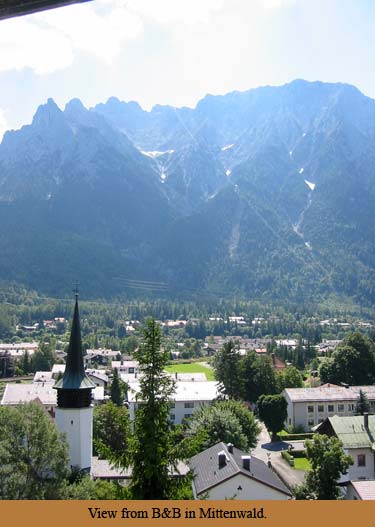 to up the pace. That's fine, as we're not doing badly. Lou and Marg catch up to us at the end of the downhill and we ride together in a pack of about 20 to the finish. We thought about breaking away and sprinting to the finish but we were sure we were in the top 100 so we decide to cruise on in. Mistake #3 - we assumed block A would be for the first 100 teams. It was only for the first 50 so we'd start in Block B the next day.

One stage down and seven more to go, but first we have to figure out where we are staying. We didn't write that down but Fraser thinks he remembers so we head off to find the hotel. Find the hotel but our bags aren't there. Hmmmm. We aren't even registered at the hotel. Not good. "Ok so maybe this isn't the hotel." 'I'm sure it is.' "We have to find the info booth at the Expo." So we go back to the finish/expo and to find the truck with the gear bags but first Fraser needs to find a WC. So I'm standing out in the cold for 20 minutes and I'm starting to get a little mad. "What the hell is taking so long?" This was a hint that all was not well with Fraser. Finally we get back to our search and find the truck but our bags aren't there. The people there tell us it's on the way to the hotel and they confirm for us that we are staying at the hotel we just left. Back at the hotel we check in and decide to eat in the downstairs restaurant. We are totally soaked and I'm sitting at the table shivering as I'm ordering. Fortunately, the owner gives us some jackets to keep warm as we eat. While we're eating, two hours after we've finished, we get a phone call telling us that our bags are at the Transalp camp. That whoever dropped off our bags in the morning dropped them off in the wrong place. Crap!! Now we have to go find the camp, bring our HEAVY bags back to the hotel, which is not close to the camp, and find Lou & Marg to tell them about the bag situation. After splitting up and another hour of running around Mayrhofen we get everything settled. Whew! It was definitely not the smoothest first day of a mutilday race that I've experienced. We hang out for a while at L&M's mansion of a hotel room before heading out to grab a second dinner. Yeah L&M are racing in style with pasta as soon as they finish, post race massages, Adidas mechanics, a private bike wash, and the list goes on... but hey they're very very good and deserve it.
Day 2 Mayrhofen, Neukirchen - 85.72 km, 3427 vertical meters.
"If you're going through hell, keep going." -- Winston Churchill
The plan for today was to get to the line early, move up towards the front once we started and keep a good tempo for most of the day and then up the pace on the second climb. The start blocks open at 7:15 and by 7:18 we are lined up in the first row of block B. So far so good. There's a controlled start to the base of the first climb that is just outside of town and we're riding with the first 40 or so team. Then we hit the climb. It's much steeper than I expected and my pace is faster than I had planned but I decide to keep it. L&M catch up to us after a short while and I'm looking forward to climbing with them, they're both very good climbers. As I'm tagging along Fraser tells me to hold up so I pull back. "Ok it's not so bad, the plan is to go hard on the second climb anyway." I keep riding in front and I can see Fraser at the switchbacks. Pretty soon I don't see Fraser but I keep riding at my own pace... I'll stop at the top. I don't have to wait too long at the top and when Fraser comes by and I'm really looking forward to riding fast along the rollers across the top. I take off slowly then increase my speed but every time I look back Fraser is further and further back. "Crap! This is supposed to be a fast section." I stop and wait. Once he catches up he tells me that he's already cramping. Darn, were going to have to slow down. We get to the first downhill, "Ok now we can go fast." Wrong, Fraser forgot his gloves so his hands are freezing on the way down. "Shit, now were losing time on the downhill. Ok keep cool it's only the second day and the first climb. Now we HAVE to hammer the second climb."

At the bottom things aren't looking so hot. We're riding slowly to avoid cramping up all the way to aid station one. We spend time, more than normal, refueling and I'm thinking that we can up the pace now. After aid one there's are a few little climbs and every time I look back there's more distance between Fraser and I. "I wonder if he's bonking?" A little bit later, ' Mario, I think I'm bonking.' Oh shit, it's damage control time. We are so far from the finish and have another big climb ahead that I'm not sure that we'll make the 10 hour cutoff time let alone finish the day. After I hear that we stop and I give him all my food and I decide to save one of my water bottles for him. Goal #1: get to the base of the climb. I'm pushing and towing so we can keep moving ahead and he can save some energy for the climb. My legs are definitely getting a good workout. We stop in the shade a couple times to take a break, it's turning into a scorcher! Fortunately some of the locals are out with water hoses cooling riders of and we stop so Fraser can refill his bottles and stand under the hose. I was so glad that we were able make it to the base of the climb. I really thought we weren't going to make it as Fraser was hyperventilating on the tinniest of grades so much so that it was actually scary. A couple of times I thought it would be best to just call it a day, I didn't want my partner to literally kill himself trying to get to the finish. Goal # 2: Get to the top and we're home free (it's a downhill finish today). Again I was pushing and pulling as much as I could without burning out my own legs or bonking (remember I gave up all my food.) We get to aid station 2, part way up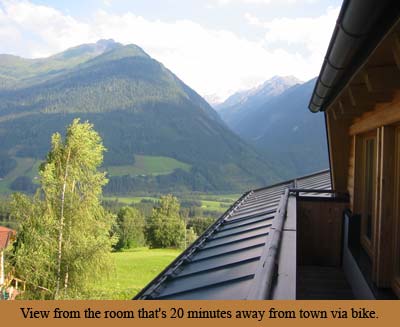 the climb, and we take a good long stop before tackling the hike-a-bike. During the hike-a-bike I can really feel my ankles starting to bother me. Not a good sign especially since tomorrow has a long hike-a-bike section. I'm happy to see Fraser come alive on the downhill single track and we're at the finish line in no time! I've bonked before and know how hard it is to keep going and I'm absolutely amazed that Fraser was able to complete the stage... it took a lot of will power and it must have been absolute hell.

While Fraser was resting I went to find our hotel. Can you believe that the hotel was 20 minutes out of town by bicycle and up on a hill! Of all the freaking days!!!! So you can imagine me standing in the middle of the street for a long time vocally announcing my displeasure with the whole situation. I was livid. Lou and Marg were lifesavers. As part of the Adidas crew they usually stayed a hotel close to the start/finish/expo area. We called a taxi for Fraser from their hotel and I stayed to wash the bikes (got to use the Adidas bike wash thanks to Lou). I couldn't find the bike park so after 20 minutes I headed back to L&M's hotel stored the bikes there, showered, and then called a taxi my hotel. Fraser had gone back to town to see the Transalp doctor and get an IV. We went to the hotel restaurant when he got back. The doctor gave him some medication for his stomach and told him wiesbeer would help calm his stomach. Now that's my kind of doctor! I ordered a large wiesbeer while Fraser ate and I waited for a taxi back to town. I was going to get some breakfast for him to eat in the morning and some real food to take on the ride as well as have dinner with friends.

9pm and I'm riding my bike back to the hotel with bags in hand. Without the moonlight I would have had a hard time reading the signs and would have probably gotten lost but I make it back without much problems. I tried my key in the elevator but that doesn't work so I'm looking for the hotel entrance that Fraser showed me earlier. "There it is." I open it up and it's the laundry room. (Turns out when the lady showed me my room and I tried to explain to her that I didn't have a key because my partner went back to town, she gave me hers... a master key.) I'm almost to the other side when it hits me, "I can wash our stuff." This is perfect since we each have about 6 days worth of clothes and we'd have to wash anyway. So I'm checking out the industrial machines and find one that I think I can operate. The others have far too many buttons and knobs. It only took me three times to figure out where the soap was supposed to go. =) Head back up stairs for 30 minutes to rest, it's about 11pm. I get back to the laundry is only 2/3rd done! These machines take forever. I figure out how to rinse and spin then toss them in the dryer for 20 minutes on air dry or at least that's what the picture looks like. By now I'm tired so I turn off the lights and turn up the MP3. It's not long before I hear the door open and the lights come on... uh oh. Guess who is at the door with her husband and daughter? Yeah the lady that gave me her key. She had this shocked, puzzled, not so happy look on her face and I'm thinking, "Oh crap." She talking about 100 words a minute as she walks towards me and I can't understand any of it, but I get the gist of it. Basically, "You smartass you used my key to get in here right?" And I point to my clothes in the dryer, "I'm just drying my cycling clothes that's all." Now her husband who's standing quietly behind her thinks the whole thing is funny because he has a huge smile on his face. The next morning, after checking out Fraser told me that we were charged 3 euro for using the dryer. =)
Day 3 Neukichen, Lienz - 99.08 km, 2825 vertical meters
"Be kind, for everyone you meet is fighting a hard battle." --Philo
The plan for today was to spin the two climbs and recover for day 4, a hard day. I rode to the start line while Fraser caught a taxi into town. The taxi made a small fortune off of us at 11 euro per trip and we make six trips! Anyway, we started in the last block today and once we started rolling we kept an easy pace. We hopped on the back of a paceline all the way to the first climb, spun that and caught another paceline to the second and major climb of the day. Just before we started to climb we had to stop and put a powerlink in Fraser's chain. The climb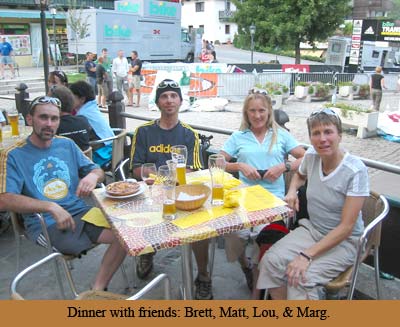 is steep, not something you want to climb the day after bonking. So we are taking our time and I'm worrying a little bit about how my shin will hold up today with the hike-a-bike that awaits us near the top.

We start the hiking and it doesn't seem so bad. I look up and it's about 15-20 more minutes. We get to the point I spotted before and I realize that we have to go across the side of the mountain but we will be heading down and it looks like sections are rideable. Maybe another 15-20 minutes to where I see the riders disappearing, "that's probably where we'll start riding again." We get there and I see riders far far into the distance. "Holy shit! That's a least an hour." Ok so this is going to be a lot longer than I thought. With every step I'm being careful where I place my feet. I don't want to tweak anything. After crossing a little bridge we're near the spot I saw an hour before. I look into the distance to see where we're headed and it's about another hour. This hike-a-bike is making the hike-a-bike in La Ruta seem like a piece of cake. At least there it's hike, push, hike, carry, push, ride for up to a minute then repeat. Here is hike, push, carry, hike, push, hike and repeat. This last section of hike-a-bike is very rocky and has sections of snow. On the rocky sections it feels like the rocks are cutting through my sidi shoes and I can feel my toes getting raw. "I should have used toe caps today." No one is talking everyone is suffering in silence. We finally make it to the top where there is a little unofficial aid station, some guy carried up a bunch of water, juice and snacks for the riders. Whoever you are thank you so much!!! I don't think I have ever drunk apple juice and orange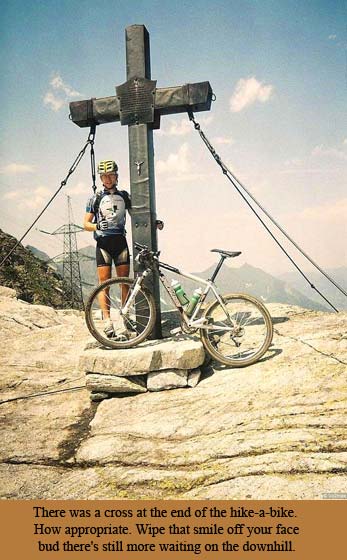 juice faster than I did that day. I forgot all my manners and was grabbing for juice cartons like a mad man so we could fill our bottles and I was stuffing my face as fast as I could with the snacks.

In the next 10-15 minutes I forgot about all the hiking as we hit the snow. There were three grooves in the snow, two for shoes and one for the bike. Hop in and slide down. Woo hoo!! In some sections it was possible to slide down snow that wasn't touched yet. Now that was fun. People are actually taking now, laughing even. I was doing the ski in MTB shoes with your bike to steer when I fell. Ever slide down snow in lycra shorts? It's all fun and games till you start flying downhill towards rocks. Fortunately, I was able to use my bike as a sort of anchor to slow me down and I dug my feet in. So after several hours we're back on our bikes, it actually feels a little weird after so much walking. We get to a downhill section that from the race booklet is supposed to be rideable but I'll be damned if even someone with an insane amount of travel could have ridden it. It was basically scramble as fast downhill with your bike for about 30-40 minutes. We finally get to a road; something we can actually ride. We ended up riding on the back of a paceline into town. What a day. I think Fraser told me we did about 4 hours of hike-a-bike today. Geez! No wonder the lead teams were absolutely livid when they crossed the finish line, cursing about all the hiking.

We thought we had the post race thing all figured out so we went to find a bike wash as soon as we finished. Done. Next, find a hotel and get our bags there. The closest hotel with rooms is 8km away. "No way I'm going, that's too far Fraser. I'm going to stay in the camp tonight." So it's off to find the camp and option 1: shower and eat or option 2: if possible grab our bags, head over to L&M's hotel, and sneak in to sleep on the floor unless they have a mansion-sized room again with extra beds. Today was the first day we were going to stay in the camp anyway but once we saw that it was a big gymnasium... . "Screw this." 'Bed & Breakfast.' "Definitely." (I had done a gym for one night in the Transrockies the previous year and there was no way that I was going to do that again.) We had spotted a few Bed and Breakfast places while looking for the camp so we thought we'd grab the bags and check in to a B&B instead of tying to find out where L&M were staying. Unfortunately, we can't find our bags in the gym. After a few calls from the race personnel at the camp we learn our bags are at the train station. "WTF? A train station? What the hell are they doing there? Shit! Not the hunt for our bags again." While looking for the train station we see Lou and follow her to her hotel. There's only one way in and out so there goes option 2. Before we find the bags it starts to rain. Oh boy, day one all over again. We find the bag truck and the people working there call around to try and find us a hotel because they tell us we can't take a few thing in a plastic bag to a B&B and leave our bags in the truck. Bags can't be left in the truck. Hmmm. It looks like we're screwed. If it wasn't raining we could use the tent Fraser brought. They're delivering some bags to a hotel and they'll leave our bags there too. "If you ask nicely they might let you sleep somewhere." 'Greaaaaate.' At the hotel, the manager tells us there are no double rooms. "How about a single? Any spare rooms?" 'Well, there is one room it's very small only for one person.' "We'll take it. I'll sleep on the floor. We'll take it." He gives us the key to check it out. It's tiny. Our walk in closet at home is only a little smaller that this place. After a good pasta dinner and our required wiesbeer, we go back to the "room" and get to bed early... 9pm. Tomorrow is a hard day.
Day 4 Lienz, Sexten - 71.07 km, 3684 Vertical meters
"In the middle of every difficulty lies opportunity" -- Albert Einstein
We lined up late today thinking that it didn't really matter as we'd do our passing on the climb. That wasn't a good idea since the first climb was steep, narrow and only a mile out of town. There wasn't enough time for the pack of 1000 riders to spread out so climbing was more of a balancing act since it was slow going and there wasn't much room between riders. We were able to work thorough traffic and when we got to the top we weren't doing so bad judging from the teams we were with. I could tell that Fraser was feeling better than the day before but it looked like he was still struggling. There was a nice section of single track before some fast fire road downhill. Then it was on to some rollers and flats that would lead us to the second climb. There was an aid station at the base and I filled up Fraser's bottles, handed him some food and told him to get started on the climb, I'd catch up to him. Before we had pulled into aid 2 there was a large group leaving and I recognized a women's team that was in the top 5. Once I caught up to Fraser I decided to put the hammer down and see if I could catch up to L&M, say hi. It would also be an opportunity to do some training. So I'm flying uphill passing teams like they're standing still and I get to a point, a switchback, where I can see the top and
there happens to be a bench with a very nice view so I stop there to wait. I wasn't able to catch up to L&M. "That's good they are having a good day." So I'm looking at the view, watching the riders I passed as they see the steep section ahead (it's rideable but many hop off the bike and start pushing) and observing their reactions. "Hey, how's it going?" "Great view huh?" "Hi." Once I see Fraser I start riding again but he's having a hard time so I stop. When he catches up to me I start pushing both bikes up the hill. The ride down is good but I was worried that he'd crash since he was visibly tired and that we'd be out of the race. He came to life again on the single track.

At the finish we're looking for a room again but it sounds like the nearest reasonable room is two villages away. There's a five star hotel (remember that, a FIVE start hotel... not some dumpy little attic or hole-in-wall) that has a room but that's 75 euro each. Upon further inquiry we learn that we can stay in a single. The great thing about it is that it is located only minutes away from the start finish. It finally looks like were going to be able to relax right after the race. We even get to see the tour on TV. In less than an hour we're having pasta and wiesbeer. By 5 I'm done with cleaning my bike, go for a spin around town, and put it in the hotel garage. We've been putting our bikes in the locked hotel garages up to this point without problems.

Everyday after the race there is a Transalp pasta dinner followed by an awards ceremony for the daily winners and overall winners. We've been skipping that due to all the post race issues we've been having, but tonight we are planning to go because Lou and Marg were third today. Woo hoo!! The food is actually decent and I take pictures of the Mighty Minny team on the podium. The awards music here at the Transalp is the same as that used at the Transrockies and anyone who's heard it has it in their head for a day or two if not the rest of the race... We can win the race and the ever-popular Stand Up (for the champions). So I'm humming the former on my way back to the hotel, stop by the garage to check my bike, and then get my gear ready for the next day. That was around 9pm. I find out the next morning that my bike along with several others was stolen sometime around 10:30pm. Yeah, the new sweetness, the brand new custom made titanium Titus Racer-X that I had for about a month was gone!

...continued in part 2

-Mario