Team Fresh Air Experience & The Adidas Mighty Minny Team
Do The Transalp Challenge - Part 2
July 16-23, 2005
[click here to read part 1]

By Mario Correa
Difficulties are meant to rouse, not discourage. The human spirit is to grow strong by conflict - William Ellery Channing
Day 5 Sexten, San Vigilio - 93.64 km, 2833 Vertical meters
"Always bear in mind that your own resolution to succeed is more important than any other one thing." -Abraham Lincoln
The alarm goes off at 5am and by now we have the whole get the gear together, pack it all up, drop the bags at the front desk by 6, and grab some breakfast routine down. Fraser is the first one to take his bag down this morning and as soon as I get downstairs he mentions that someone said some of the bikes were stolen. "What? Guess I'd better go check if my bike is still there." I go down to the garage to check it out. My bike isn't where I left it so I check around the garage. No luck. "No Way!!!! No freaking way!!! $*#&#%!!! @#*#$ !!!" I can't believe my bike is gone. My brand new bike…Racer-X…Titanium…with my favorite seat.

My first thought after the initial shock wore off is that Fraser will have to go to the race office and find a partner to ride with today. "We're out, won't even be listed as finishers. Crap, crap, crap." Fraser heads off to the Expo to find out what he needs to do to continue racing while I stay at the hotel and try to figure out what to do next. At least six other guys also had their bikes stolen: Adrian & Ernst of team #226, Claus & Stephen from team #237, and Diego & Thomas of team #135. The police come and each of us has to give a brief description of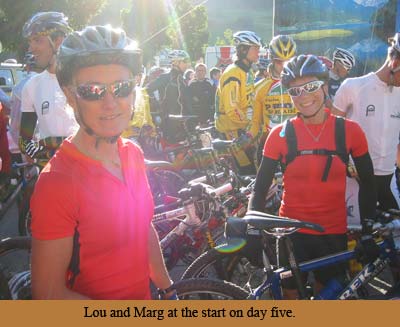 our bikes on a photocopy of our passport. I'd be totally lost without the help of Adrian and Ernst who are translating everything for me. It looks like we have to go to the police station and file a report around 9:30. It can't be earlier because all the police in this little town will be busy directing/stopping traffic for the race (someone had this thought out pretty well). So that's what I planed to do for the day. I thought I might as well change into something comfortable so I took my gear bag back upstairs to pack my sidis, camelbak, and cycling clothes. The only thing that didn't fit was my helmet so I brought it along with my little case that has my travel documents. I have my camera too. I'll take advantage of the situation and get a shot of the Mighty Minis at the start, but first breakfast.

Adrian, Ernst and I eat the usual TA breakfast in the hotel restaurant. We're still in shock about the whole thing and our conversation centers on the races we were planning on doing after the TA. Ernst gets a call while we're eating and says that the race office has arranged transportation for us to San Vigilio but we have to leave at 8, when the race starts. I ask, "So what about going to the police?" Ernst is shaking his head saying, 'They [the race personnel] don't understand things don't work that way.' Around 7:45 we walk over to the race start. Lou and Marg are up front. Lou tells me she so sorry about my bike. I sort of smile, but don't really say anything--just take a picture. Then I go to the race office and tell them my situation. The two young ladies (Anika and I forgot her partner's name) there say I have to find Fraser and tell him to wait at the race office to find a partner to ride with for the day. So I'm off searching the B & C start blocks. The following is repeated several times, 'Where's your bike?' "Stolen last night." 'That sucks. I'm really sorry to hear that.' "Yeah it sucks." I can't find Fraser so I go back to the race office and he's already there. I'm standing around and five minutes before the start Fraser and Anika's partner are telling me that I can still race. "What?" 'Here's a bike. You can race.' (It's a white Intense) I'm looking at them like they're insane thinking, 'You've got to be kidding me. You see how I'm dressed.' "You can race!" "Are you kidding me? I don't have any clothes. They're in my bag back at the hotel." 'The bags are probably gone by now. On their way to the next town.'

Everyone, including the race announcer, starts looking for some cycling clothes for me to wear. I didn't realize that Adrian and Ernst were observing the situation. Adrian asks me what I need and suggests that I use a pair of his shorts and a jersey. So we sprint to an RV where some of his friends have his bag, change quickly, leave my stuff except for my helmet and sprint back. I'm ready to go but the bike has SPD pedals so I ask Fraser if he can ask the mechanics to put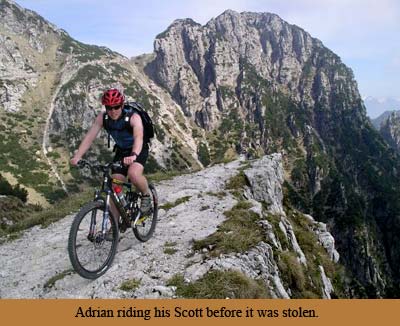 platform pedals on it. I borrow a water bottle, grab a number plate, and go pick up the bike. "Damn my feet are going to get ripped up if I just were these sandals. [My Keen sandals]" I ask one of the mechanics, a young guy probably not more than 20, if he has socks and if I can use them. He obliges and I'm set to go. By now all the racers have left but there are six of us that are allowed to start late and our time will be adjusted accordingly. We're finally off but Adrian and Ernst don't have bikes so they aren't with us. The seat is too high but I can't lower the seat post anymore otherwise it'll be up against the shock body. Oh well. I don't have any tools, no backpack, no gels, no bars, none of my usual stuff and only one bottle, but I really don't care because I'm riding. Fast forward.

We're riding with Lou and Marg. I think they're a little surprised to see me and Marg is more surprised to see that I'm racing in sandals. "Hey Marg check out my shoes." Fraser is moving up and I'm following. It's taking me extra effort to keep up and I'm getting tired. We start bridging to another group and by now I'm getting worked trying to stay on Fraser's wheel. I'm about 15-20 feet back and I'm starting to get mad. "Stupid sandals! This sucks!! This is bull!!! Screw this." I put it in the big chain ring and start hammering. We come up on a creek crossing where there's a crash and confusion. I pass Fraser and keep moving on the loose gravel road. I'm riding on the right side in the gravel while everyone is riding on the left where the gravel has been pushed aside but I'm pissed so it really doesn't matter. I'm getting questions like "Where are your shoes?" "What size of shoes do you wear? I may have an extra pair." I slide in to line for a while a few bikes ahead of Kelly and his partner, a mixed team from Canada that I met before the race, but the group is going slower than I want. I can see one up ahead so I get out of line and mash like a mad man to bridge the gap. A short while later I'm at the base of the first climb. After a few switchbacks I realize the fork has a lock out. YES! Now I can fly! I'm alternating sitting and standing all the while stomping on the pedals like there's no tomorrow. I passed so many teams by the time I got to the top. (Afterwards I check the results and saw that I was riding with teams that finished in the top 30-40 that day.) I was trying to get as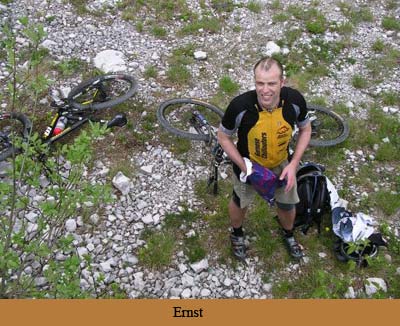 far ahead of Fraser by the time I got to the single track because I'd have to slow down there so I wouldn't be flying off the pedals. I fall in love with the disc brakes on the downhill. I can keep much more speed than I with my V-brake setup. What a luddite! Somehow I bust my chain on the single track. I coast as much as I can before sitting on the side of the trail to wait for Fraser.

One powerlink later and we're riding again. I couldn't have been but 15 minutes when I feel my tire is a little low…flat. The Mighty Minis pass us as were fixing the flat. It takes longer than normal because there aren't any quick releases. Need to break out the allen keys. Damn. You know the drill: take out the tube, put in a new one, pump the mini pump like mad and we're back in business. Now you might have noticed that I didn't mention check the inside of the tire for glass, metal, or thorns. I forgot about that and 5-7 minutes later when we get to a checkpoint my tire is flat again. We're begging for a tube or patches and finally someone donates a tube. I'm going through the drill again while Fraser heads to the WC. It was a long stop at the CP, maybe 20 minutes. "Come on Fraser. I saw most of these people in the C block this morning. We need to get going in case we have problems there will still be people to help us if we need it." Everything seems like it's going well until Fraser tells me that his rear-D isn't working properly. Damn. "Ok this is how it's gonna be huh?" [I'm talking to myself.] "Ok. Let's have it. All of it! BRING IT ON *%$#@& *#&%@# !!! Let's see what you got. *#*@&!! CAN'T STOP US! Can't stop us. We're going to finish today no matter what damn it." When we hit the second climb I rode off ahead. I waited a couple of times for Fraser to catch up then before we knew it we were at the top. It was a screaming decent into town and I'm glad I had disc brakes.

Found a hotel, returned the bike, got a police statement, met up with friends for dinner then finished up with gelato. It was an unforgettable day and once we got going nothing was going to stop us.
Day 6 San Vigilio, Alleghe - 71.89 km, 2805 Vertical Meters
"To fly, we have to have resistance." --Maya Lin
I'm better prepared this morning. I take a bag with my cycling gear so if I'm lucky enough to get a bike I can change quickly, leave my stuff at the race office with Anika and check into one of the start blocks. At 7am no one is at the start office. 7:15 – I'm told that I have to wait for the race announcer to make a statement over the loud speaker. 7:30 – The race announcer makes a request for bikes and mentions that more bicycles were stolen during the night. 7:40 – Some people have come by to offer bikes but they're too big for me, but they are perfect for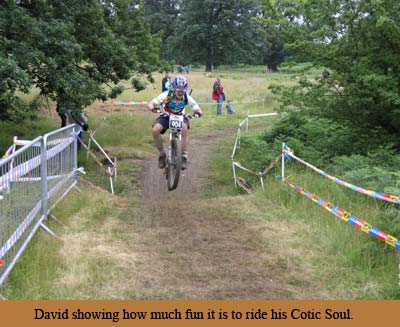 some of the taller guys also waiting for bikes. 7:45 – Still no bike. Maybe I'll have to sit this one out. 7:50 – David, a fellow who I recognize from the hotel the previous morning, tells me that I can borrow his bike, a Cotic Soul, because he will not be riding today. I give it a go and it feels good. "I'll ride it." I grab my bag, run to the nearest alley and change. In the mean time, David had filled my one bottle with water and also gave me his to use. I'm off to check in after I put my tool bag on the bike. I'm only waiting a minute or two before the race starts.

I don't have a plan for today, but I know there are two climbs. As we are riding out of town I'm thinking that the plan should be to get as far forward as possible before the first climb, climb it at a good pace then up the pace on the second climb if we have the legs. I say hi to Lou and Marg soon after we start climbing. I'm making good progress but while I'm shifting on one of the switchbacks I break the chain. I forgot I'm not riding my bike and the shifting is different. It's only about a minute or two until Fraser rides by and gives me his chain tool. Adrian and Ernst say hi as they pass. One powerlink installed and I'm back on the bike working my way through traffic. I catch up to Adrian and we chat for a little bit. I'm glad he and Ernst were able to ride today after sitting out the previous stage. That's when I realize that in the rush to get back on the bike I forgot the chain tool. Oh well. A few minutes later I inform Fraser of the bad news. We pass the Rocky Mountain women's team of Gretchen & Leslie as we approach the top of the first climb. They don't look like they have the same energy as before. That's not good for them but it's good for the Minis. David's bike has disc breaks and I'm having a blast on the downhill. This one happens to have a lot of fist sized rocks covering the road except for the line that has been created by all the bikes. Every once in awhile someone comes screaming down the hill kicking rocks everywhere. "Crazy bastard! I wish I could do that." Anyway, the first aid station comes around sooner than expected. I stuff my face with watermelon as I wait for Fraser – I love watermelon. I leave right behind a team hoping for a little drafting but the road goes up not down. I catch up to a team I recognize from day 2. One of them also bonked hard that day. His partner and I were seeing who could push/pull our teammate up the second climb faster. (We got to the second aid station faster but they made it to the top before we did.) Now both of them were absolutely flying and I was right behind them. We were going so fast though a park that people were screaming at us "Piano! Piano!" Whatever.

I recognized a lot of familiar faces as I started the last climb. I decided to wait for Fraser at the top. I'm having a good time until someone tells me that stuff is falling out of my bag. I lost everything except for my tube. Multitool, tire levers, big air, patch kit, CO2, air chuck. 10 minutes later I catch up to the Minis. "Hey Lou." Then Kelly and his partner Samantha. "Hey guys." Now the top of this climb has some great views and we're riding on a trail of white rock. It looks a little like a moonscape. I get to the second aid station but forget not to cross the timing pad. I think it's an hour penalty. I'm seeing if anyone else crosses without a partner. The Rocky Mountain women's team comes by but only one of them. I start my timer. "Her partner needs to be here in two minutes or we should get the same penalty." Her partner never arrived (Leslie didn't finish the day an was done racing.) After 25 minutes I start recognizing jerseys that I saw at the start of the climb...not too bad. Fraser rolls by after 30 minutes. Seems like somewhere along the way he had to convert is bike to a singlespeed. Fortunately it's not far to the downhill but we're getting passed left and right. On the downhill into Alleghe I see David along side of the trail. "Great bike!!" The finish is flat so I end up towing Fraser across the line. We didn't get any time penalties.

Since we're in pretty late most of the hotels are full and the nearest ones are 8km away or at least that's what I've heard from racers at the visitor center. Even the camp is not in town tonight. I don't believe that everything is sold out so I start riding around town hoping to find a B&B or someone that has a room to rent. Less than 15 minutes later I'm leaving my helmet and camelbak in my hotel room. The balcony overlooks the expo 50 feet below. Getting the bags is a chore. We have to use a mini handtruck to get our bags from one side of this little town to the other. Fraser and I grab some fries and wiesbeer, watch a little bit of the tour then head off to dinner with Matt and the Minis. After gelato it's back to the hotel to get our stuff ready for another day. I stay up late watching James Bond in Italian.
Day 7 Alleghe, Belluno - 71.05 km, 2724 Vertical Meters
"Expect nothing, live frugally on surprise." --Alice Walker
There are only two of us at the race office this morning waiting for someone to donate a bike that we can ride. I'm used to the routine. I've been waiting since 7:15 listening to my mp3 player. I'll be riding with it today if I get a bike otherwise it gives me something to listen to on drive to Belluno. Anyway, both of us are about the same height and could use the same size bike but which one of us is going to get to ride if only one bike shows up. I'm browsing around the team trailers checking them out and I glance over to the race office every so often. Ten minutes till start and still no luck. Hmmm. Maybe my luck has run out today. One of the guys from the race office asks if I've found a bike yet. "No not yet." I follow him to the back of a truck, awesome. Unfortunately, the few bikes in the truck all have something wrong with them,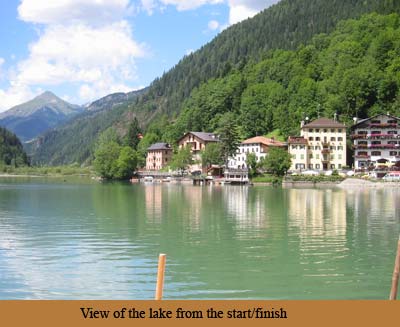 like cracked frames. It's only a couple of minutes from the start and a guy from the German mountain bike magazine, Bike, offers me his bike to ride. Great! It's a Bergamot hardtail. I can ride another day. I recognized this fellow from La Ruta and the Transrockies. Maybe he recognized me too. I adjust the seat height as best I could, but it's still a little bit too high -- it has the biggest lock ring I've ever seen. I can't change the forward/back seat position because of a tool bag that's bolted to the seat rails. So I'll be sitting too far back and a little high assuming I can find some SPD pedals to use instead of the installed eggbeaters.

I run over to the bike mechanics that got me going on day five and ask for SPD pedals. They don't have any used one's and say that I'll have to buy a pair. "Ok I'll buy them but I don't have any cash. Just remember my race number 264." While they're scrambling to find a pair the start gun goes off. "Daaaamn." They're setup about 300 years beyond the start line so I watch familiar faces pass as I'm waiting. I see Fraser pass by, "HEY FRASER I FOUND A BIKE!" He hears me turns around and tells me to catch up. After what seems like an eternity, I'm on the bike squeezing between oncoming bike traffic and the team trailers to get back to the start line so the transponder on my number place can be recorded and my time started. 'Hey you're going the wrong way.' "Ya think? [I gotta catch that clown.]" I get to the start line do a quick u-turn then I'm officially off…DFL. I get the pity cheer and claps. I'm out of the saddle in the big ring riding towards the end of the pack. Fortunately, today starts off with 800 meters of climbing right off the bat. (There are three climbs in the first 25 km with the first aid station being at the top of the third climb.) I'm working my way through traffic but it's very slow until a motorcycle comes up from behind on the left and starts making its way up the road. I jump in behind and am on his tail until the pack of riders thins out and he opens up the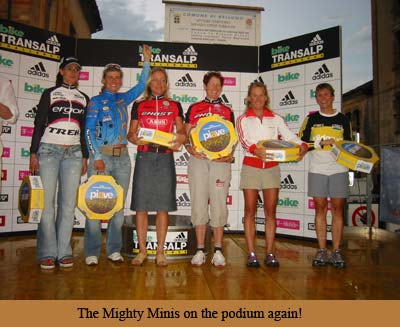 throttle. I catch up to Fraser in no time and keep moving on—might as well get more training in today. We get to gravel road and some sections of the climb are very steep and it's easier to ride in the grass to get better traction. The fun starts on the other side but some of the downhill sections are straight down and I'm wishing this bike had disc brakes. I have to pull so hard on the V-brakes and I'm still moving. I say high to Lou & Marg on the second climb. The downhill is a primitive road like a cobblestone road but much much worse and the back end is bouncing all over the place. I'm having fun on the last climb when one of the guys from one of the teams I pass catches back up to me as pass. 'Where's his partner?' I keep riding and I pass this fellow up as I get out of the saddle for a while…I really miss having a fork that locks out. A few minutes later the same guy passes by but no partner. Hmmm. We make it to the aid station and he turns around and heads back down to the hill. Looks like he was getting in some training too. I make sure not to pass the timing pad and I get my fill of watermelon. The Minis come rolling through and after 15 minutes I see Fraser coming. From here there's a nice fast downhill, some rolling singletrack, more downhill then we get to road and the second aid station. I only have to wait a few minutes for Fraser but we missed riding with a strong group of riders that included Kelly and his partner. We're eventually on our way to Belluno with two other teams and a solo rider. I'm almost taken out by the solo rider as we make a hard right on gravel, about 10 km from the finish. He's sliding to the left right in front of me but I manage to go far enough left up the embankment that I miss him. There's a lot of cursing as we ride away. When we get into Belluno it looks like the three teams are going to be sprinting for 110th place or something. Yeah baby! It's a bit silly but what the hell. We all mistimed it…there's one little switchback we didn't anticipate after we've pretty must had our sprint. But I still think we made it across the line first. =)

I take the bike back to the mechanics to have the eggbeaters put on again while Fraser is getting us a hotel. After a quick cleaning and a few adjustments, I return the Bergamon to the BIKE magazine trailer. Only one more day to go and I don't have to worry about finding a bike to ride.

By the time we're cleaned up and ready to eat lunch, lunch is officially over---many places close at 3pm. So we head to a bar grab a couple sandwiches and order two tall glasses of wiesbeer for each of us. That holds us over until we meet Lou, Marg, and Matt at the pasta dinner. We're all tired of pasta so we decide to eat elsewhere. We end up at a pizzeria. It just so happens that we're seated next to the guy who loaned me his bike today. He tells me I can use the bike again tomorrow if I need it. That's a relief. I can go early and set the bike up the way I want. Tomorrow will be a long day, essentially a road race. L&M have to leave for 20-30 minutes to attend the awards ceremony. They got third again today. Woo hoo!!
Day 8 Belluno, Jesolo - 120.20 km, 1798 Vertical Meters
"Patience and perseverance have a magical effect before which difficulties disappear and obstacles vanish." -John Quincy Adams
Two minutes before the start and I'm at the front of block B with Adrian & Ernst. I'm ready to go. I've waited for this moment since day 5. I finally have a decent bike setup after three days and 263 km—there's nothing that can stop me today, absolutely nothing. Once the tape goes down everyone moves up and were right in with the block A riders. It's a quick start and I'm making my way towards the front. Today I catch up to the Minis just outside of town shortly before our first and only climb. Then I'm off climbing alone, I'll wait for Fraser at the top or aid station 1 whichever comes first. I don't have to wait long for Fraser then we settle in to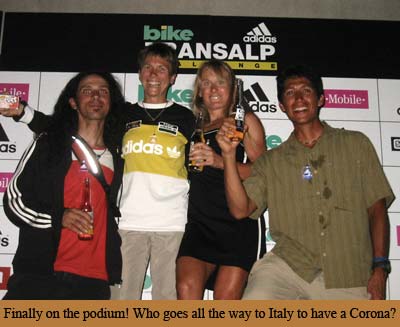 work with a group that grows to about 20 riders by the time we reach checkpoint two. Now the plan was to blow by the aid station so I'm surprised and a little mad when Fraser isn't behind me when I look to see how much of our group is left (about half stopped and half didn't). "What the hell? I can't believe we're still making foolish choices after 8 days!" After a few minutes, the stragglers regroup and I notice one of the strong riders from the original group is with us. He and I take turns pulling our group back to our other half. I'm glad we caught up when we did because my legs were killing me, my lungs were on fire and I couldn't have pulled for much longer.

The group was moving at a good pace but there were three riders that were pulling through and they'd actually slow the pace down too much. "Hey. How do you say stay in the back in German? Tell those guys to get in back!" We kept absorbing riders and 20-25 km from the finish we merged with another big group that we caught. About 60-70 of us now headed to the finish. Fraser and I take a breather before moving up to the front of the pack right before the finish. I have no idea why we all decided to sprint the last half kilometer but I guess we were just happy to be done. I crossed the finish line. At 7:50am three days before in Sexten I never though I'd actually make it this far. But thanks to the help of many people, many whose names I'll never know, I made it.

We sit on the grass eating fruit while watching teams finish. Once Lou and Marg arrive, I wash "my" bike, return it, and then help the Mighty Minis get their bike boxes and gear bags to their hotel. I feel a little weird as I'm watching them pack their bikes. I have nothing to pack. I'm ready to go! =)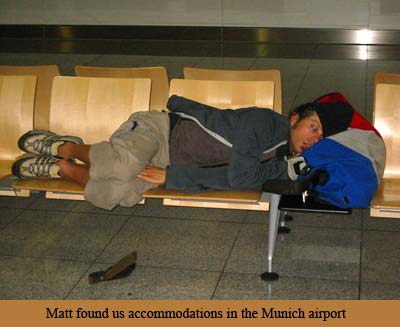 A couple of us skipped the post race dinner that didn't look too appetizing—we wanted real food, Italian food and wine. All the daily videos were shown at the post race party where there was music and plenty of drink.

We finished 104th or 107th or something like that. It wasn't exactly the top 50 we had as a goal. Next time. The Mighty Minis finished fourth in the women's category. Excellent!
Stage 9 Getting back to Munich.
Matt and I took a shuttle back to Mittenwald and from there we caught a train back to Munich. Everything went smoothly.
Stage 10 Getting back to LA
The flight back was uneventful. Good Indian food and more Bollywood films. No Aishwarya Rai though, maybe next time. I finally get home and realize that I don't have the house key and Monica is at class tonight. So I sleep outside on my bike box until Monica comes home.

This was definitely a memorable experience and I'd do it much differently if I go back. So many people helped me out and I couldn't have finished without them.

- The Might Minis, Louise Kobin and Marg Fedyna.
- Adrian, Ernst, David and the lady who lent me her Intense on day five.
- Matt and Brett. Thanks for the stuff for Fraser.
- Anika and her two partners from the race office.

Thanks to the awesome guys at The Path bike shop for working late last minute to get my bike race ready the evening before I left.

Thanks to my coach, LW, the climbs were much easier than I thought they would be and definitely not as hard as the climbs she makes me do in training. (LW recently smoked at the Brianhead Epic coming in 13th overall in a blazing fast time of 8:36–setting a new women's record.)

Next up: The 7-day Transrockies race.

-Mario