There are important changes coming to the 2023 Vision Quest and Counting Coup.
The course will remain the same due to the Forest Service inaction in getting the traditional trails used in the event restored.
We will no longer keep time - this only encourages participants, especially those concerned about their times, to go too fast at unsafe speeds putting others on the trails at risk.
Co-Event Director Keith Parsons and I (Chris Vargas Co-Event Director) believe that the whole purpose of the events is to finish. 23 year ago when the Vision Quest was a Laguna Rads event I (Chris Vargas, founder of the Warrior's Society) was warned by fellow RAD club member Dirk Maes that if I grew the event too big it would turn from a Grass Roots event to a Pro event - where the everyday guy gets no recognition - and I fear Dirk's prediction has come true.
It is not about coming in at 1st place, it is about the everyday guy who struggles to get training in while still working and putting his family 1st, not the Pro rider whose main concern in not finishing, but finishing in the top 20. It is about the everyday guy whose finish of the Vision Quest, or Counting Coup, will be a memory, and the pain they experienced, something they will never forget.
In our book, if you finish you are a winner - and I will do everything in my power to discourage pro's from entering our events. It will return to its Grass Roots.
---
Counting Coup Shirt
Pictured is the breathable material (not cotton) event shirt, which will include text stating what event you participated with in.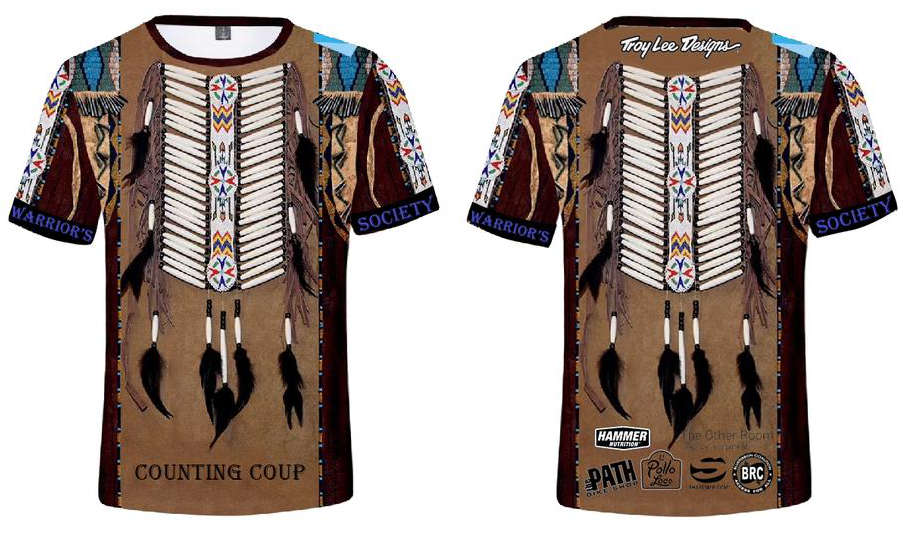 We will also be selling a Pow Wow event jersey ($40).