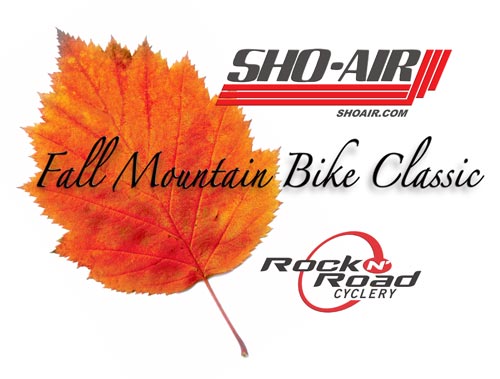 The 2006 Sho-Air / Rock N Road Fall Mountain Bike Classic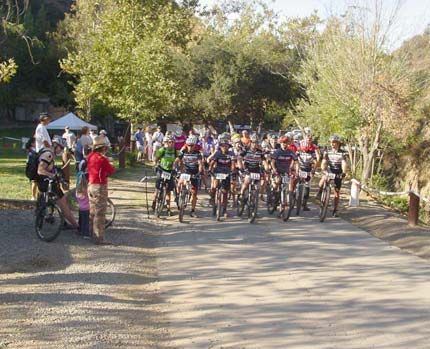 Story by Chris Vargas
Pictures by Jesse Vargas, Ken Rands and Scott Tedro
Web Editor Barry Wood

Our final event of our 2006 Orange County Championship Series, the Sho-Air / Rock N Road Fall Mountain Bike Classic, was probably the best race of the series, although the Switchback 6-Hours of Orange County came close for the same reasons. It was great to see so many first time competitors and competitors under 14 years old. Our courses have a reputation for being tough with hard climbing and lots of elevation gain per lap. One lap of the course has as much elevation gain as most events have in all their laps.

Many of the first time racers commented on how challenging the course was and how much fun they had; we received several emails after the event from several first time competitors who told us this race has inspired him to compete in the 2007 Vision Quest or Counting Coup.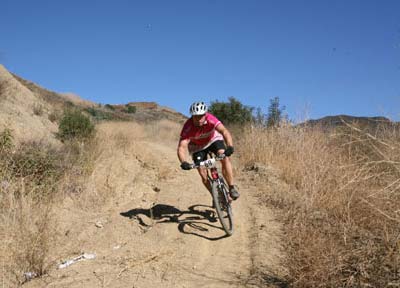 And isn't that what it's all about; to inspire someone to dream to accomplish what they consider being impossible?

It is not easy promoting events; so many things can go wrong and often times do. When these crises occur, it makes you wonder about your sanity in promoting them; but when you are blessed with emails by first time competitors inspired by the events - it gives you courage.

You've changed someone's life by inspiring them to believe in themselves and what they can accomplish.

What greater gift can you give?

As far as our young racers, we were amazed at their competitive spirit and the smiles on their faces at their accomplishments. Our staff was impressed with how thankful these kids were to them for putting on the event; these are great kids.


What also amazed us is the ability and quality of competitors the event attracted; we had some amazing performances that inspired us. For example, in the Female Expert 31 to 45 Class, Kym Slingerland finished her 3 lap race in 1:52:09; just 1 minute and 5 seconds behind Anthony Sinyard, the winner of the Male Expert 17 to 30 class – and she was riding a single speed!

Warrior's Society Club member and Sho-Air Team member Mario Correa had the 2nd fastest finishing time of 1:45:42 (all experts did 3 laps) and came in first place in the Male Expert 31 to 45 Class. Mario wrote a race report on his experience competing in the event.

Brad Stephenson of Team Sho-Air won the Expert Single Speed Open Class and had the fastest finishing time of 1:40:41. In the Male Expert 46 and up Class, Randy Profeta, a multi-time finisher the toughest event we promote (the Vision Quest), won first place finishing his race in 2:19:50.

For the finishing times of all the experts, intermediate and novice competitors see the final standings on this page.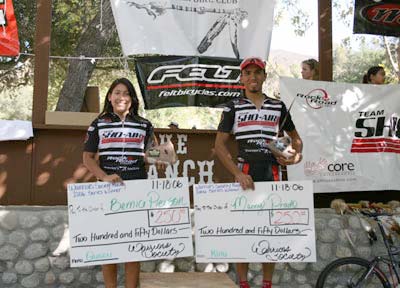 The Orange County Male and Female Champions were crowned and it was not a surprise that two top endurance athletes ended up on top. The Orange County top Champions were chosen on a point system based on their overall performance in the series (with bonus points awarded for their finishes in the 6-Hour and 24-Hour events). Team Sho-Air member Bernice Pierson won the Expert 31 to 45 Class Championship and the Female Orange County Championship Crown. You can read about her race experience on her blog. Bernice's fellow Sho-Air team mate Manual Prado won the Expert Male 17 to 30 Class Championship and the Male Orange County Championship Crown. Congratulations to them both on their wins!

Steve Ellis won the Class Championship in the Expert Male 46 and up Class. Team Sho-Air member Brad Stephenson won the Expert Single Speed Open Class Championship.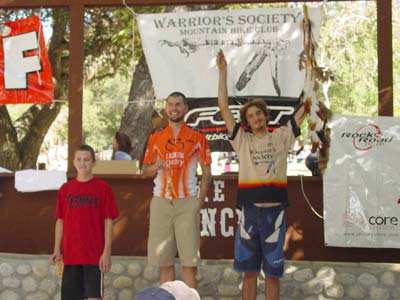 Warrior's Society club members had some great finishes with Eron Boyer winning the Intermediate Male 31 to 45 Class Championship, Matt Nourmohamadian winning the Intermediate Male 17 to 30 Class Championship, Robert Rust winning the Expert Male 31 to 45 Class Championship.and Camron Pattaja wining the Male 16 and under Novice Class Championship. Other notable finishes were Mark Belgen, the Novice Male 17 to 30 Class Champion, who raced for the first time in this series, and Douglas Kubler (our oldest competitor at 62) who won the Novice Male 46 and up Class Championship riding a single speed. For the final class scores in the Orange County Championship Series click here.

Robert Rust, along with Mary Huth (who finished 2nd behind Bernice in the Orange County Championship Series) and Bill Hines were also initiated into the Warrior's Society during the awards ceremony. Our new nominees for membership are Jenny Hardison, Chip Leopard, Treve Misemer, Regina Froemmling and Jeff Parish.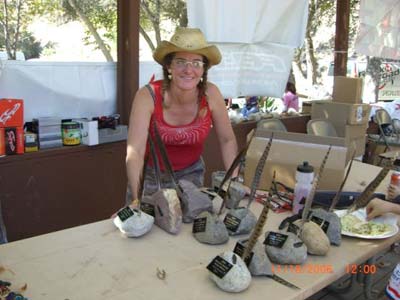 Executive Director Sherry Panttaja was recognizes as an "Elder" and "Chief of the Warriors' Society. The Warrior's Society is most grateful to Sherry "Stands Her Ground" Panttaja for her guidance in leading the Warrior's Society Events. "Stands Her Ground" is the first female to be declared a Warrior's Society Elder, Chief and holder of the pipe. Those females who follow her as leaders of the Warrior's Society will have a great legacy to live up to. We will recognize three other club members as elders and Chiefs in 2007.

Geoffrey Sanberg and Eiji Yamamoto were the two lucky raffle winners taking home the Felt Virtue 3 and Virtue 4 bikes. Many thanks to Felt, our major bike sponsor, for donating these bikes for the raffle.

Of course this event would not have been possible without the dedication of our support volunteers. Key to our success has been Sherry Pattaja our Events and Sponsorship Executive Director. With the expansion of our events in 2006 it has been a very hard year for her and the club as we had to overcome many issues in getting this series off. As far as the Fall Classic event shirt, our graphics Director and Web Master Barry Wood did an excellent job in designing it as he has done for all our events in 2006. Barry's business, "The Other Room," is also one of our sponsors.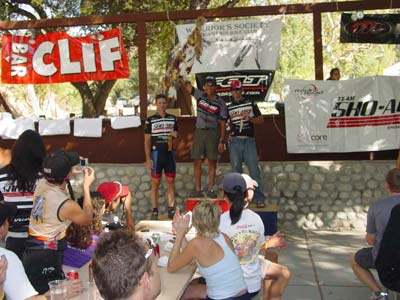 Of course what is an event without accurate timing? Our timing Director Suzanne Martin (assisted by Jenny Hardison) has become the timing guru, which is the reason why we have the results so quickly after the event is over. Our Communications Director Joe Lopez organized our communications team of Ken Rands and Bill Hines allowing us to know what was happening throughout the course. Our course Director Jason Martin, assisted by Chip Leopard, Jim Sladeck, Bob McCarter, Regina Froemmling, Treve Misemer, Angelika Drake and Jeff Parrish and Mary Huth helped set up the course and staging area, supervise the race and breakdown the course and staging area after the event. Gena Muro, Jesse Vargas and Alex Martinez did a great job in preparing the food and getting you all well fed. Thanks to all of them for their hard work.

We are also thankful to our major sponsors, Shimano, Manitou, Sho-Air International, Clif Bar, Cytomax, Felt Bikes, Switchback Cyclery, JAX Bicycle Centers and Rock and Road Bikes as well as all our minor sponsors for their support. Click for a complete list of our sponsors.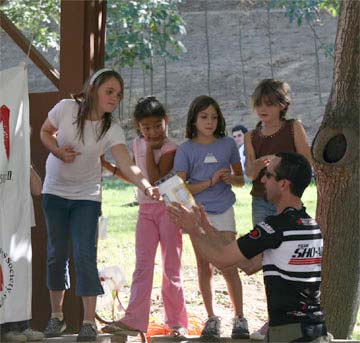 Our next event will be the 11th annual 2007 Mountain Bike Pow Wow on Saturday, March 3rd. The Mountain Bike Pow Wow consists of the 56.5 mile Vision Quest (with 11,000 feet of total elevation gain and 2 miles of hike-a-bike) and the 44.5 mile Counting Coup (with 8,000 feet of total elevation gain. These events sell out every year so if you're serious about competing in these events sign up now. For more information on the Vision Quest go here.

For more information on the Counting Coup can be found here.

In 2007 aside from the Mountain Bike Pow Wow we will be promoting two other events at the Flying B if our 2007 negotiations with the property owners work out. The Warrior's Society, along with our 2007 Major Sponsor Sho-Air International, will be negotiating with one of the property owners to build an additional 3 miles of single track. Scott Tedro (the CEO of Sho-Air International) and Chris Vargas (the Trail Work and Advocacy Executive Director of the Warrior's Society) laid out a preliminary course after the Fall Classic ended - and if the negotiations work out - we planned to have a much improved, fun and challenging course at the Flying B Ranch. 

Thanks to all our participants, support volunteers and sponsors who helped make our 2006 Trail Work and Event Season such a success - and we look forward to an even better 2007 season!

See you at the 2007 Mountain Bike Pow Wow!
---