"Think not forever of yourselves, O Chiefs, nor of your own Generation. Think of continuing generations of our families, think of our grandchildren and of those not yet unborn, whose faces are coming from beneath the ground"

Words spoken by the peacemaker, American Indian prophet and founder of the Iroquois Confederacy Circa 1000 AD
The Warrior's Society is dedicated to maintaining and improving the trails in the Cleveland National Forest. Our club is based on the American Indian Traditions of the Warrior's Society. The Warrior's Societies of the Plains Indians were made up of the braves chosen to be the protectors of the tribe and their land.

The Warrior's Society is made up of wilderness cyclists, trail runners and hikers who have dedicated themselves to improving and protecting the trails of the Trabuco District of the Cleveland National Forest in Orange County California. They must also share our love of the land and the endurance to ride or hike it. Members must be nominated and voted in by existing members.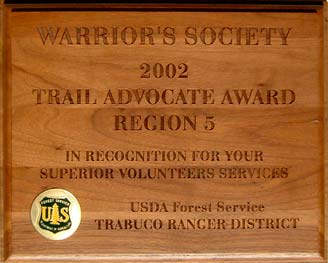 The US Forest Service recently honored us with the 2002 trail advocate award for region 5, which includes the state California.
We are also closely monitoring the push to designate new wilderness areas in California and around our nation. It is our belief that another designation is needed that would protect our forests as well as our freedom to responsibly enjoy them. The Back Country Designation is one proposed alternative.

As our motto states, we must think of those coming after us and protect not only our forests, but our freedom, economy and national security as well.

We suggest everyone read Pulitzer-winning environmental reporter Tom Knudson's series entitled "Environment, Inc." Part 5 of this series is the philosophy the Warrior's Society believes in.

In the Spring we hold the Annual Mountain Bike Pow Wow. It is staged in the in the Santa Ana Mountains. The Santa Ana Mountains are located in the Cleveland National Forest in Southern California on the eastern edge of Orange County.

The Pow Wow will give participants the choice of a long or medium distance event. The long and medium distance rides will follow the American Indian tradition of awarding feathers for acts of accomplishment or bravery, which the French called Counting Coup.

The long distance event is the Vision Quest It consists of 56.5 +- miles of riding with 11,000 +- feet of total elevation gain and 2+- miles of hike-a-bike.

The medium distance event is called the Counting Coup and consists of 44+- miles of riding with 8,000+- feet total elevation gain.
---