OPENING WORDS - A most difficult year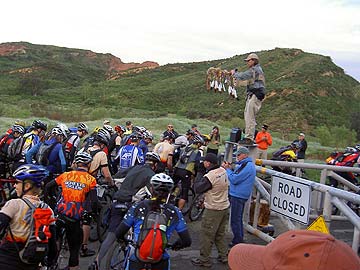 Thank you all for participating in what has been the most difficult Pow Wow ever. The mud on Blackstar threw a whole new element into the mix. It was a Vision Quest not only for those of you actually participating in the Vision Quest event, but in the Counting Coup as well.

There will be changes to the 2006 Pow Wow but they won't be as severe as first proposed; more on that at the end of this after event letter.

From the emails of support I received I realized that the majority of you understand that the Counting Coup and Vision Quest are about more than finishing, they are about giving back. You understand that because of this event, the trails are maintained at no cost to the public. You understand your event fees directly support our maintenance programs, public outreach and legislative action to protect your access.

That the journey is as important as getting to the finish, for it is in the journey that the lessons are learned and the Vision revealed. Many of you expressed this to me in inspiring words I will never forget.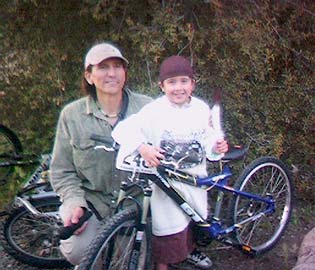 A good example of this is Tim Panttaja, who with his wife Sherry, own Switchback Cyclery. Tim was diagnosed with cancer over a year ago and went through surgery and Chemo. Tim set his vision on finishing the Vision Quest, which he did. You are an inspiration to us all Tim.

Our two youngest members of our race team, 7 year old Troy and 12 year old Lacey, attempted to ride their age division Vision Quest. But the mud zapped their strength. Troy made it up past Beek's Place before he and his dad turned back. Lacey made it to the Motorway past the cutoff time. Both of these amazing kids still had smiles on their faces. They and their parents should be proud of their determination and attitude.

I am deeply thankful to all of you for sharing these and many other experiences with me and for all your emails of support; they helped ease the pain of the criticism I received.

-Dances With Hornets
NEW COURSE RECORDS
We had several new records set. As you all know we returned to the course we used 5 years ago extending the end all the way out Trabuco Road.

Cameron Brenneman of Mission Viejo Calif. set a new Vision Quest course record of 5:26:31. Cameron is an amazing athlete and a great guy. He holds the course record on the old course.

John Mylne of Arcata Calif. set a new course record on a single speed with a time of 6:45:26. Warrior's Society Race Team member Leslie Williams of Costa Mesa Calif. set a new female Vision Quest course record time (on a single speed) of 8:11:52. She holds the women's single speed record on the old course.

Calvin Mulder of Tustin Calif. set a new fixed gear Vision Quest record with a time of 7:25:19. Calvin holds several course records on the old course, including the running record and single speed record.

In the Counting Coup Johnny O'Mara of Laguna Niguel Calif. set a new course record time of 4:29:28.

Regina Froemmling of Laguna Niguel Calif. set a new female course record time of 5:56:10.

Dirk Venzlaff set a new course single speed record time of 6:51:20.

Molly Hartsough set the first female record time on a single speed with a time of 7:50:09.

Amanda Eakins and Hugh Harris set the first coed tandem record with a time of 7:41:45.

PHOTOS FROM THE EVENT
A photographer took photos of many of you and has arranged the photos by bib number and made them available on the web. Riders are free to right-click and save their photo to make a small print or just view on their computer. If they really like it they can contact the photographer to get a nice full size print priced at cost.
Here is the link:
http://www.gswar.com/gallery/mtbike1

John Early has also posted some great photos that he took at the event.
http://www.johnearly.com/warriors2/
CHANGES FOR 2006 - Prices will only be raised $25.00 on the Vision Quest - and only one time shortened
The following changes should address the problems we've had. We will have two cutoff times in 2006:

» 9:30 a.m. at the intersection of the Silverado Trail and Maples Springs Road (Counting Coup and Vision Quest).

» 12:30 p.m. at the base of West Horse Thief (Vision Quest).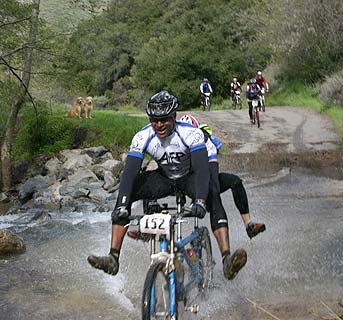 I want to focus on the local community doing the events, especially those involved in maintaining the trails in the Trabuco District, the home of the Pow Wow. They will get first preference in positions. Special guests from Arizona, such as Rudy Nadler and 5-10 single speeders of his choosing will also be welcome.

I will drop the participation limit to 125 to 150 for the Vision Quest (190 this year) and raise the event fee to $125 from $100. The Counting Coup event will remain at 100 participants and $75. If we are in good financial shape prior to the event I may drop the participation limit on the Vision Quest down further. This would really help make the event run smoother; less participants will make the event more intimate for the local community.

It is not my goal to have a big event, it is not my goal to have a famous event, it is not my goal to have an event that makes us rich; my goal is to have an event that makes a contribution to the community and gives back. For too long competition has replaced self-sacrifice for the good of others.

The Warrior's Society members of the plains tribes were not only tested physically, they were expected to protect the tribe and their land; to sacrifice even themselves to protect the tribe. This is the only reason why the Vision Quest and Counting Coup exists - to honor these Warrior's of the past.

I consider the trouble experienced during this Pow Wow the result of losing that focus and have only myself to blame.

It's time we returned to our roots.
2005 POW WOW VOLUNTEERS
We all know the Pow Wow would not have been possible without our many volunteers. Many hours went into making the 2005 Pow Wow happen.

The following people and the volunteers that worked with them did an excellent job: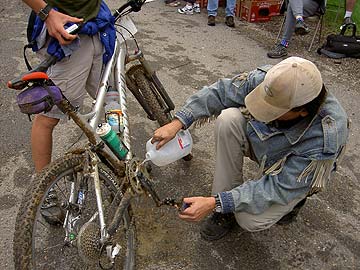 Trails Director Keith Eckstein

Trabuco Trails Manager Ken Rands (who also worked on the awards)

Blue Jay Trails Manager and dual sport rider Larry Branham

Event T-shirt designer Art Zipple (special thanks to Bill Freeman for providing the picture on the front of the shirts)

Aid Station #1 - Matthew Forrest, Pat Burton, Robert Blain, Art Zipple, John Durfee, Garrett Broughten, Lubos Durdovic, Mary Ann Profeta, Mark Cluttey, Eric Muyderman, Chris Dodge, Suzanne and Mark Wilson. Many thanks to all those that chipped in to clean the bikes and to Switchback Cyclery for providing cleaning brushes, cleaner and chain lube.

Upper Holy Jim support riders Brian Lewotsky and Paul Miller

Aid Station #2 - Jesse Vargas, Joe Durning, Joe Beldoza, Andy Darragh, Hal Sintov, James Hahn, Rodney Graham, Wayne Hermes, Jay Castleberry, Steve Foster, Kriss, Bob Stuart, Jim Williams, Dwayne Williams and Wade Williams.

West Horsethief Check Point - Brian Ephraim, Dan Gallagher and John Huth.

Trabuco Check Point - Bill Hines and his son-in-law.

Finish Line - Jane Lemonds, Robin Lemonds, Tammy "Girlfriend" Martin and Sheryl Condon (both Tammy and Cheryl also worked on the awards).

Finish Line software programmers - Jeroen and Debra Bosboom.

Communications Director Joe Lopez

Ham operators - Frank Hayes, Brian Sampson, Steve Bass, Craig Konrad, Mike Syverson, Adelaide D'Ippolito, Jack Coy, Tom Hobbs, Tony, Richard, and Heiko.

The 4Play Jeep Club

Our other Main Divide 4X4 support volunteers Michael Ramer and Jim Warren.

The Orange County Dualies and all our dual sport volunteers - Larry Barnett, James Beatty, Jim Dekker, Bob Ewing, Clark Farrell, Allison Hughes, Gary Johnson, Randy Ressell, Ron Salcido, Ron Sobchik, Dennis Towgood, Colin Young, Jerry Young, Wayne Rollins, Brian Empter, Josh Jacquot, Ken Rands and Chris Horgan.

Our EMT staff - Paul Romero, Jay Gentile, Ryan Ortiz, Carlo Marzocca, Brian Habegger and Scott Smith.

Registration Director Geri Ann Vargas and Pit Boss Becky Vargas

Food Services Director Jim Simescu and his staff

Staging Area Coordinator and Truck Driver Patty Taylor.

Our Shuttle Truck Drivers, Reed Price, Bob Hale and Karen Lundgren.

Our Web Master Barry Wood for his constant attention to our web site and patience with posting the final times.

Geriann Vargas, Jesse Vargas and Gena Vargas for helping to clean up and pack up the next day. They, and Ned Reynolds, also helped load up the day of the event.

The Warrior's Society would like to thank the following individuals and organizations that helped to make the Pow Wow possible:
The U.S. Forest Service and Rangers Judy Behrens Virgil Mink and Debra Clark.

County Supervisor Tom Wilson

County Public Works Manager Bill Tidwell

Lon Hanson and Eric Hanson County Public Works Inspectors

The SHARE Mountain Bike Club

Our Major sponsors: Shimano, Oakley, and Manitou

Our sponsoring bike shops: Jax's Bicycle Centers, Rainbow Bicycle Company, Edge Cyclesports, The Bike Company, Switchback Cyclery, The Path Bike Shop, Rock and Road and South County Cyclery.

Our contributing sponsors: Titus, MTBAccess, Minute Maid Orange Juice, Voler, The Indian Store, Active.com, Kona, Mountain Biking Magazine, Yakima, and Trek.

Cytomax the official fluid replacement drink of the Warrior's Society

Clif Bar the Official Energy Bar and Gel of The Warrior's Society
Please support these companies that contribute to keeping the trails open.
2004 POW WOW DVD
We have produced a DVD about the 2004 Pow Wow. Click here to find out more. No 2005 Pow Wow DVD will be made.
IN CLOSING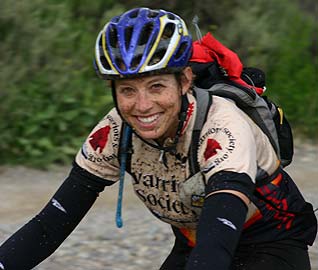 We all know this was a trying year for all of us due to the constant rain; but for the most part we adjusted.

It was as much a Vision Quest for me as it was for you. It is my hope that we never again have a year as difficult as this one has been.

I am honored to be in the company of so many great Warriors.

May the Great Spirit guide you on all your Vision Quests; no matter where they take you.

Ya Ta Hey

Chris Vargas
AKA "Dances With Hornets"
---
2005 Counting Coup Finishing Times
Place

Time

Name

Age

Comment

1

4:39:28

Johnny O'Mara

43

1st Male Record Holder for this course

2

5:56:10

Regina Froemmling

42

1st Female and record time for this course

3

6:08:12

Brian McLean

4

6:08:31

Jake Stevens

5

6:10:44

Charly Kemp

6

6:15:39

Doug Farnham

7

6:15:46

Graham Clark

8

6:17:25

Don Noewho

9

6:17:33

Brian Clawson

10

6:18:17

Bob Greene

11

6:18:55

Andrea Rosney

12

6:18:58

Anthony Beneventi

41

1st Male Single Speed, new record for this course, Warrior's Society Member

13

6:22:00

John Cordoba

14

6:23:21

Lance Polloreno

15

6:23:53

Moises Molina

16

6:23:56

Terry Best

17

6:24:23

Todd Hayden

18

6:25:00

Jeff Parish

19

6:25:48

Dan Abel

20

6:27:45

Carol Lawhorn

21

6:29:59

Joseph Milora

22

6:34:45

Scott Sease

23

6:43:15

Rob Winslow

24

6:48:41

Jeff Lewis

25

6:49:09

Stan Mortensen

26

6:51:20

Dirk Venzlaff

Single Speed

27

6:54:52

Peter Black

28

6:55:44

Brig Mills

29

7:00:43

Russell Shapley

30

7:01:42

Nick Katsandris

31

7:01:47

David Shaw

32

7:03:37

Rob Stubbs

33

7:09:00

Barbara Porter

34

7:10:56

John Snyder

35

7:11:55

Donnie Wilhelm

36

7:13:40

Kevin Hemstreet

37

7:13:57

Dina Graham

38

7:15:20

John Williams

39

7:16:43

Peter Shloss

40

7:17:27

James Matsubayashi

41

7:17:51

Jesus Lozano

42

7:17:57

Drew Hannaman

43

7:18:07

David Parrott

Warrior's Society Member

44

7:18:10

Will Scruggs

45

7:18:11

Matthew Solley

46

7:18:16

Jason Miller

47

7:18:28

Erik Vaaler

48

7:18:33

Chris Powers

49

7:20:25

Carl Bunke

50

7:21:14

Jasen Perkins

51

7:21:16

Bob Harpster

52

7:21:19

Jeff Bennett

53

7:21:28

Mark Moebius

54

7:21:31

Richard Rang

55

7:21:36

Gino Fordiani

56

7:21:43

John Furlong

57

7:21:46

Cameron Dickinson

58

7:23:54

Jose Nilo

59

7:23:56

Jason Vorell

60

7:24:51

Andrew Schaff

61

7:25:04

Mick Donoff

62

7:25:41

Matt Robertson

63

7:25:43

Chad Adams

64

7:31:30

Bob Bacin

65

7:31:44

David Hertwig

66

7:31:46

Scott Mattias

67

7:32:10

Kyle Armstrong

68

7:32:14

Jim Sweet

69

7:33:29

Frans Van Beers

70

7:34:23

Steve Magers

71

7:34:25

Bryan Clark

72

7:34:33

Matthew Allen

73

7:34:50

David Slater

74

7:36:00

Jay Lennon

75

7:36:24

Dale Wilhelm

76

7:37:34

Louis Bednar

77

7:37:38

Rusty Moore

78

7:38:03

David Wittry

79

7:38:08

Matt Eames

80

7:40:07

Peter Waker

81

7:41:45

Amanda Eakins
Hugh Harris

34
34

1st Coed Tandem Record Holder for this course

82

7:41:53

Brian Blair

Warrior's Society Member, Single Speed

83

7:42:59

Jeff Thrasher

Single Speed

84

7:43:13

Joe Connolly

85

7:47:36

Scott Sampson

86

7:48:08

Wendy Tynan

87

7:48:52

Doug Zanella

Single Speed

88

7:50:09

Molly Hartsough

27

1st Female Single Speed Record for this course, Single Speed, Warrior's Society Member

89

7:52:28

Chris Hite

90

7:58:38

Paul Vojovich

91

8:01:34

Matthew Cook

92

8:02:17

Matt Allaire

93

8:02:20

Thomas Stockton

94

8:02:22

Donald Dishman

95

8:04:11

Jay Goswick

96

8:05:01

Steve Richardson

97

8:05:04

Christian DiStefano

98

8:06:15

Roy Wallack

99

8:06:18

Jason Magness

100

8:06:22

Carlos Rangel

101

8:06:52

Jim Western

102

8:07:12

Bob Nokoff

103

8:07:26

Thom McNabb

104

8:08:59

Matt Kavenaugh

105

8:09:10

Mike Santa Cruz

106

8:13:04

Steve Lopez

107

8:13:13

Ron Vanderpol

108

8:13:38

Daniel Staudigel

109

8:13:47

Ned Reynolds

Single Speed

110

8:13:52

Daniel Youmans

111

8:15:00

William Boehmke Jr.

112

8:18:27

Paul Jette

113

8:26:06

Adam Maywhort

114

8:27:39

Damon Mann

Single Speed

115

8:27:49

Bill HasenJaeger

Warrior's Society Member

116

8:30:47

Bill Babishoff Jr.

117

8:35:34

Michael Cole

118

8:45:19

Andrew Jackson

119

8:53:16

Donald Jackson

120

8:53:34

Rick Keating

121

8:54:48

Barry Wood

Warrior's Sociey Member

122

8:56:21

Shawn Cohen

123

8:59:18

Linda Stiles

124

8:59:45

Ed Evans

125

9:10:28

Clifford Rudder

126

9:12:27

Marc Acosta

127

9:13:42

Diana Karg

128

9:30:34

Kevin Hencel

129

9:40:34

James Krieger

130

9:40:36

Jeff Hencel

131

9:43:07

Rachel Park

132

9:43:10

Eron Boyer

133

9:43:22

Joseph Stevens

134

9:45:50

Number 199

135

10:05:10

Stewart Kline

136

10:09:43

Barry Wong

137

10:09:50

Sherri Davis
---