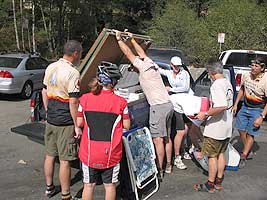 After sleeping in until almost 9:30am, I decided to get up, grab some coffee and read the morning paper. Looking out to the mountains I recognized the start of another beautiful Southern California day. In fact, a perfect day for a Ping-Pong tournament.

We gathered at the base of Maple Springs-everyone eager for excitement and fun. Bikes were lubed, packs were full and everyone's muscles were stretched for an afternoon of fierce competition. I loaded up my truck with chairs, ice-cold beverages and of course a Ping-Pong table and started heading up to Four Corners.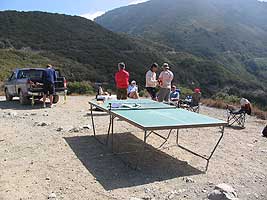 Surprisingly, the truck was able to beat all the bikes to the top and that allowed us to enjoy a cold one before anyone showed up. With the Ping-Pong table up, the music going and the pizza out, the riders started appearing.

The climb was fast and furious, well, OK, maybe it wasn't. Dances with Hornets showed his strength and endurance by making it to the top first. It looked like he was ready to cramp, when all of a sudden he sniffed into the wind, ran to a particular tree and gathered a few "Secret Indian Skatballs" and ate them. Amazingly, he was instantly ready to go again.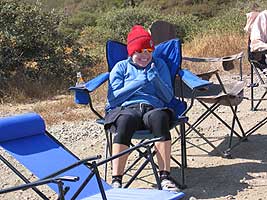 Molly was next up the trail with a smile as big as the trees, as always. Soon enough everyone was at the top enjoying some fun in the sun (and wind and partial cloud cover.) The cool temperatures had Molly attempting to warm up by carbo-loading.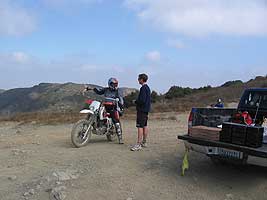 The mood was set. We had reggae music playing, ice-cold beers (and soda) chilling and warm pizzas waiting. As outsiders rode or drove past our gathering, they were speechless. We had several double-takes and some were bold enough to ask directions and get a closer look. Seeing a Ping-Pong table on top of a mountain does draw a little attention!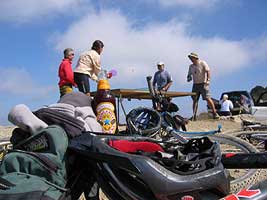 We selected teams and started the competition. The winds played havoc on the placement of shots, the sun was throwing out shadows and the rocks tormented our cleats like a deer on an ice pond. All in all everyone had a great time, but excuses were everywhere, "My blood-sugar level must be low!", "Hey, that's not fair, I wasn't looking!", "Can we start over, I have to pee-again?!"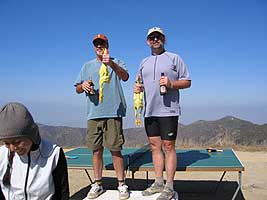 With a performance enhancing drug test pending, Pat "Shoot 'em Low" Burton and Barry "Hang 'em High" Wood were able to walk away with the coveted rubber chicken awards making them the first ever Maple Spring Pong Tournament Champions!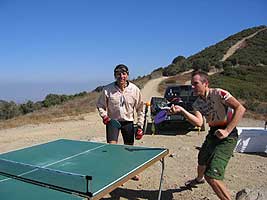 The Special Ed Comedy Award goes to Ron "I can't play ping-pong so I'll just move all funny during the game" Sawacki. He was able to make it to the finals with partner Chris "Oh, my eyes are supposed to follow the ball?" Vargas... enough said. He doesn't actually get an award, but it was funnier than hell watching him.

The best part about this tournament was not about the win (obviously) it was about getting out and having fun again. No pressure to perform. No pre-dawn alarm clock. No energy supplements taped onto the top tube. Just a ton of smiles and lots of laughs!

So what is next?? Without giving too much away--who is up for some courier races WARRIOR STYLE!!!!

-Andy