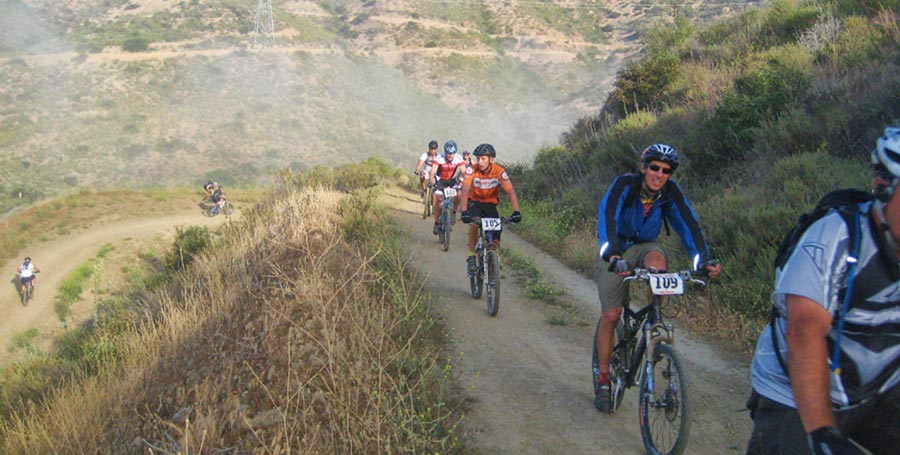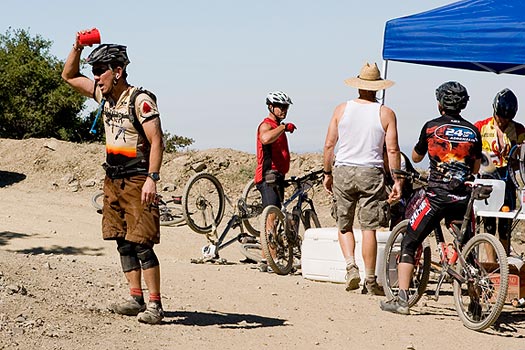 Compared to the 110 degree high temps at 2008 Traverse this year's Traverse was chilly with temps in the low to mid 80's. All kidding aside, although is was warm the temps were not really a big issue as much as the terrain was; lots of climbing as those that participated can attest.
In the Pro Class Manny Prado was first to cover the course (40 miles and 8,000 feet of climbing) with a time of 3:58:04 with Allan Laframboise in second with a time of 4:25:58 and Mario Correa in 3rd with a time of 4:59:38. Since the Pro Class was open (with no age groups or separation of males/females) we had one female Pro, Shalyn Gates, who competed with the males and finished in 4th place with a time of 05:06:14.
In the Female Expert Class Heidi Volpe finished 1st with a time of 4:59:39 followed by Vicki Chernoff with a time of 5:26:37 and Warrior's Society Club member Mary Huth in 3rd with a time of 6:34:48. Congratulations also to Warrior's Society Club member Mike Caffrey who won the Male Intermediate 31-45 Class with a time of 04:59:44. For all the result from all the various age and classes go to the Traverse results page.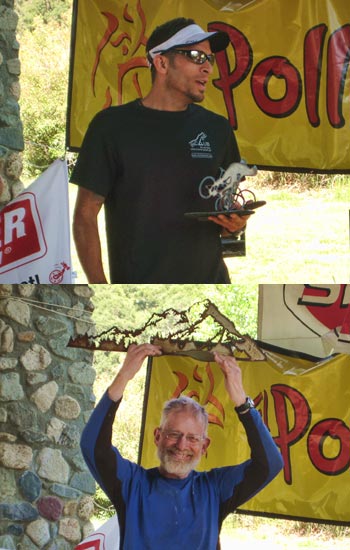 Special awards were given to the following participants:
Worst Crash: Jon Clark... crashed bad in the first 1/2 of the ride and finished with blood pouring down his leg and a bloody hip with torn shorts and still finished second in Expert Class
Worst Mechanical: Kevin Gilloti flatted 3 times and then just decided to run his bike all the way down Trabuco Trail to the finish line...he ran over 4 miles to the finish.
Oldest riders: Douglas Kubler at 65 years old continues to race all the Warrior's Society events even after breaking his neck in 2008 (raced in the pro division) and Preston Drake age 65 (Warrior's Society member)
At the finish line many of the participants were commenting on the great people cheering them on out on the course a the water stations....the Watermelon at West Horse Thief was a much needed refreshment for many at that point of the event.
Once we finalize the event expenses we expect to raise between $5,000 and $6,000 dollars for the Freedom Alliance Schoalrship Fund.
We want to add that we are so blessed to be a part of such a great organization and the family of members. We all work so well together and know that without everyone's help before and during the event we wouldn't have such successful events. It's so great showing up the morning of the event and seeing the usual volunteers heading to their positions. We know what to do and how to do it!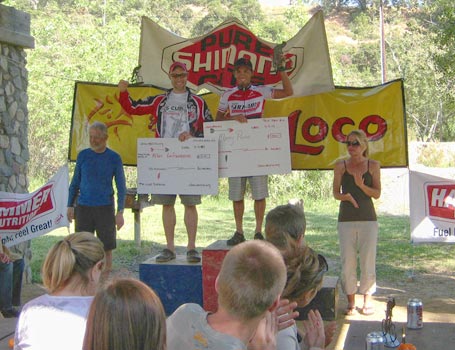 Many thanks to the following club members and other volunteers who helped make this event a success:
Bill Hines, Dave Zander, Jim Sladeck, Gerry Huth, Matthew Miller, Joe Lopez (Communications Director), Jason, Reed Price (Transportation/Staging Area Director), Peter Allen, Dave Ross, Keith Parsons, James Hahn, Jim Simescu, Donna Ducharm, Karl Buitner, Josh Avila, Treve Messimer, Andy Lenz, Rachel and John Schmidt, Al Muense, Chip Leopard, Jeff Parish, Calvin Mulder, Greg Howard, John Early, Vicki Lukina, Phil Pacier, Nathalie Clericy, Eron Boyer, James Hammons, Sherry Panttaja (Executive Director), Suzanne Martin (Timing Director), Regina and John Froemmling, Lubos Durdovic, Jay Gentile, Tim Panttaja, Gary Palmer, Bob McCarter, Erik and Debbie Brown, Matt Mendenhall, Ned Reynolds, Brian Lewotsky, Barry Wood (Web and Art Director), Andy Lightle, Bob Rust, Steve Foster, Carrie Rasmussen, Mike Morgan and Ken Rands. A special thanks to Barry Wood for designing the t-shirt/finishing pins and Dennis Duty for the great awards.
We also thank our major sponsors Rock N Road Cyclery, Hammer Gel, E2 Hydro, Switchback Cyclery, Shimano and El Pollo Loco (who provided the great lunch) as well as all our contributing sponsors. We also thank Virgil Mink of the U.S. Forest Service and the staff of O'Neill Wilderness Park for their help in making the events a success.
You may enjoy reading Jordan May's writeup of the Traverse at his blog.
Here's another great story written by Allan Laframboise who finished 2nd in the Open Pro Class.
Thanks again to everyone from the volunteers, participants and sponsors and the families that donate their loved ones for the day to help us at the events!
The Warrior's Society