How hot was it at the Traverse? I'll let club member Ned "Lone Wolf" Reynolds describe it:
"It was really hot between Holy Jim and the finish line.
In hindsight it was kinda of funny on the Main Divide between Holy Jim and Trabuco. Occasionally you'd hear someone screaming in back or in front who was cramping up. It was funny until it happened to me... Several times."
The high temps were in the low 100's and the finishing results showed it with 39 DNS' and 40 DNF's. Our support crews were busy evaluating riders as they made the aid station at Maple Springs and four corners. Several riders recouped for as long as one hour before continuing on only to DNF at Holy Jim and the Main Divide.
But there were some survivors, which is a better description than finishers for those who completed the course.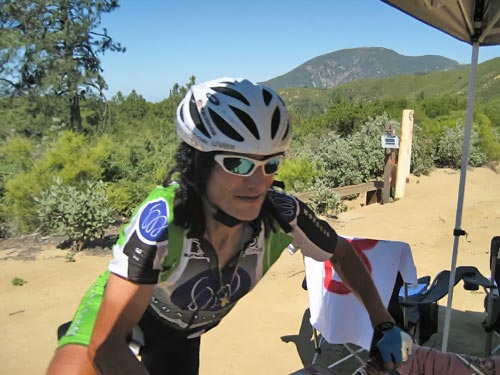 In the Pro Class Tinker Juarez finished the 40-mile course with 8,000 feet of elevation gain first with a time of 03:55:16. In second place was Jason First with a time of 04:06:17 with Mario Correa in 3rd with a time of 04:19:02. The top three Pro finishers won $300, $200 and $100 for 1st, 2nd and 3rd place.
In the Male Expert 18 to 30 Class Jon Fugitt finished first with a time of 05:32:59 with Timothy Heinrich in second with a time of 06:02:02 and Yens Raz in third with a time of 06:07:23.
In the Male Expert 31-45 Class Guy Sutton finished with the 4th fastest time of the event with a time of 04:21:412. Phil Kelly finished second with a time of 04:44:09 and Johnny Dalton finished 3rd with a time of 05:06:33.
In the Male Expert 46-59 Class Warrior's Society club member Jeroen "Dust Cloud" Bossboom finished first with at time of 05:01:32 with Larry Price second with a time of 05:20:38 and Warrior's Society club member Ned "Lone Wolf" Reynolds 3rd with at time of 06:07:54.
In the Male Intermediate 18-30 Class Ryan Meyer finished first with at time of 05:29:54 with Matt Vaughan in second with a time of 05:30:30 and Jason Rusk third with a time of 05:35:44.
In the Male Intermediate 31-45 Class Ton Van Daelen finished first with a time of 05:20:14 with Rick Vangrin second with a time of 05:41:38 and Darin Cox in third with a time of 05:56:35.
In the Male Intermediate 46-59 Class Pete Sweeney finished first with a time of 05:30:35 with Carl Bunke second with at time of 05:42:45 and Dave Gibson in third with a time of 06:00:32.
In the Female Open Class Warrior's Society Club member Mary "Never Tires" Huth finished first with a time of 07:10:22 with Dawn Niday second with a time of 08:06:20 and Catherine Fielder third with a time of 09:01:41.
For the complete list of finishing times go to our results page.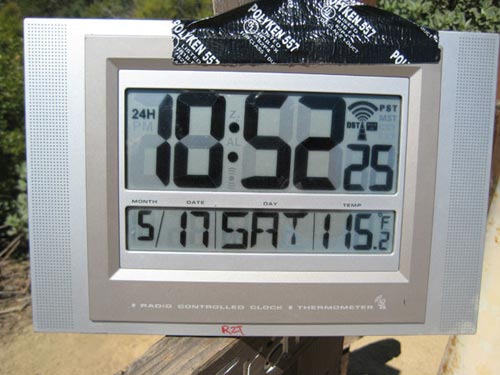 One thing about suffering through such a difficult event is the acts of kindness and camaraderie. Warrior's Society Executive Director Sherry Panttaja saw a participant come across the finish line and ride up to another rider who was recovering under the canopy from finishing the event. He said "I think this is yours" and showed him a yellow Livestrong bracelet that he had put on his handlebar so he could ride. He had seen it fall off this gentleman and he stopped to pick it up for him. I over heard him say, "I picked it up for you because I figured it had a special meaning to you;" the guy was thrilled to have gotten it back.
At the end of the race Sherry was amazed and comforted to see racers who had finished already helping others who had just come across the finish line in need of support. Everyone was helping each other get to the chairs in the shade, getting each other cold drinks and passing out the cold watermelon.
One of your youngest members, Matt "Soaring Falcon" Nourmohamadian, contacted our support crew at West Horse Thief to let them know two riders (the 15 and 18 year old Cook Brothers) looked like they were suffering from the heat and had stopped along the Main Divide. The West Horse Thief crew radioed our paramedic to respond to their location. Luckily, they only suffered heat exhaustion instead of heat stroke or worse. We evac'ed them out.
We are always tempted to play it safe at our events and provide a wide safety net for those who are young or over confident, but by doing so they learn not self-responsibility, but comfort unearned.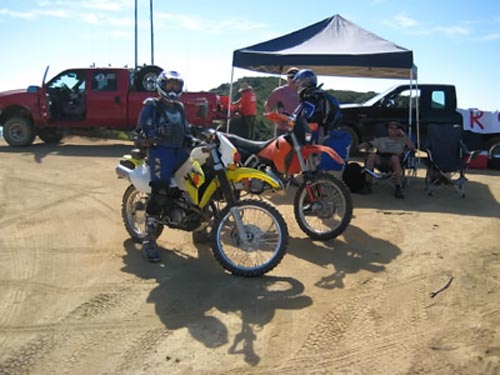 That is not the lesson the Warrior's Society teaches - we expect an understanding of the challenges Nature can present.
But in the Cook Brother's defense:
The temps were in the low 100's, they were young, they tried, they gave It their all - and they earned our respect - I have not doubt that in the process they earned a well taught/experienced lesson in planning, patience, preparation and experience - they obviously do not lack in drive.
Nevertheless - at their young age they have come (by experience) to understand the following:
"Far better it is to dare mighty dreams, to win glorious triumphs, even though checkered by failure, than to take the ranks with those poor spirits who neither enjoy much nor suffer much, because they live in that gray twilight that knows not victory nor defeat!" —Theodore Roosevelt
We do not promote events that appeal to those unprepared, but to those That understand, or by their participation learn to understand, the most important lesson of Nature:
"Only the strong survive"
We would only betray what it is to be a Warrior to follow any other understanding of the ultimate rule of Nature and history.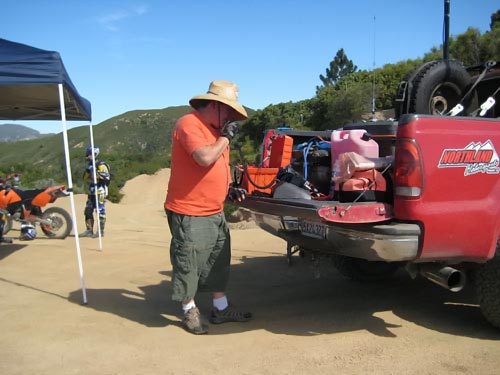 My understanding of Natures rule does not rule out mercy, far from it; It allows what Nature does not understand:
Our existence, in other words, our humanity; and it is this humanity That drives us to defy Nature and the trials she presents us with the will to survive and triumph - as well as to support those that underestimate her fury.
The Cook brothers did not fail; they only gave Nature a warning of their potential to challenge and overcome her fury. I have no doubt they will prove to be Warriors in the future.
Once again our sponsors deserve a big thanks including our major sponsors Shimano, Rock N Road, Sho-Air, Clif Bar, Switchback Cyclery, The Other Room, and El Pollo Loco for providing a great lunch. We have many other sponsors we like to thank on our sponsorship page.
Of course the event would not be possible without all the support volunteers who kept a close eye on the participants and our communication teams who kept us apace of what was happening across the course. Thanks to the SOARA Ham club for the use of their repeater and operators and to Barry Wood for not only another great t-shirt design but for all his work on streamlining our registration and timing.
Thanks also to Carrie Hardin, Sherry Panttaja and Tim Panttaja for making the awards
Our hats off to the staff at O'Neill Park, including Supervising Ranger Ron Slimm, for their help in staging the event.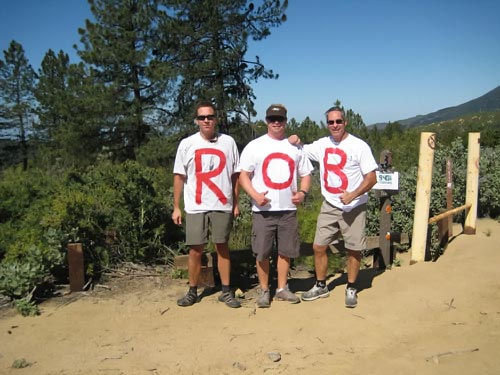 As you all know this event, after event expenditures, will provide around $7,000 to $8,000 to the Freedom Alliance Scholarship Fund. The Freedom Alliance Scholarship Fund honors the bravery and dedication exhibited by Americans in our Armed Forces who have sacrificed life or limb defending our country by providing educational scholarships to their children.
County Supervisor Bill Campbell was a big help in getting the permit fees waived for the use of Black Star Canyon Road, meaning around $500 extra dollars will be going to the Freedom Alliance Scholarship Fund. The lunch provided by El Pollo Loco also saved us around $1,500, which also means more money for the fund.
And last but not least thanks to all of you who by your participation will help provide scholarships to the children of our veterans severely wounded or killed in action.
See you at the Toad Festival on Saturday, June 7th, which will be a fundraiser for "Talk About Curing Autism" (TACA).
The Warriors' Society