"The Traverse" - Race Across The Santa Ana's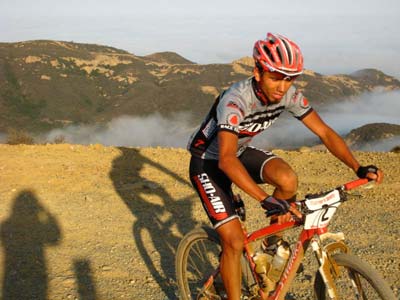 Story by Chris Vargas
Photos by Regina Froemmling, Barry Wood and John Early
Web Editor Barry Wood
So far this year our luck with the weather at our events has been good - and "The Traverse" was no exception. With June you never know - you could have June "Gloom" or you could have temps in the 100's, as we did last year on June 1st at our 24-Hour event. The temps on the mountain stayed in the low 80's and most of the field was finished by the time the temps reached their highs.
Of course what would an event in the Santa Ana's be without the rantings of local Black Star Canyon resident and curmudgeon Art Tuttle, who decided to give our support crews a bit of a difficult time the night before the event and on the day of the event by placing big rocks and other obstructions on the course (which were removed by our support crews before the event started).
With very little rain this year the course, a distance of 44 miles with 8,00 feet of total elevation gain, was dry and a bit dusty, but otherwise in great shape and the top finishing times reflected it. Manuel Prado, in the Geared Expert 16 to 30 Class, was first across the finishing line with a time of 3:43:42 followed by Jason First, also in the 16 to 30 class, with a time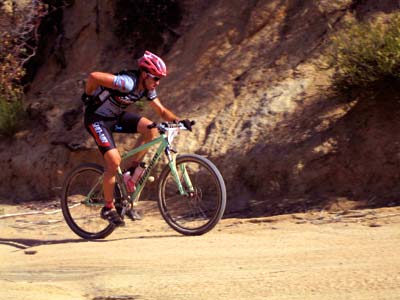 of 3:47:11. Multi-time Vision Quest Champion and record holder Cameron Brenneman came in third with a time of 3:54:02. Cameron was competing in the Single Speed Open Class. Manuel, Cameron and Jason are all members of the Sho-Air Race Team.
Following Manual and Jason in third place the Expert 16 to 30 Class was John Barbanchano with a time of 5:13:04. Following Cameron in the Single Speed Open Class was Michael Lee with a time of 4:18:07 followed by third place finisher Josh Wiggins with a time of 5:02:53.
In the female Expert 31 to 45 Class the first to cross the finish line was Louise Kobin, with a time of 4:53:28, followed by Ankie Trollegard with a time of 5:17:33. Bernice Pierson followed in third with a time of 6:03:00 with Warrior's Society Club member Mary Huth in 4th place with a time of 6:14:49.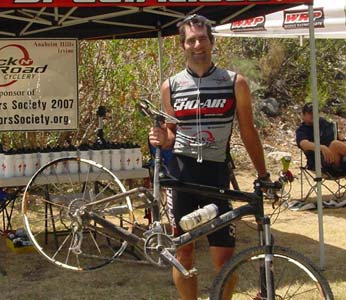 Male Expert 31-45 class winner Guy Sutton donated his $500 class winnings back to the Warrior's Society. The club council decided that since we have enough funds to last us this fiscal year we would put Guy's donation to good use by donating his winnings to the Freedom Alliance Scholarship Fund.
From the web site:
The Freedom Alliance Scholarship Fund honors the bravery and dedication exhibited by Americans in our Armed Forces who have sacrificed life or limb defending our country by providing educational scholarships to their children.
Thanks Guy for helping us to honor our servicemen and women.
A complete list of the classes and finishing times can be found on the results page.
Socaltrailriders.org has a web page up with an excellent collection of recaps from participants in "The Traverse".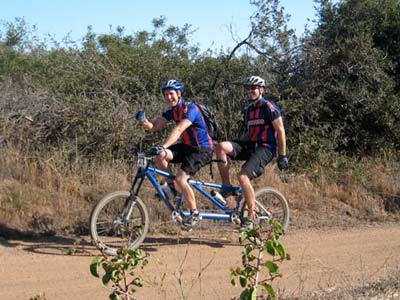 Some notable participants was the oldest competitor (and Warrior's Society Club member) Gregg "Old Man Riding" Howard at 64 years old. Since no one else signed up for his age group Greg was bumped down to the Intermediate 45 to 59 Class and finished with a time of 7:14:30. The youngest competitor was Jantzen Oshier at 14 years old. Jantzen also did not have enough people in his class so he was bumped up to the Intermediate 16 to 30 Class and finished with a time of 6:05:43. Josh Smith in the Expert 31 to 45 Class destroyed his tire and tube on the descent down the Trabuco Trail and finished the race on his rear rim with a time of 4:56:18. We also had one tandem team of Spencer Hurtt and Jeff Nelson, who finished in 6:41:55; they hold the tandem record for the Vision Quest.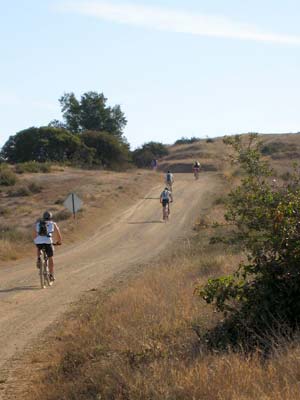 Next year we plan on moving "The Traverse" from June to May so as not to compete with other endurance events held in June. We will also be adding a "Pro" class in addition to the Expert and Intermediate Class. The "Pro" class will race for the finishing cash. We are seeking your input as to the best dates to have these events and any other suggestions you may have.
Many of you asked us if we could promote additional endurance events; to address this we are considering adding an endurance race to the Toad Festival, which will start ahead of the "fun" ride with Pro, Expert and Intermediate classes. We will be moving the Toad Festival to early June or possibly early November. In 2008 the Pow Wow will be our main fundraiser to support the Warrior's Society activities with "The Traverse" and the Toad Festival being fundraisers for non-profit organizations; one possibility is the Forest Fighters Memorial.
As usual, Sherry Panttaja, our Executive Director of Sponsorship and Events did a great job behind the scenes coordinating the event. Her assistant and Timing Director Suzanne Martin continued her solid record of accurate and on time results, assisted by her staff of Jason Martin, Carrie Harden Jenny Hardison, and Ericka Huth.
Barry Wood, our Graphics Director and Web Master, did another outstanding job with the t-shirts, Web site and online registration. Barry is the master of design and the owner of "The Other Room" web design.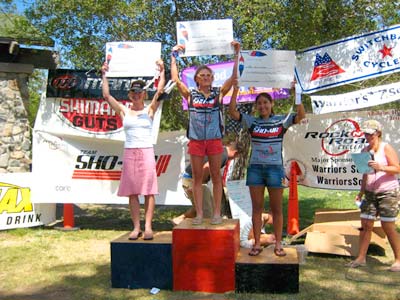 Our Staging Area Director Reed Price also did a great job of loading up all our equipment and setting up the staging/shuttle area assisted by Gene Frial, Angelika Drake and Dave Ross. Gena Muro, Alex Martinez and Jim Simescu did a great job of making sure you were well fed. Thanks to El Pollo Loco and Coca Cola for providing the food and drinks.
Joe Lopez our Communications Director led a great team of ham operators who let us know what was happening on the course. Thanks to Larry Branham, Matt Mendenhall, Mike Morgan, Jesse Vargas, Bill Hines, Richard and Karl Buiter. Thanks also to the SOARA Ham Radio Club for the use of their repeaters.
Many thanks to our medical teams consisting of Rachel Park, Larry Branham, Bob McCarter, Barry Wood, John Early, Chip Leopard, Treve Misemer and Jeff Parish. Luckily we only had one heat related illness that was quickly taken care of by Jeff and Treve assisted by our communications network operators Mike Morgan and Joe Lopez.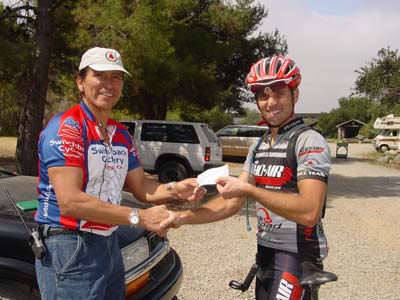 Helping you to navigate the course were our course marshals; Dave Zander, Mark Wilson, Suzanne Wilson, Hal Sintov, Mark Cluttey, Calvin Mulder, Brian Lewotsky, Molly Hartsough, Matt N., Steve Foster, Gerry Huth, Regina Froemmling, Tim Panttaja and Brian Emter. It is comforting to know you have people involved that you can trust to get the job done; but that should define a Warrior as these volunteers showed.
We also wish to thank the staff at O'Neill Park for their tremendous help as well as all our sponsors, especially Rock N Road Cyclery, Sho-Air International, Hoss Clothing and JAX Bicycle Centers for donating the Expert finishing cash, as well as our long-time sponsors Clif Bar, Cytomax, Shimano, Manitou, Edge Cyclesports, The Path Bike Shop and Switchback Cyclery. For a complete list of our sponsors click here.
The summer is here and that means it's time for the Warrior's Society's summer vacation. We won't be having any trail work or riding events over the summer but will start up our trail work again in the fall (if the forest is not closed due to fire danger).
Thanks to all of our supporters for your help with our trial work events so far in 2007 - as well as for your support of our events. We hope to see you in the fall when our trail work program resumes.
---