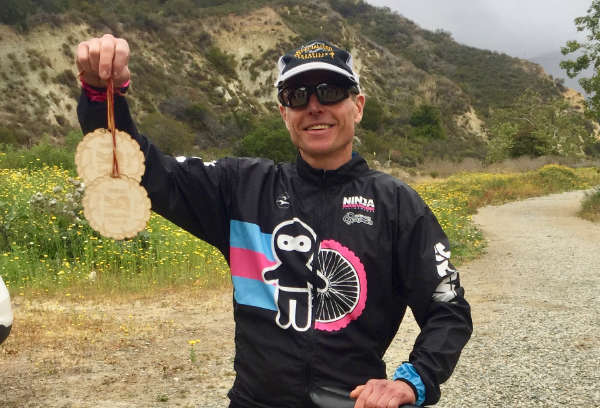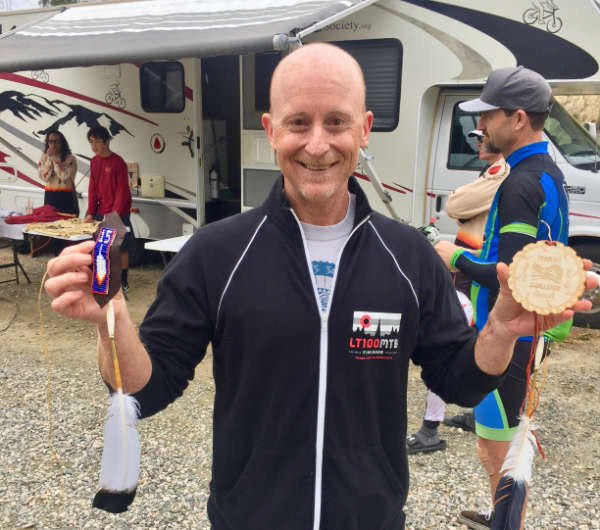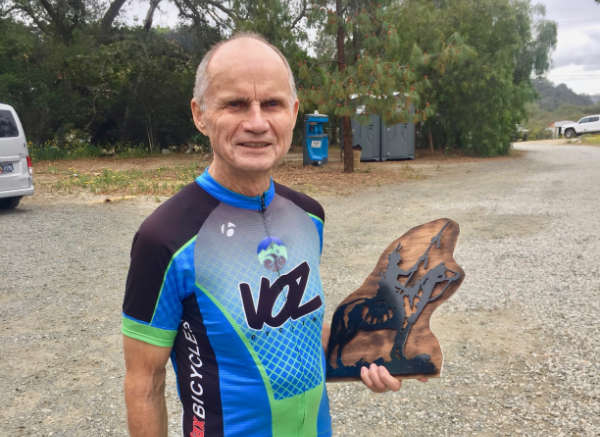 Despite the cloud cover from the May gray day - it was a good day to race. The riders rode into the clouds and it got a little damp but there were no worries about over-heating. That's one thing about both May and June, you could have 100 degree temps or May gray or June gloom.
In the King and the Queen of the Mountain series 15-year Vision Quest finisher Charlie Gilmore came up on top as Pro King. We didn't have a Pro Women's class but in the Woman's Intermediate/open Class Leslie Williams was crowned as Queen, with John Nobil, who beat Tinkers record time, was crowned Intermediate King. The series was based on the combined finishes of the Vision Quest and Trabuco Challenge and in the case of the women, the combine finishes of the Counting Coup and Trabuco Challenge. Charlie Gilmore was also recognized for his 15 Vision Quest finishes with a coup feather with "15" beaded on it. 76 year old Ritchie McLaren was awarded the Bob Haislett award for his finish in the 2018 Counting Coup, in which his titanium knees helped pedal him to the finish.
In the Open Female Class, Leslie Williams finished 1st with a time of 3:02:04, Brooke McFerren came in second with a time of 3:38:54 and Brianna Varela came in third with a time of 3:48:10.
In the Male Pro Class, Charlie Gilmore came in first with a time of 2:32:12, Craig Hartman came in second with a time of 3:10:32, and Steve Fenn came in third with a time of 3:18:11.
The youngest competitors were 15 year old Ryan Martian (5:05:01) and 16 year old Colby Paul (5:00:09).
For all the class finishes click here.
Click here for photos taken by Mike Caffrey up on the Main Divide.
Many thanks to those who participated and to our volunteers who helped support this event. We also thanks our sponsors, El Pollo Loco, The Path Bike Shop, The Other Room, Sena, Clif Bar, Coca Cola (Anthony Beneventi), Hammer Products and Outdoor Urban.
Special thanks to Denis Duty who made the awards!
And many thanks to the Parker family for the use of the Parker Ranch.
Registration for the our 2019 events opens up at 8:00 p.m. on October 1st.
See you at the 2019 Vision Quest and Counting Coup!
The Warrior's Society