Photos by Hailey Hansen and Mike Caffrey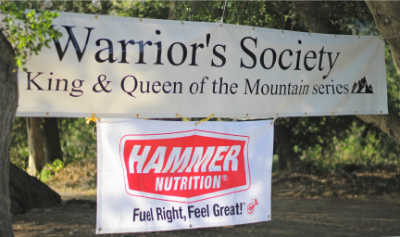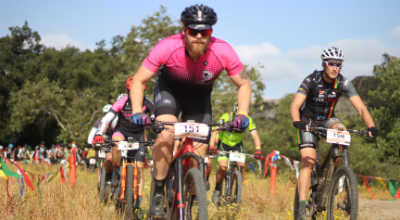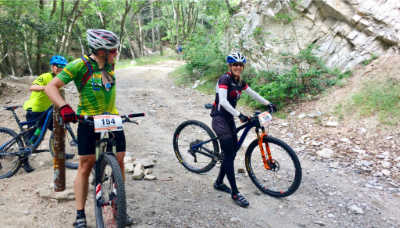 What a difference a month makes!
Instead of the mud fest we experienced at the Vision Quest and Counting Coup events, we had perfect riding weather for the Trabuco Challenge, much to the relief of both participants and support. This is our second year running this series (and this race) and it is nice to have a short event where participants and staff aren't up at God awful hours and have time during and after the race to enjoy each others company and camaraderie.
It came as no surprise that Tinker Juarez came in first with a time of 2:15:01. This time, combined with this Vision Quest time, earned him the title of Pro King of the Mountain. It goes without saying he is a tremendous athlete and it was great having him back defending his King of the Mountain title. The first female to finish was Megan Brown with a time of 3:03:48. Although she finished 1st she did not win the title of Pro Queen of the Mountain due to the fact she did not race the Vision Quest. We did not have enough females racing to separate into pro and intermediate so they were all combined into and open class.
Kristen Kelly, with a time of 3:11:48, is Pro Queen of the Mountain due to the fact she raced both races in the series (Trabuco Challenge and Vision Quest).
In the intermediate class John Oskins was crowned the Intermediate Class King of the Mountain with a Trabuco Challenge finishing time of 2:23:01. The intermediate King and Queen of the series combined the Counting Coup race with the intermediate class of the Trabuco Challenge. Megan Brown was crowned Intermediate Queen of the Mountain based on her Counting Coup and Trabuco Challenge intermediate finishes.
For the complete finishing times click here.
At the awards ceremony we also recognized those riders who have completed 10 or more Vision Quest events. Nate Whitman and Charlie Gilmore are tied at 14 for the most Vision Quests finishes.
Charlie Gilmore had this to say about his 14 consecutive finishes:
After 12 years in a row my wife made me the attached display for my feathers. I haven't hung my 14th feather yet. Its now a family joke as I prepare for each "chance in a lifetime" VQ. Committing to VQ each year has kept me focused on maintaining my fitness level and every year I participate I reflect on how fortunate I am to have my health and wonderful family."
Following Nate and Charlie is Frank Cain, with 13 finishes. Frank had this to say about this year's Vision Quest:
"Generally I don't start having "Visions" until I get to Horse Thief, but 2017 was kinda special as the "Visions" started in the mud on Black Star this year."
Doug Andrews, father of Geoladders has 10 finishes, as does John Fugitt, who expressed the following on the difficulty of the Vision Quest:
"After completing many epic rides including Leadville 100, Breck-Epic and 24 Hour races, I could say finishing Vision Quest is one of the most difficult, challenging, and greatest accomplishments I have done on a bike, let alone finishing Vision Quest 10 times in a row without any major mechanicals. I'll be back for more."
Club member Mike Caffrey, who attempted his 11th Vision Quest this year, which was cut short by a broken collar bone, broken ribs and punctured lung, has 10 finishes.
Our most unique 10 year finisher, Mark Scheetz, is the only 10 year finisher to finish on a BMX bike.
Congratulations to them all for having 10 or more Vision Quest finishes under their belts. We plan on having a special beaded award for Nate and Charlie next year if they finish their 15th Vision Quest. All the 10+ year finishers will receive a comp for the 2018 Vision Quest.
In 2018, we are thinking of adding a hill climb up Black Star to the series. We wonder how fast Tinker could ride up in this race knowing he can put it all out there on a short sprint and not across 52 miles like the Vision Quest.
We may also allow the return of transfers for those who sign up for the 2018 Vision Quest and Counting Coup and have to cancel. We know that a lot can happen in the time period when you sign up for the race in October and the race in April (the events will be on April 7th in 2018). If we decide to do so, we will be charging a $25 transfer fee which will be used as finishing cash for the series or to purchase swag/gift cards to raffle at the 2018 Trabuco Challenge.
And last but not least, we thank all our volunteers who brushed the trails, made the awards, prepared the packets, manned the start, the check points, manned mobile units, operated the ham communications and helped at the finish line; it would not be possible without you. You are one special group of volunteers that will get to the event at all hours of the early morning and stay until we are all finished and cleaned up at the end of the day.
We also thank our sponsors, The Path Bike Shop, The Other Room, Sena, Clif Bar, Coca Cola (thanks Anthony Beneventi) and Hammer Products.
Thanks also to the County of Orange, the U.S. Forest Service, Steve Parker owner of the Parker Ranch and the SOARA Ham Radio Club for use of their repeaters. Thanks to Barry Wood for our t-shirt design this year and Dennis Duty Fabrications for the awards. And special thanks to Chris Williams of Replay Timing for a great job handling all our timing needs and making our event look more professional!
Registration for all our 2018 events will open on October 1st of this year at 8:00 p.m. The Vision Quest and Counting Coup always sell out so sign up early.
Thanks to all our participants and staff who made our 2017 series of events a success!
The Warrior's Society