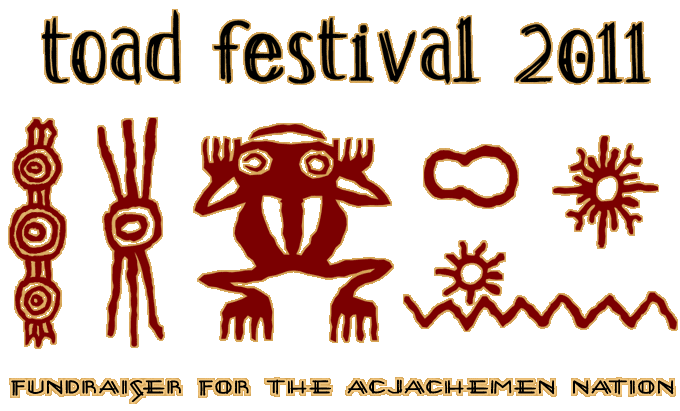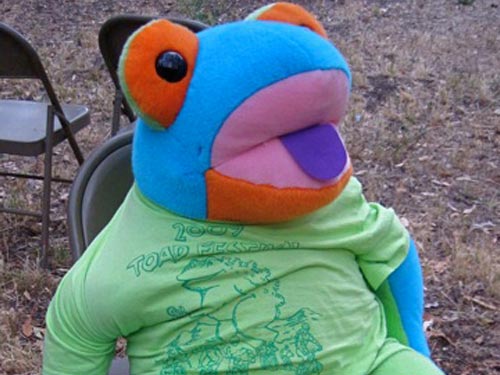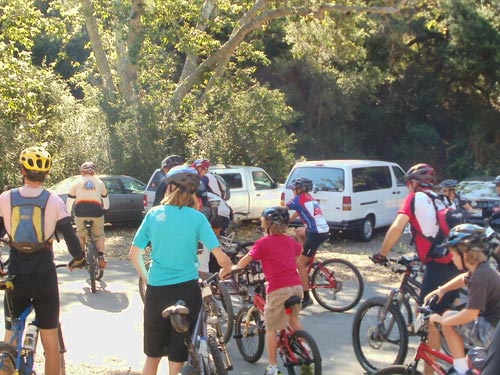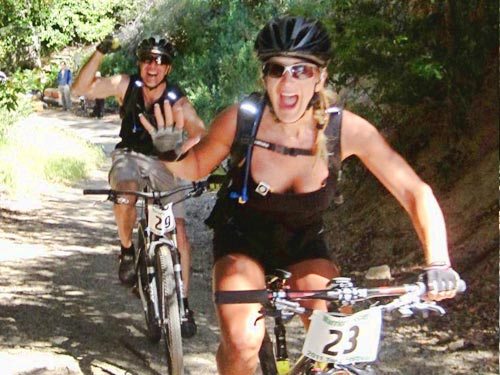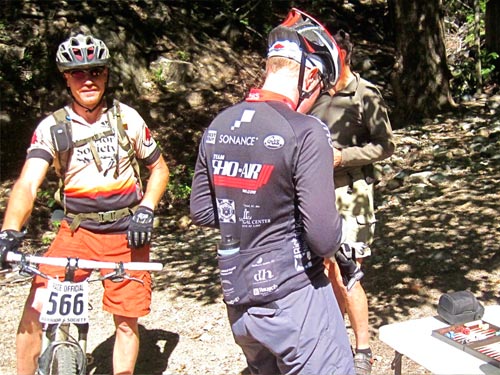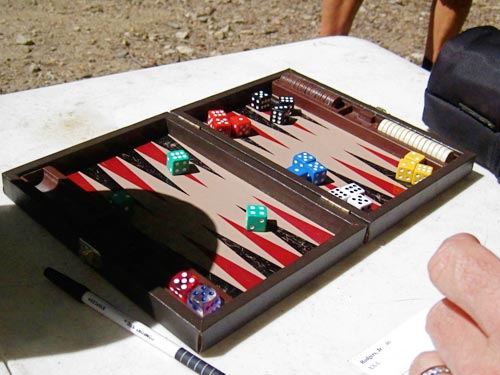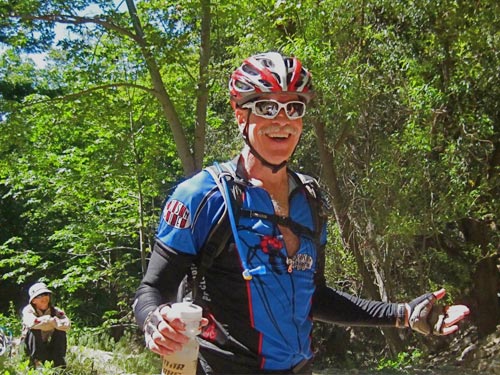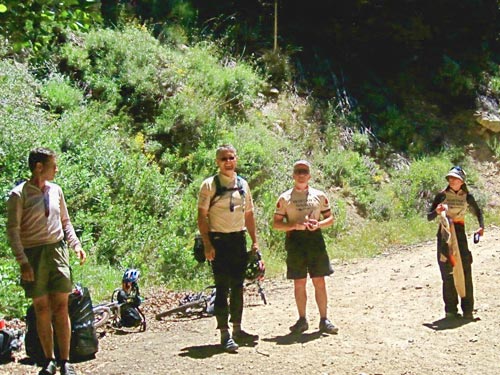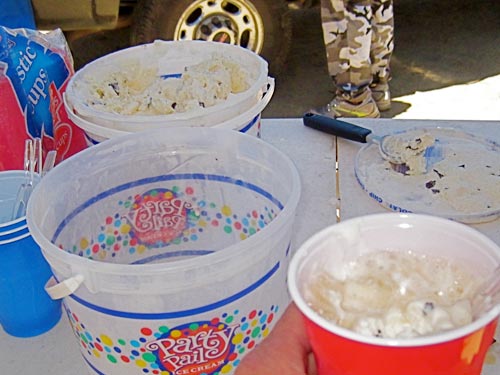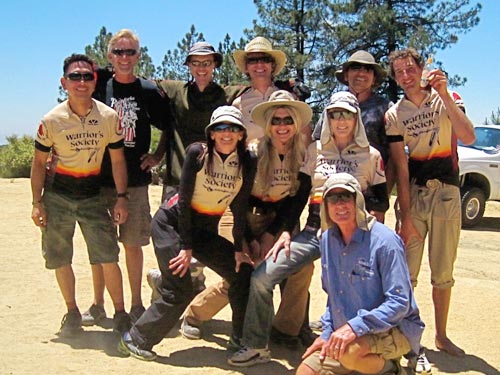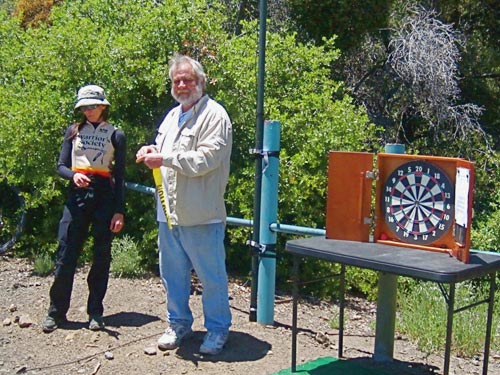 Our run of great weather continued with our last event of the year!
You never know what the weather will be like in June; some years it's hot as Hades and other years it's drizzly and gloomy. But no matter what the weather the attitude of the riders is always positive and fun with some getting into the spirit with various Toad related decorations on their bikes.
We had a couple of stories to tell about this Toad Festival:
One of the stories involved three brothers: Robot Rodgers the "lapor" the racer, John "JR" Rodgers, oldest bro, SS rider and Brian "Bicky" Rodgers the "lapee" the rookie.
Here's the story as told by oldest brother JR:
I was smack talking with Robot about a week ago and told him to do the Toad with us, (I think you know Doug Grant, Roger Toubeaux) anyway, he is wanting to do big rides to train for Leadville and I came up with the idea that when he made it down Trabuco to head back up Holy Jim and do that upper loop again. He liked that idea and then decided he would challenge our brother Brian to the bet, that if he caught him, it would be a dollar a mile, all his raffle tickets, and as an added bonus, he would get to plaster him with whip cream before our regular Wednesday morning group MTB ride.
Brian has never ridden any of that loop. He is a basic beginner, but will not back down from the challenge of the 3 year older brother Robot. He just purchased a new Epic comp FSR 29er about 6 mo ago, and has made amazing progress in his riding and all the while suffering ridicule from our MTB group. The Toad was a big accomplishment for him. He was pretty bonked, but would not quit. Brian had been letting the Warriors at the check points know what was going on with us, and when Robot came past the check points on the 2nd lap he was greeted with a "up yours Robot"! Robot said it made him go even faster! Finally the catch at the top of Trabuco was classic. Robot told me he was out of the saddle humping that last bit before the top and he could actually see Bicky toss his last dart. After Brian had thrown it, he was giving the Warriors instructions to shout out to the Robot the "up yours" when all of a sudden there is Robot, at full race pace, screaming as he makes the right turn down Trabuco, "UP YOURS BICKY"!!!! They all could not believe it. Classic.
We all had the best time, a super great day, what a great event. Sherry and the raffle were the best. I have done all your events (except finishing VQ) multiple times and always look forward to them. The Warriors Society is first rate; I would love to be a member. I dig riding with Reed Price, Bob Hale, Greg Howard and crew down at the Weed Patch - see them down there all the time.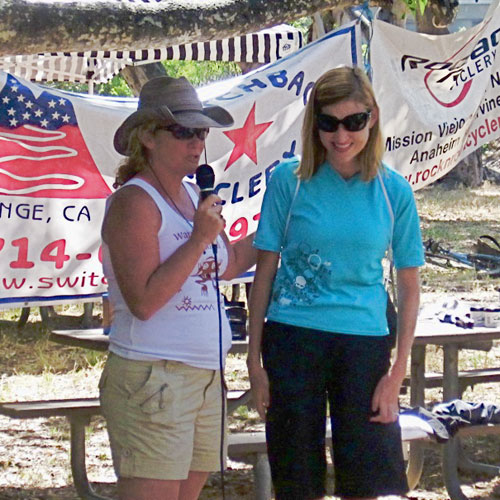 We have an annual award named after one of our most accomplished club members, Bob Haislett, who held the age record for finishing the Vision Quest on both a geared and single speed bike when he was in his 70's. The Bob Haislett was awarded to Kelly Polis; she was diagnosed 8 years ago with brain cancer and was given 7 months to live. She went thru surgery, chemo and radiation and many years of physical therapy. She is now clear of cancer and living a wonderful life with her husband and two year old child. She has regained most of her strength but has limitations with the function of her left arm and hand. Her husband has had her bike set up to allow her to brake with only her right hand and it applies the brakes to both front and rear wheels. She actually used to ride with Bob Haislett years ago before she was diagnosed. She use to be quite a hill climber according to her words. She is still an incredible rider and an inspiration to see out riding and tackling the terrain on her mountain bike. She has a smile all the time and is obviously happy to be riding her bike even with all the extra work it takes. Kelly Polis will be an inspiration to me every time I get on the bike! (and throughout my life) We all should have a chance to meet someone like her so that we know not to take life for granted and to appreciate the smaller things in life.
This years Toad Festival felt like a big group of friends getting together to enjoy the day. Even from the start we recognized most of the riders as being return riders from years past. Most of the riders were groups of family members from teams of brothers, husband and wife, dad and son and mother and son riding together. It was about having fun and no body was concerned with their ride time (except of course for the first couple finishers who came in like it was a race). The overall feel of the ride was about riders enjoying the mountains and spending the day on their bike on a pleasant day. The kids/family ride was full of kids from 5 years old up on a range of bikes that included BMX race bikes to full suspension mountain bikes. The families riding together were more then supportive to each other and were more patient then ever with the kids and their abilities. Seeing all the kids with their parents always puts a smile on my face.
The Native American women from the Acjachemen Nation that came from the Juaneño tribe were also a hit amongst the children. They taught them how to make slap sticks and the importance of abalone in the Indian traditions. Each child walked away with a piece of abalone shell to make into a necklace or use to keep their sage cutting in. The children learning about the Acjachemen traditions was a great educational opportunity for all.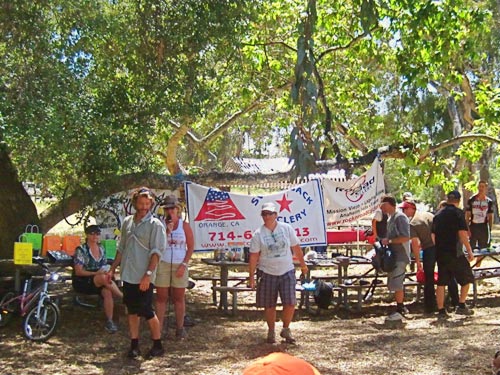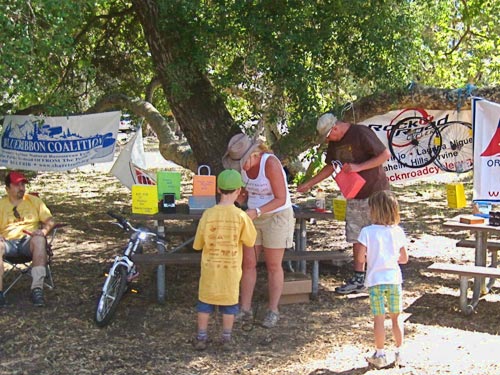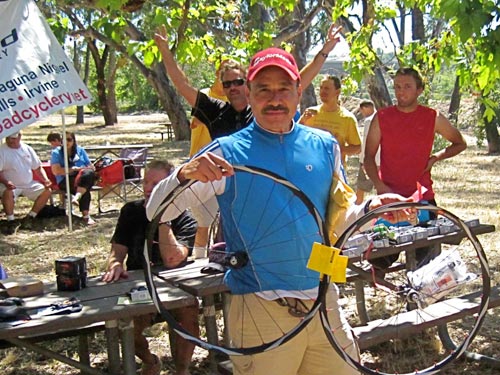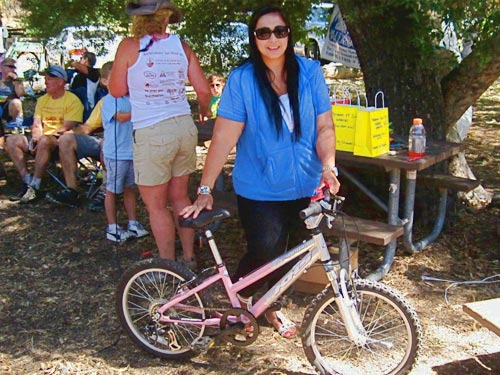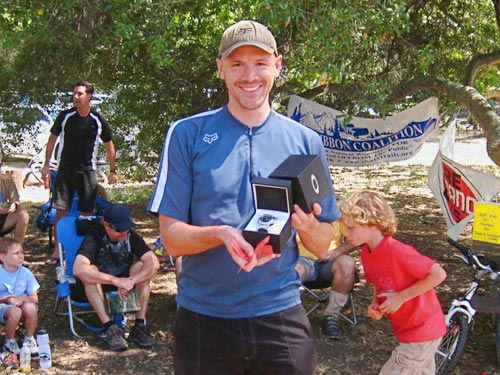 The raffle product was a big hit after we had all filled our tummy's with a El Pollo Loco lunch. There were three high end wheel sets raffled off and big smiles were on the winners of those. The most popular item was an Oakley men's watch that everyone wanted either for themselves, husband or dad with Father's Day right around the corner. Once all the raffle product was handed out and the winners were announced we changed it up this year and started to throw the left over swag to the remaining participants.....now everyone will make sure to hang till the end of the event! Sorry to all of those that were hit in the head with flying product, or taken out by a little kid going for that free Clif Bar on the ground.
Like always the Warrior Members worked hard and put on another great event that left smiles on the participant's faces and we thank them all!
Jerry Wildermuth had this to say about our volunteers and fellow participants:
THANKS, THANKS, AND THANKS Chris and each and every volunteer I am so grateful for your making my first and not last Toad ride a Great experience. I have ridden some of the Warriors rides, the most recent was Rwanda. I was cared for, pampered with help and affection and encouragement. Chris you really gave me the courage to ride Trabuco with confidence and grit. It was scary fun. I had a wonderful day, as hard as it was. You have created an environment of caring and respect that runs deeply through each rider. I cannot tell you how many riders and staff encouraged me at those times I needed it the most. WOW. I did counting coup about 5 years ago and I hope to be able to get in this year. I know that it fills in hours so I will be on notice for the registration date. Again, you are adding so much to peoples lives, I thank you very much.
Sincerely,
Jerry Wildermuth
We are thankful for the support of our Major Sponsors El Pollo Loco, who provided an excellent lunch, Shimano (they've supported us from the beginning), Cannodale, O'Hara's Pub at the Orange Circle, Rock and Road Cyclery, Switchback Cyclery, the Silverado Modjeska Recreation and Parks District and The Other Room web design.
We'd also like to thank our minor sponsors, Reach Air, Cynergy Cycles of Santa Monica, Trails End Cycling, Two Wheels One Planet, Okole Stuff, Denis Duty Fabrications, BRC, Coca Cola, the SHARE Mountain Bike Club, Oakley and Be True Foods.
We also thank the SOARA Ham club for use of their repeater and special thanks to Jake Rodriguez and Debra Clark with the U.S. Forest Service for their support as well as the staff of O'Neill Park who have been the most wonderful hosts over the years. We also thank Forest Volunteer Jay Gentile for supervising and assisting with the event.
We'd also like to thank Third District Supervisor Bill Campbell for his support of the event.
Thanks to all those who helped with the trail work prior to the event including Ned Reynolds and Gene Frial our Trail Work Directors.
And last but not least another thanks to Barry Wood who designed the event t-shirt that was based on Acjachemen rock etchings found in the Santa Ana's Mountains.
Have a great summer!!
The Warrior's Society