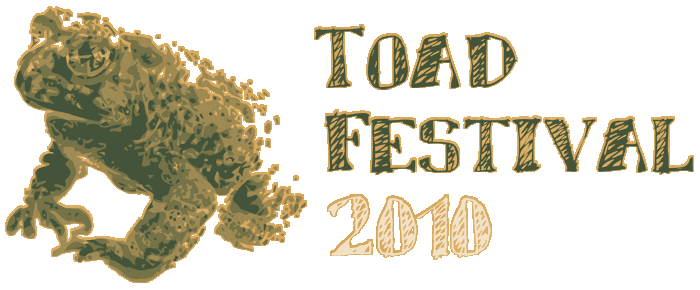 The Toad Festival, though not a walk in the park, is a relatively easy event; especially when compared to our other events: the Vision Quest, Counting Coup and Traverse. Though it may be promoted as a "fun" event, there are 27 miles and 4,000 feet of climbing packed into that "fun." Combine that "fun" with temperatures in the high 80's to low 90's and it doesn't seem so fun anymore; thank God for the root beer floats at West Horse Thief!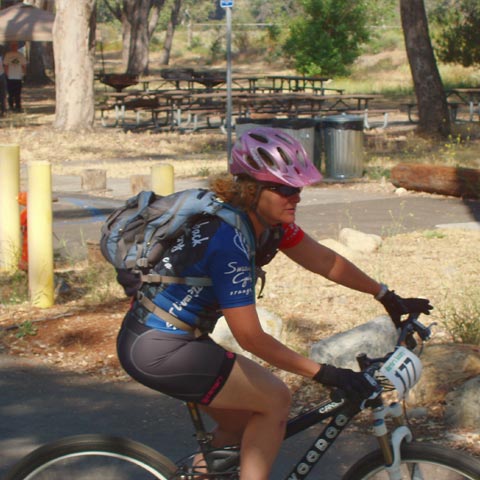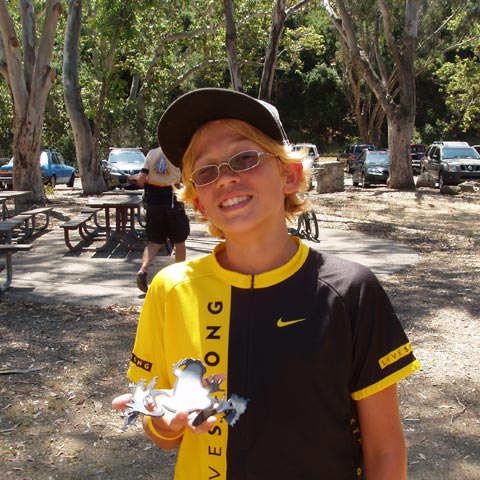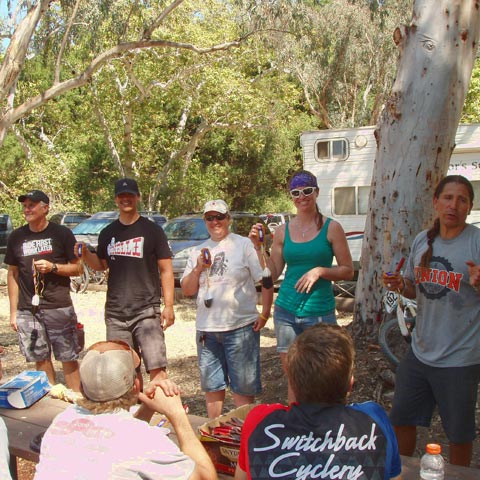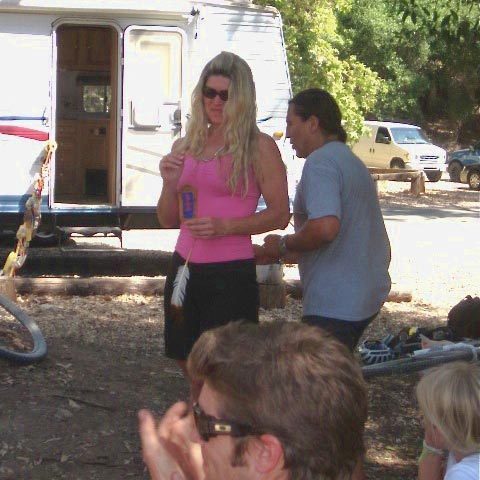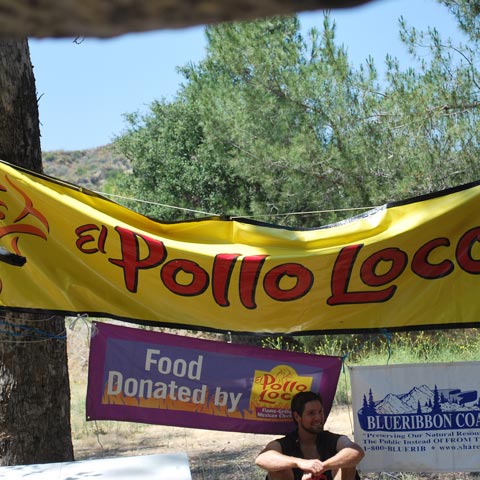 Despite the hot weather it was a good time. This is the only event where we have a family fun ride and it was a chance for some of our club members to actually ride one of our events, and with their kids, instead of primarily acting as support. From the reaction of the kids it was a fun ride and they enjoyed playing the games. All the kids received a Toad Festival "Toad" provided by Dennis Duty Fabrications.
We truly appreciate your support of the Toad Festival; we raised between $4,000 and $5,000 for Operation Mend and in the process had a great time and won some nice prizes. And the food, provided by our Major Sponsor, El Pollo Loco, was a big hit.
We traditionally have the initiation of new club members at the Toad Festival after the participants have left. This year Kathy McNeill, Chris Hanson, Allison Rust and Larry Harden were initiated into the Warrior's Society. Gene Frial was initiated into the Warrior's Society Dog Soldiers in recognition of his tremendous help with the front country and back country trail work as well as for his outstanding athletic ability.
Debbie Brown was awarded a Vision Quest Coup Feather award from the first Vision Quest ever held (1996) in recognition of her finishing the Ultra Quest. At that time (1996), the Vision Quest was a RAD's event. The Warrior's Society thought it appropriate to award her the feather since the Ultra Quest is a RAD's event and the feather features the RAD's lizard in bead work; it was a well-earned honor.
We have two others to initiate into the club but they either could not make the event or had left before the ceremony.
Congratulations to you all!
Many thanks to our Toad Festival support staff including Tim Panttaja, Mary Huth, Matthew Forest, Jeroen Bosboom, Matthew Nourmohamadian, Treve Misemer, Mike Caffrey, Andy Lightle, Kathy McNeill, Erik and Debbie Brown, Jason Martin, Gregg Howard, Vicki Lukina, Bob Rust, Allison Rust, Calvin Mulder, Angelika and Preston Drake, Chris Hanson, Keith Parsons, Reed Price, Ned Reynolds, Keith Eckstein, and our Event Director Sherry Panttaja, Timing Director Suzanne Martin, Jim and Troy Sladeck, Medical Director (and Ham operator) Carrie Harden, Communications Director, Webmaster and Toad Festival t-shirt designer Barry Wood, and Hospitality Director Jim Simescu.
Thanks to our communications staff including Communications Director Joe Lopez, Jesse Vargas, Ken Rands, Jeff Parrish, Josh Avila, Lubos Durdovic, Bill Hines and Dave Zander. Thanks to the SOARA Ham club for the use of their repeaters on Santiago Peak.
Thanks also to the staff of O'Neill Park and the U.S. Forest Service including Virgil Mink, Debra Clark and District Ranger Keith Fletcher.
We are thankful for the support of our Major Sponsors El Pollo Loco, who provided and excellent lunch, Shimano (they've supported us from the beginning), Cannodale, O'Hara's Pub (the official watering hole of the Warrior's Society), Rock n' Road Cyclery, Switchback Cyclery and The Other Room web design.
We'd also like to thank our minor sponsors, Reach Air, Cynergy Cycles of Santa Monica, Okole Stuff, Denis Duty Fabrications, KHS, Serfas, Canari, BRC, Coca Cola, Hammer Nutrition and the SHARE Mountain Bike Club.
Thanks to all of you from making our 2010 Event Season a success!
The Warrior's Society