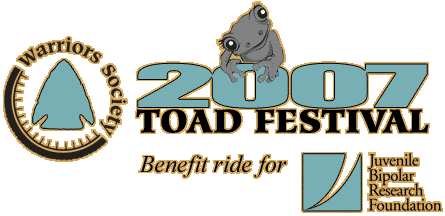 The 2007 Toad Festival
Story by Chris Vargas
Photos by John Early, Chris Vargas, Kim and Lori Di Pasquale and Barry Wood
Web Editor Barry Wood
Unlike the Vision Quest, where rain, snow and mud can make for a very challenging ride, the Toad Festival over the years has had to deal with the opposite of dry weather and temps in the high 80's; but this year was different. Although a week before the Toad Festival the temps where in the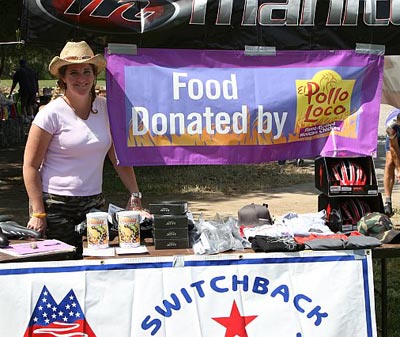 high 80's, we lucked out and the temps dropped to the high 70's and the day was perfect for a ride in the Santa Ana's. It was a beautiful morning as the participants arrived at O'Neill Park!
For the first time the Toad Festival was a fundraiser for a non-profit organization, the Juvenile Bipolar Research Foundation, which is researching ways to properly medicate and treat Bipolar disease our children.
In future years we will continue to stage the Toad Festival to benefit non-profit organizations that don't get much attention.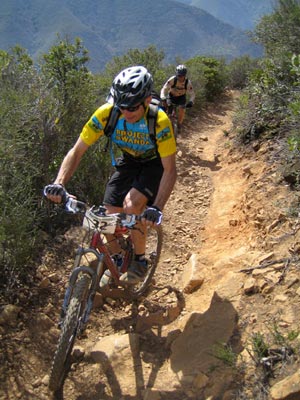 Another first was the option of a short 10-mile easy ride in the open space near O'Neill. It was great having a ride that even families could participate in, which included a father riding on a tandem bike with his 6 year old daughter and pulling his 4 year old in a trailer behind.
Our Executive Director Sherry Panttaja worked hard to get sponsors for the event, including having El Pollo Loco cater the event. Having the event catered really took a load of work off the club by eliminating buying, transporting and cooking the food for the participants. We are looking into having El Pollo Loco cater all our events from now on. Special thanks to Mark Hardison of El Pollo Loco for his help in providing this delicious lunch , discount coupons for the restaurant for all participants and a great gift of a years worth of dinners for the raffle.
Although we did have several injuries, including a gashed knee and a broken nose, for the most part the event went well. With ham radio and medical coverage spread out on the course the participants were well taken care of. The participants of the event even received an email from a group hike leader complimenting them on their friendliness and courtesy:
Just wanted to send you a quick thank you to all the wonderful people that participated in your ride this past Saturday on the Holy Jim Trail. I'm a Mentor with the Leukemia & Lymphoma Society's Hike for Discovery program and we had 20 hikers sharing the trail with your people. I've never met a more pleasant, friendly and courteous bunch of riders! It was a pleasure chatting, if only briefly, with your riders along the trail.
What could have been an unpleasant encounter turned out to be a lot of fun -many of our members were cheering the riders on telling them 'good job' and 'woo-hoo!'.
Thanks again for having such nice people in your event!
Best regards, Debbie Cetin - hikefordiscovery.org

Of course no event is possible without the help of volunteers. Sherry Panttaja, our Executive Director of Sponsorship and Events, did a great job of lining up sponsors along with her friend Lori Di Pasquale and taking care of organizing the event bags, registration and scoring. She was assisted by Jason Martin, Suzanne Martin, Carrie Harden and Danette Mohr.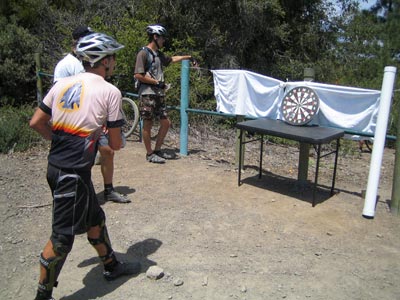 Our game stations and course marshal volunteers were Gregg Howard, James Sladeck, Troy Sladeck, Pete Allen, Bob Rust, Brian Ephraim, Dan Gallagher, Ned Reynolds, Bob McCarter, Matt "Disco" Forest, Andy Lightle, Jeroen Bosboom, Calvin Mulder, Treve Misemer, Jeff Parish, Barry Wood, Reed Price, Mark Wilson, Suzanne Wilson, Gerry Huth, Dave Ross, Molly Hartsough, Paul Miller and Tim Panttaja.
Our Communications Director Joe Lopez lined up a great group of ham operators to handle communications; Bill Hines, Mike Morgan, Dave White, Ken Rands, Matt Mendenhall and Tek Bickler. We also thank the SOARA Ham Club for the use of their repeaters.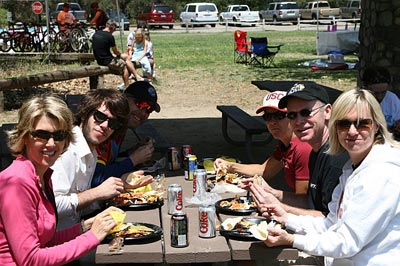 Barry Wood did another superb job on the event t-shirt; we always look forward to what he comes up with for our event t-shirts.
Many thanks to the staff of O'Neill Regional Park who were a tremendous help in setting up for the event; they even came by and participated in the prize raffle and are considering participating in our future events.
Switchback Cyclery originally donated one Santa Cruz Blur LT frame for the raffle but when the 1st raffle ticket for the frame was selected it only had a first name with no phone number and that person was not present. A second raffle ticket was pulled belonging to Dwayne Ziegler and it had his phone number but Dwayne was not present. But the crowd spurred our staff into picking a third ticket and that person, Gerry Huth, was present and was awarded the frame.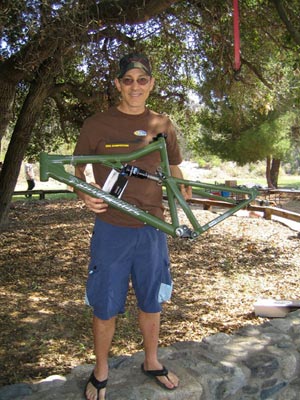 But because The Warrior's Society stands by their word and because we had set a rule that if a person wrote his name AND PHONE NUMBER on the ticket, and if they were not present, we would contact them to let them know they had won, we felt it was important to award a second frame to Dwayne Ziegler who held the second ticket that was pulled. Thanks to Switchback Cyclery for providing an extra Santa Cruz Blur LT frame.
Here is the list of Winners:
Dwayne Ziegler - Santa Cruz Blur LT frame from Switchback Cyclery
Gerry Huth - Santa Cruz Blur LT frame from Switchback Cyclery
Danette Mohr - (2) Round trip American Airline Ticket from Di Dipasquale Family
Gene Frial - Shimano XTR Wheelset
Dave Norris - Manitou R7 Platinum shock and a Zitos $25 gift certificate
Sherry Panttaja - Night on the town Limo Ride from Larry Friedman of Home Pro Realty and a $50 gift certificate to Da Bianca Italian Restaurant
Leigh Heyer - 1 Botox Treatment from Premiere Medical Asthetics and Voler Arm or knee warmers
Danette Mohr--Shimano M225 mountain bike shoes $100 gift certificate to Switchback Cyclery, $25 gift certificate to Hurricane Componets, Voler Leg Warmers and a Wine basket
Danette Mohr-- 1 Hour Therapeutic Massage donated by Tamara Strickland
Maria Fahie - Mexican Dinner Gift Box and a $50 gift cert. to Gabbi's Mexican Kitchen in Orange Circle
Jon Schmidt --- Thai Yoga Therapy and a gift basket donated by Glen Swindler of Old Town Yoga
Jason Martin---Thai Yoga Therapy and a gift basket donated by Glen Swindler of Old Town Yoga
Maria Fahie -- English Food basket, Shimano XTR pedals and Shimano M225 mountain bike shoes
Dennis Chandler--Shimano XTR pedals, Camelbak and a wine and cracker basket
Paul Miller-- Shimano M225 mountain bike shoes and a wine basket
Matt Vaughn--Voler Leg warmers, $25 gift certificate for Hurricane Components and a wine basket
Ken Rands-- Voler knee or arm warmers, $25 gift certificate for Hurricane Components and a wine basket
Dan Gallagher-- Shimano XTR Crankset
Keith Parsons-- (12) 8 piece chicken meals from El Pollo Loco Voler shorts, 25$ gift certificate to Hurricane components and a wine basket
Steve Cicon-- XTR front and rear derailler, Voler shorts, a $25 gift certificate for Hurricane Components, and a wine basket
Kimberly Staff-- XTR chain and XTR Cassette and a wine gift basket
Carrie Harden-- Haircut and color donated by Luca Bella Salon in Anaheim Hills and Shimano M225 mountain bike shoes
David Mashaw-- Nadeu Family Vinters wine basket and Shimano XTR pedals
Mike Fry-- Voler Knee or arm warmers, wine basket and a $25 gift certificate for Hurricane Components
WOW that was a lot of Stuff!!!
The Shimano Product and the Manitou Shocks given out for both the game cards and the raffle were provided by our major sponsors Shimano and Manitou. Other product came from our large list of minor sponsors. To see a list of all our sponsors go to our sponsor's page on our web site.
A special Thanks goes out to:
Richard and Margaret Stephens
KJ property management
Hurricane Components
Dr. Belda
Laura and Tom Daley
The Di Pasquale Family
Mitsubishi Digital Electronics
2 SANTA CRUZ BLUR LT Frames from Switchback Cyclery
Gabbi's Mexican Restaurant (in Orange Circle) for their $50.00 gift certificate
Premier Medical Aesthetics (Dr. Richard Mantell) for the Botox treatment
J & H Asset Property Management - Jim Joffe
Home Pro Realty, Larry Friedman for the Limo ride
Nadeau Family Winery for the Wine basket (great wine!)
Luca Bella Salon, Angelique for the Gift Certificate
Tai Yoga Massage 2 hrs from Glen Swindler
Mexican theme basket from the DiPasquale Family
Two American Airlines tickets anywhere in U.S from the DiPasquale Family
1 hour massage at your home gift certificate from Tammy Strickland, massage therapist
Our next event is "The Traverse" - a 40-mile race across the Santa Ana's to be held on Saturday, June 9th. "The Traverse" Event page on our web site.
You can register for this on Active.com or you can download an application and mail it in.
Thanks to all our sponsors and the participants of the Toad Festival for making this fundraiser for the Juvenile Bipolar Research Foundation such a success!
---