Thanks to all who made the reschedule date of April 14th!
It is never an easy decision to reschedule the event - but first and foremost is the safety of our support and participants. We have a 20-year relationship with the Forest Service - to the point where they consult with us if there is a new mountain bike event being proposed in the Trabuco District. We never want to put the Forest Service in the position of rescuing our riders and support (as they had to do with a running event in which the promoter could not get his runners or support off the mountain due to a rain storm). The Forest Service had to round up personnel thoughout the various districts of the Cleveland National Forest to help evacuate them.
For the first years of our event, we used to post the backup dates in case we were forced to use them. We've been very lucky that this was the first time we've had to reschedule due to rain. Next year the event will be on Saturday, April 13th - with the 20th of April as a backup date. We will remind participants that like the Rwanda Ride, that there are no refunds if the event is rescheduled due to the logistics, permits, or planning. First and foremost - we are a trail work/advocacy organization that does events to support that work.
Now on to the event…
Some of the notable finishers include Charlie Gilmore completing his 15th Vision Quest. Charlie will be awarded at the Trabuco Challenge with a custom beaded coup feather with "15" on it to represent his 15 finishes. Nate Whitman would have finished his 15th Vision Quest if not for the rescheduling. Nate emailed us the day before the event with these thoughts:
I am so incredibly sad to report that I will not be on the starting line tomorrow.
Chris as you know, I am now in Colorado full time. I had made the effort to get myself there for the April 7th date to take part in the event, and most especially to be there to receive this award.
With the date change to tomorrow (the 14th) I just could not swing it. My bike is already there! And I even was able to rebook my flights without too much trouble. But with family commitments here with my wife and 2 boys, and work, I can't swing it. I held out hope as long as possible. I was crossing my fingers all week, that as the weekend approached, I could pull it off to come out to OC. But in the end it wasn't feasible, and I only really resigned to that fact early this morning.
When I first started with the VQ, I was just beginning to ride mountain bikes. I was 25 or 26, single, no kids, and living fast and loose in SoCal... I'm now 42, two boys (8 and 3) and living in Colorado 1,000 miles east into the Rockies. Wow, it sure goes by quickly. And the VQ and Warrior's have been a huge part of my cycling career and lifestyle. In fact a Warrior's member (Todd Brown) was really one of the first experienced cyclists to take me under his wing and help me get started. I can still remember my first time riding in the Santa Anas, which was really my first time ever on a long hard dirt ride. Todd took me up Maple Springs and showed me the way.
I can also remember the first time I ever even heard of the VQ. I was riding with a group up Holy Jim (in the uphill direction) and another rider kept telling stories of this incredibly hard race, the Vision Quest. I knew then that I would have to enter the next season (and I did).
Have a great day out there tomorrow. Be safe, have fun, ride hard. Tell anyone who cares, that I really wish I was there. And good luck to all riders.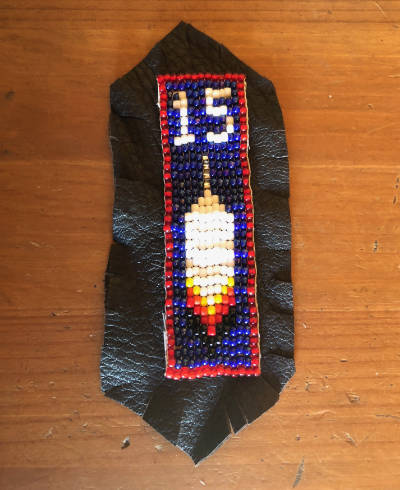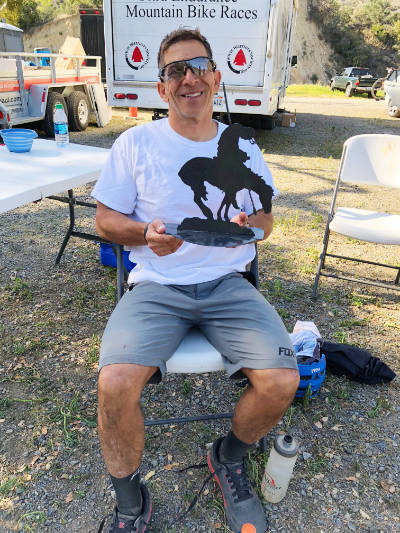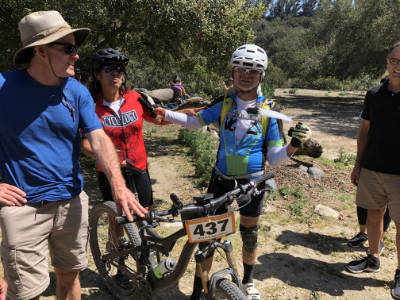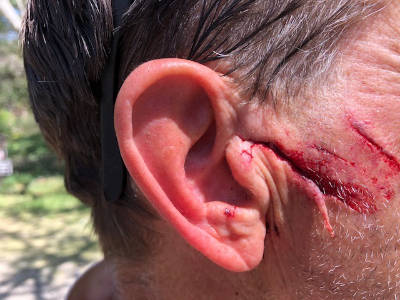 Justin Callahan had hoped to finish his 10 Vision Quest joining the 10 year plus club of Charlie Gilmore (15), Nate Whitman (14), Frank Cain (14), Mike Caffrey (11), Mark Scheetz (11), Doug Andrews (10) and John Fugitt (10). Unfortunately, this was not his year and Justin said he'd be back in 2019 for the 10th year. All 10+ year finishers are considered event "Elders" and no longer pay to enter any of our events.
Amy Travis was the first female in the Vision Quest with a time of 7:41:39 and Linda Sheldon was second with a time of 8:22:11. In the Counting Coup Kathryn Lockwood was first with a time of 5:10:13 and Leslie Williams was 2nd with a time of 5:14:03.
Dylan Vanek at 16 was the youngest finisher of the Vision Quest, finishing in 4th place setting a record time for his age.
The last man standing award was given to Joseph Mandichak who came in at 10:51:54. The Bob Haislett award for the most inspirational rider (this decision was made by Charlie Gilmore, our 15-year finisher) was given to 76 year old finisher of the Counting Coup Ritchie McLaren who finished the course in 8:29:25 on titanium knees.
As far as the top finishers of the Vision Quest, Daniel Munoz finished first with a time of 5:28:51 with Romolo Forcino in 2nd with a time of 6:13:15 and Charlie Gilmore in 3rd with a time of 6:15:56.
In the Counting Coup, John Noble, who has been very active assisting us with trail work, came in first with a time of 3:59:03. Rob McGee came in 2nd with a time of 4:04:15 with Chad Jarrett in 3rd with a time of 4:04:15.
This year we had no major injuries but did treat a lot of riders for scraps and abrasions. One of our club members, Keith Ecstein (who was acting as sweep), had a crash on the Holy Jim Trail landing head first on shale and ended up needing 7 stitches. We told him he should tell people he was attacked by a mountain lion. :)
We thank all our volunteers who brushed the trails, made the awards, prepared the packets, manned the start, the check points, manned mobile units, operated the ham communications and helped at the finish line; it would not be possible without you. You are one special group of volunteers that will get to the event at all hours of the early morning and stay til we are all finished and cleaned up at the end of the day.
We also thank our sponsors, El Pollo Loco (who provided the excellent lunch), The Path Bike Shop, The Other Room, Sena, Clif Bar, Coca Cola (thanks Anthony Beneventi), Hammer Products and Outdoor Urban. Our participants were well taken care of on the course thanks to you all!
Thanks also to the County of Orange, the U.S. Forest Service, Steve Parker owner of the Parker Ranch and the SOARA Ham Radio Club for use of their repeaters. And special thanks to Chris Williams of Replay Timing for a great job handling all our timing needs and making our event look more professional!
Don't forget the Rwanda Ride is on April 28th. To register go to: https://theenthusiastgroup. redpodium.com/rwanda-ride-2018
Our next event is the Trabuco Challenge Bike Race and Bike Festival on Saturday, May 12th. The venue will be at the Parker Ranch. This event will be part of the 2018 King and Queen of the Santa Ana's Mountain Bike Championship Series.
The Championship Series will consist of two classes, Pro and Intermediate. The Pro Class of the series will consist of the 2018 Vision Quest and the 2018 Trabuco Challenge Pro Class combined finishing times.
The Intermediate Class series will consist of the 2018 Counting Coup and the 2018 Trabuco Challenge Intermediate Class combined finishing times.
We will have both female and male champions in three age groups: 15-19, 20-49, 50 and up.
To receive a personalized number plate with your name on it and an event t-shirt you must register by April 28th. Registration will be open until May 11th but there will be no t-shirt or personalized number plate for those that register after April 28th.
To register go for the Trabuco Challenge click here.
Club member Lubos Durdovic took photos of most of the riders at West Horsefthief. The album is available here.
Thanks again for your support of our events!