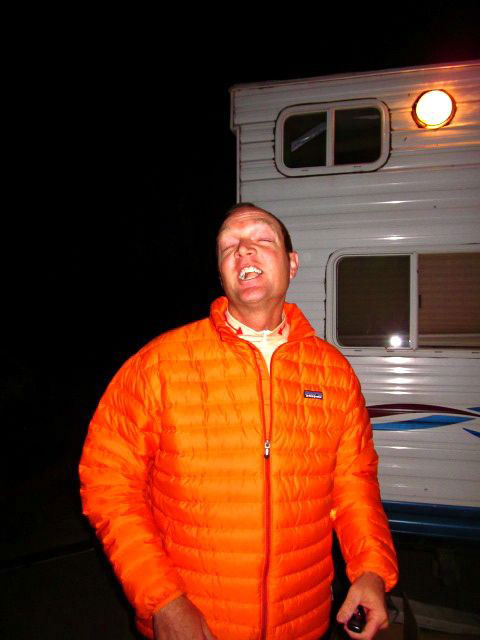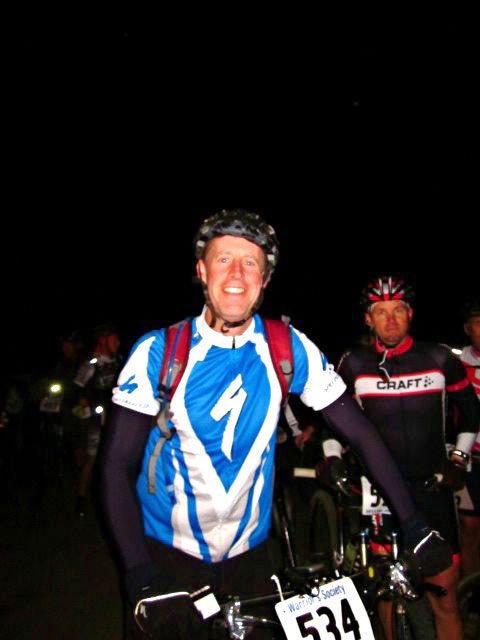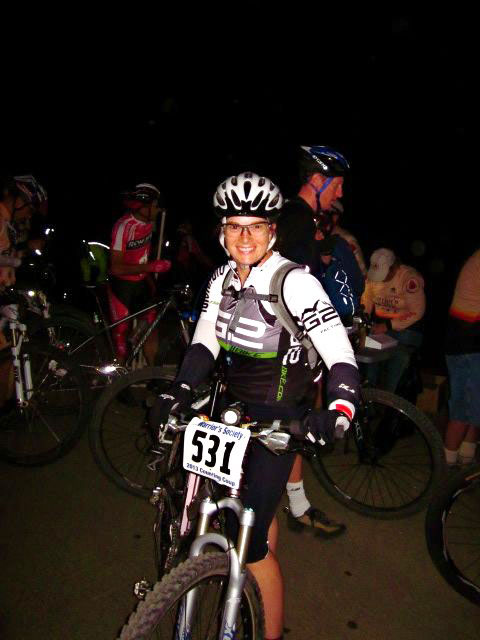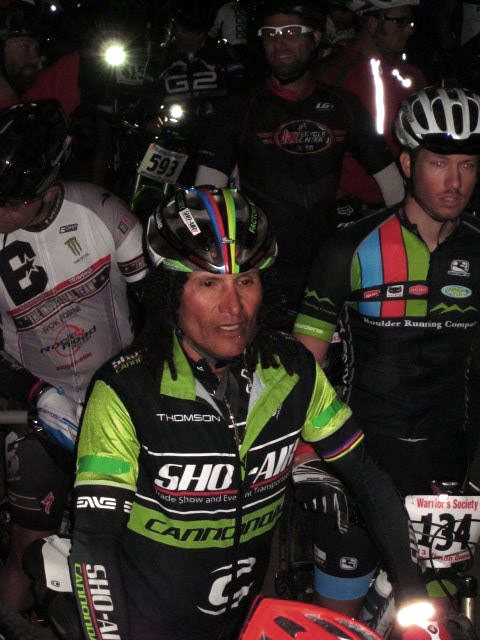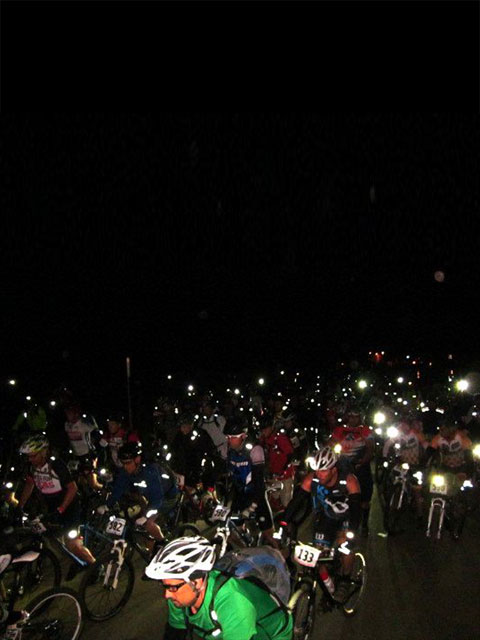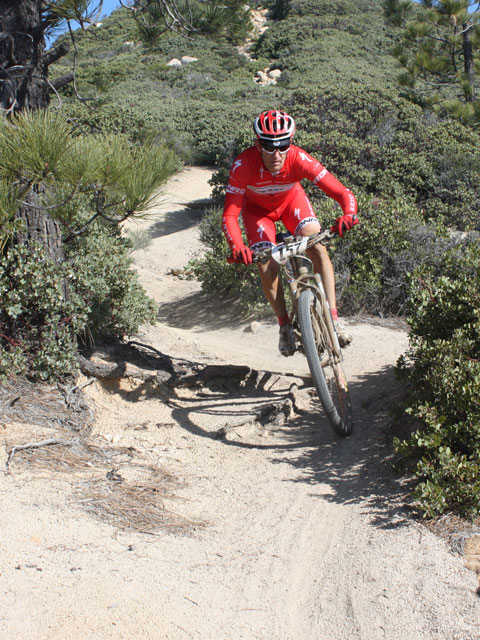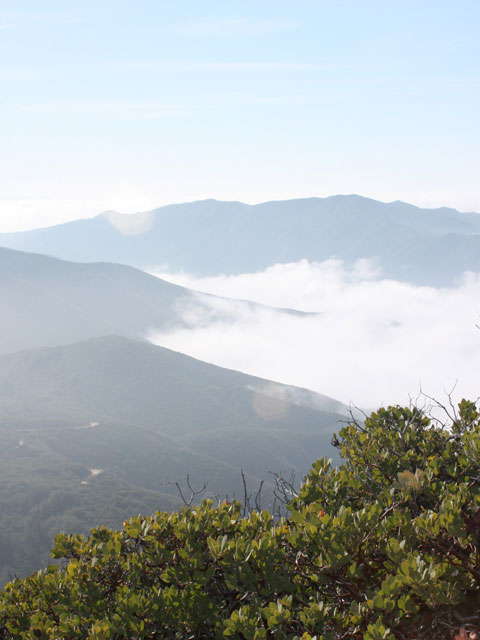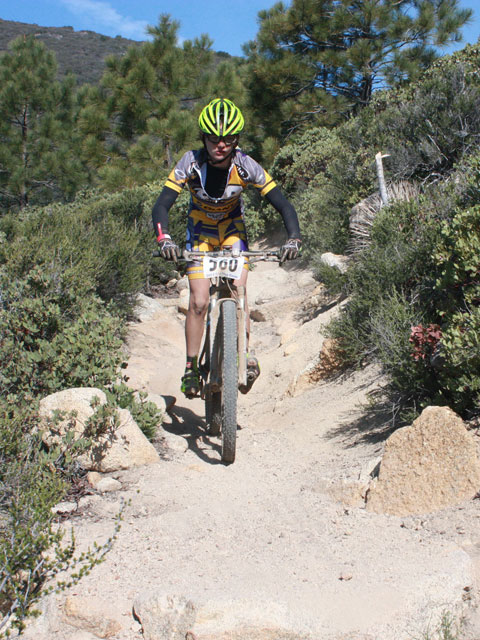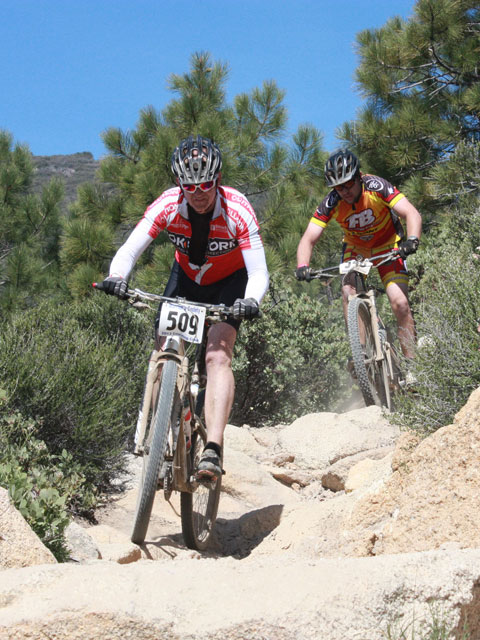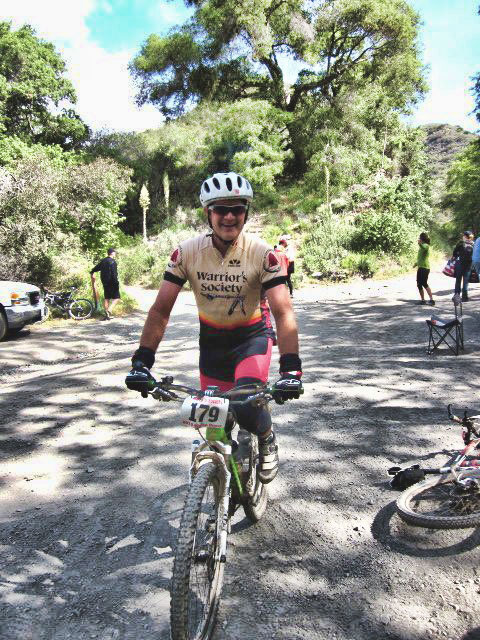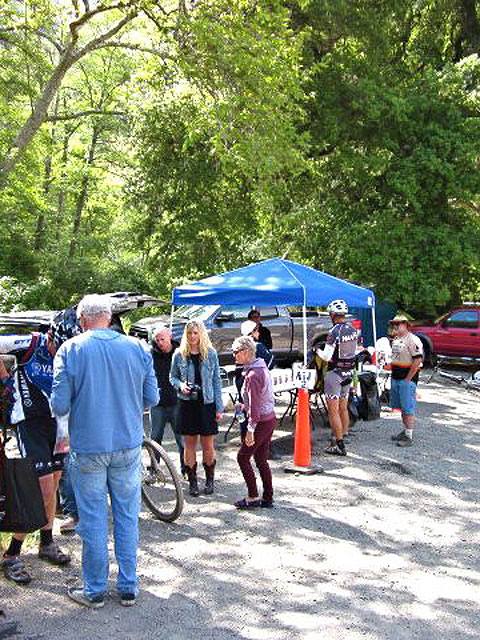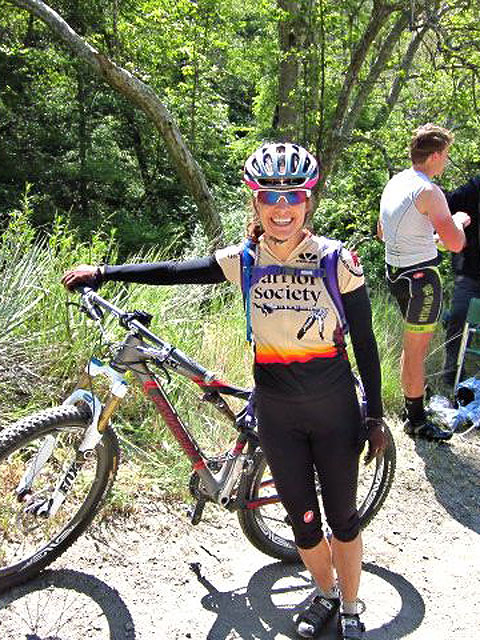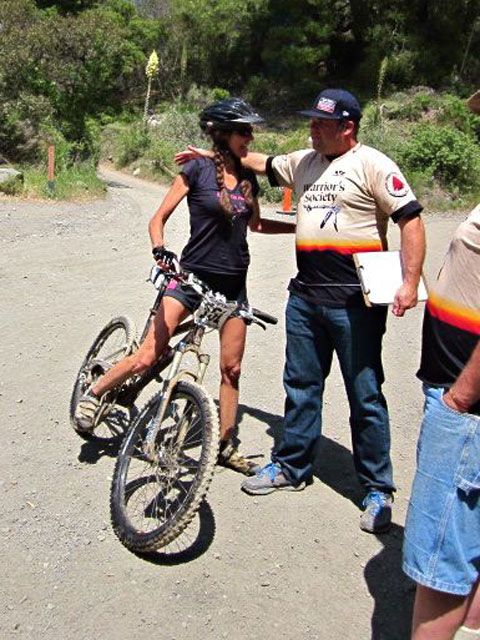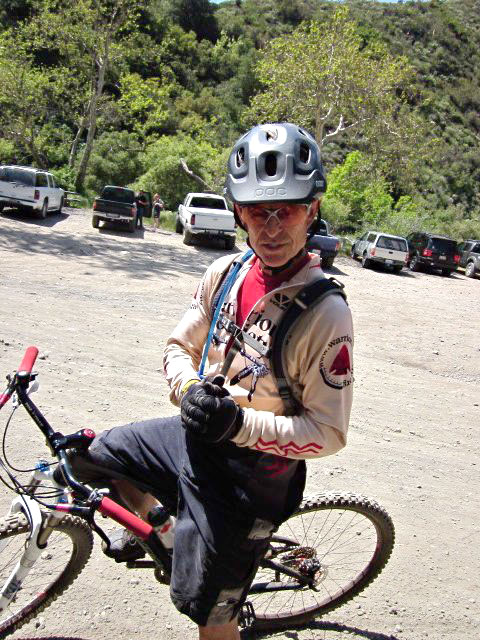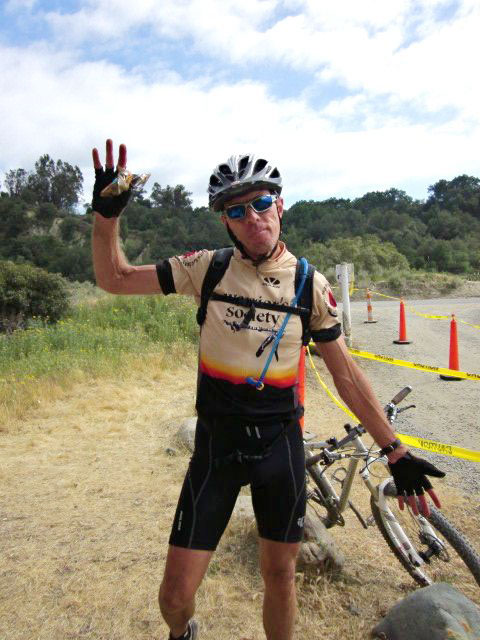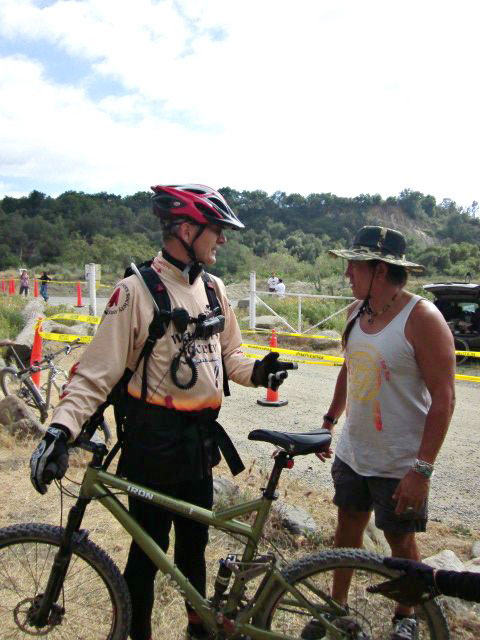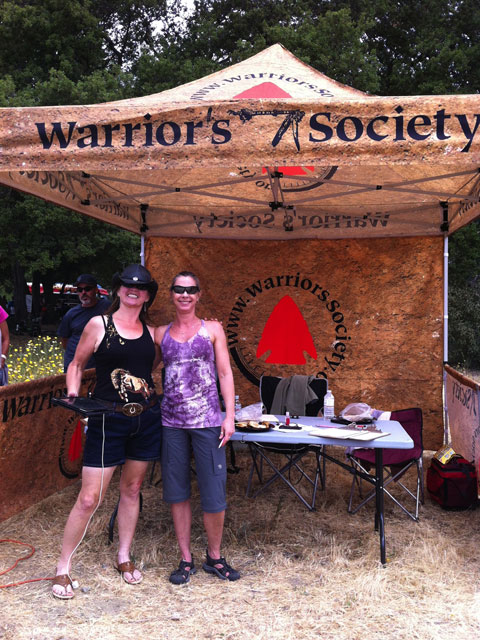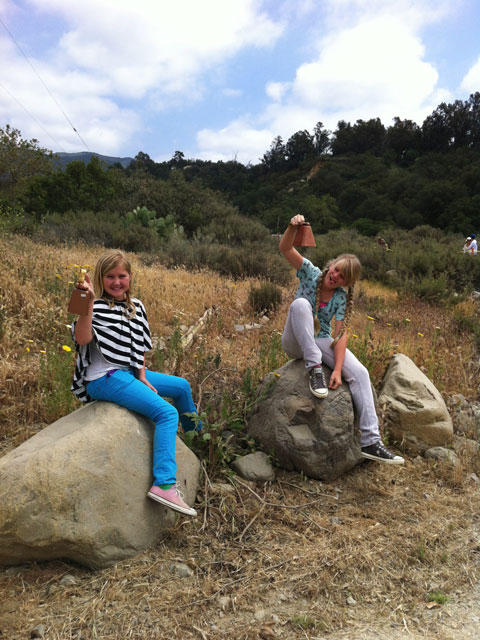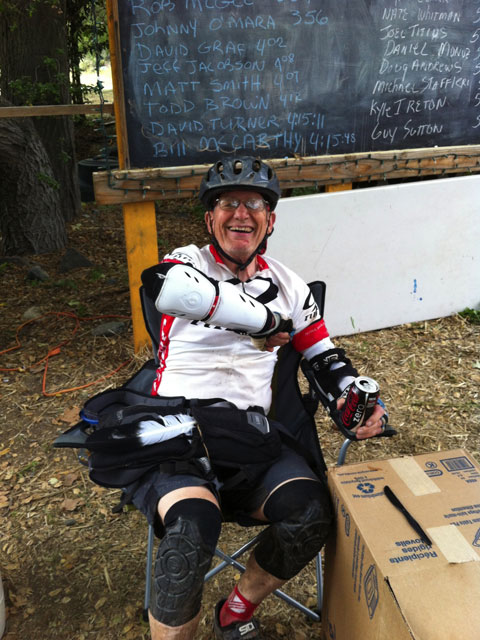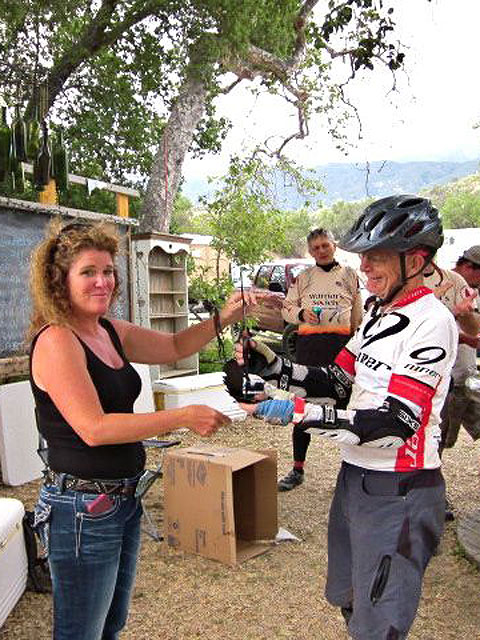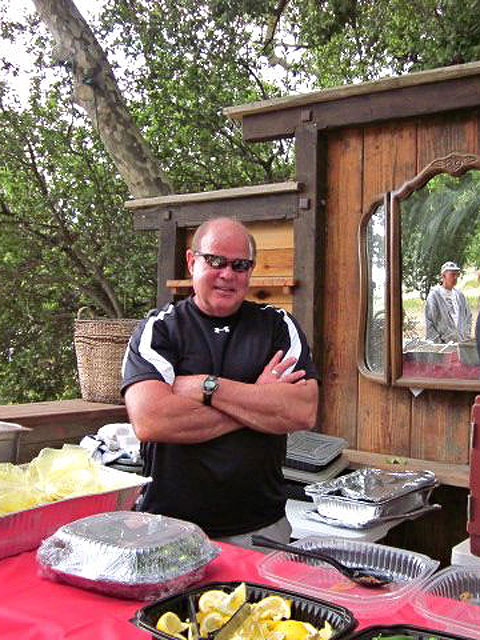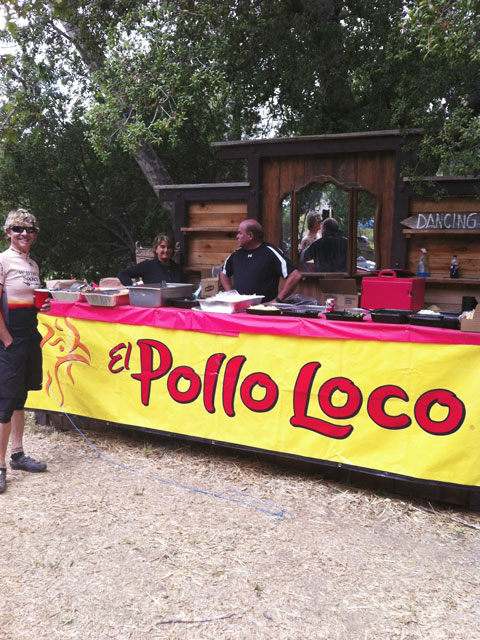 The 2013 Pow Wow will go down in history as one of the smoothest running events we have ever put on. We had two big improvements to the event that contributed to having it run smoothly.
We hired a security guard to keep cars away from those of us camping at the start. So many teenagers go to Black Star at night because of the "scary" reputation it has and they always wake us up with their cars and conversation/partying. All us camping had an undisturbed night of sleep.
We were fortunate to have the Parker family, long time residents of the canyons, allow us to use their property for the finish line venue. Steve Parker Jr. was a big help weed whacking the area and prepping it for us. Many thanks to the Parker family!
Our Trail Director, Ned Reynolds, was the one that suggested we require riders to have bells on their bikes to alert hikers on Holy Jim to their presence. We were a bit skeptical of his idea and how it would be received by our participants but it proved to be a great idea. We had many hikers and bikers comment how great is was that the bells were used and we will continue this next year with the "WS 2014" bells.
We also thank Frank Cain for his assistance in getting the traffic control devices the county required we use at the start. Thanks Frank!!!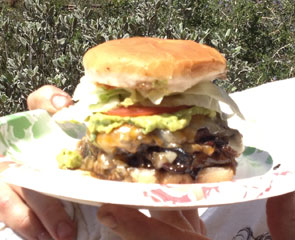 And what would the Vision Quest be if we didn't have "Warrior's Burgers" at the top of West Horse Thief. Brain Ephraim, who began this tradition, with the help of Dan Gallagher and Gerry Huth, served up some delicious burgers!
Warrior's Society Co-Executive Director Sherry "Stands Her Ground" shared her thoughts about the 2013 Pow Wow:
Another Pow Wow has come and gone. How the time passes so quick for us planning the event as well as those participating in the event. This years event was by far the best we have had with the addition of the Parker's Ranch for the finishing venue. The enjoyment was obvious with all the participants and their families enjoying the day under the oak trees while recounting the events on the trail that day and the many months of training to get them to the finish line.
I had a different vantage point this year at the event. This year with Vickie being the official event director I was able to take the back seat and leave all the stress to her. Which I am truly thankful for. When I announced my resignation as the event director after last years event I planned on having more time for my family and spending some time riding my own bike. With the addition of Vickie, Keith, Treve and Kathy to the event planning this year I was able to do just that!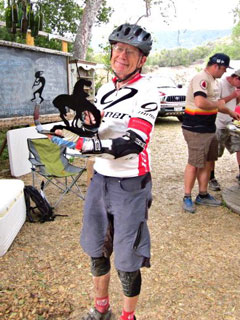 I was such a proud Warrior Member as I looked out at all the volunteers putting on such a great Pow Wow this year. Everyone stepped up and helped in every area they could. I was able to serve food along side with Jim S. and get to see the joy in the participants faces as they were served up a healthy portion of El Pollo Loco. Being able to mingle in the crowd and hear the participants experiences on the trail reminded me why I love the day of the event. I find such joy in watching the children and spouses waiting at the finish line for their loved one to come across the finish. The families don't care about the time on the clock or the riders position, they just want to know they are safely at the finish line and accomplished a major goal.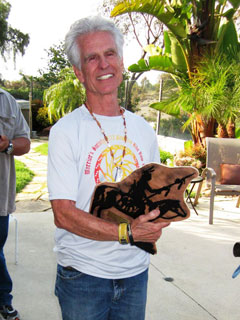 Being able to present Douglas Kubler with the Last Survivor Award was another memorable moment. He has participated in our events for many years, finished the VQ six times and in addition he has always been our oldest participant at 69 years old. He is truly an amazing man being able to finish a Vision Quest at 69 years old with a time of 10:09:23.
The Bob Haislett Award was given to a Warrior Member this year, Greg Howard. Greg is in his 70's, is an accomplished rider, and has been a loyal Warrior Member who has been there thru many years of trail work and he is now moving away to watch his grandchildren grow up in Georgia. We wish him all the best and look forward to following his ventures with his grandchildren. I bet he will get them out on the trails as soon as he can.
I want to send a special thank you to Nate Whitman for his continued support of our event and allowing us to us his mega van for shuttles. He takes time out of his busy schedule to get us his van  and then shows up to the event and participates year after year. This year was Nate's 12 year in a row finishing the Vision Quest.
A heartfelt thank you to all who helped put on this most memorable Pow Wow.
See you on the trails!
Sherry Panttaja
"Stands Her Ground!
---
As Sherry mentioned, Vicki Lukina volunteered to be event director this year and here are her post-event thoughts:
I have heard nothing but super positive comments about the Pow Wow this year.
When I first stepped up and said I would help take over for Sherry as the event Director, I honestly had no idea what I was getting into. The work that gets put into this event the months, weeks, and days before is astronomical. Until somebody is put in the middle of it, they really don't truly understand. Now that it is over, I have to say; being there from the start to finish in my new capacity was truly an amazing experience for me. I was nervous, anxious, a bit stressed, and excited all at the same time but it seemed to energize me and kept me going the entire day.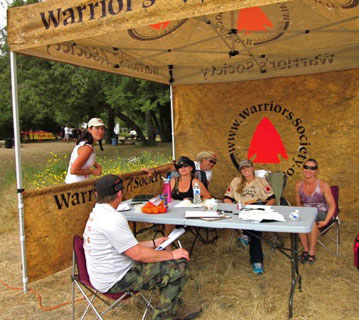 The morning was a blur. Between trying to get everybody checked in with last minute packet pick up and wrist bands, to getting them all down to the gate in time to start on time, was certainly something that had me worried, but we did pull it off. Also, while sitting on the Blackstar fence post looking out at the riders I had butterflies. I'm not sure it they were nervous anticipation for me to give the morning speech prior to sending the riders off, or excitement for the riders themselves, but it was exhilarating. I loved it!
The new finish line venue was AWESOME!  The Parker's Ranch provided a comfortable, relaxing environment for people to hang out, socialize, take in the day, and wait for their loved ones to cross the finish line.  It was funny because, the shuttle drivers kept asking me to announce they were there and ready to take riders back to their cars, but not many people were in a hurry to rush over. This year, the people, riders and spectators alike really did want to just hang out.
In years past I would either be crossing the finish line myself, or, hanging out at the finish line cheering on the riders. This year, I was not only there cheering, but announcing their names and watching them get their feather. Having an opportunity to meet the riders and talk a bit to them at packet pickup, put a face to the name so to speak and really gave a personal connection to each of them.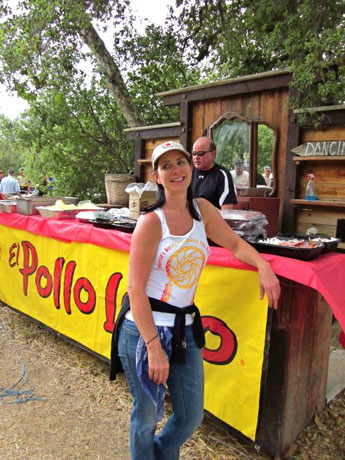 Having done both courses, I understand the work it takes to train for this event. I know the commitment, the time away from family, and how you must at times, persevere and push through. When you come across the finish line you are worn out, you feel beaten up, and you are completely exhausted. You are completely taken over by emotion. Seeing that emotion on the riders faces and having that little connection by meeting them at packet pickup truly made it a memorable experience. 
I loved everything about being at the finish line. I loved calling out the riders names. I loved seeing the riders receive their feathers. I loved seeing the riders get hugs and kisses from their family and friends. Oh, and I loved the butterflies I had at the finish line as well. But this time, I knew for sure those butterflies were there as excitement for the riders. It was AWESOME!!
By the end of the day, I was still nervous, anxious, a bit stressed, and excited but all those feelings did keep me energized, and all those emotions really did keep me going the entire day.
Thank you for the opportunity to step up and take on the challenge of Event Director. My hat is, and will always be tipped to Sherry for all her hard work in years past, as well as her continued work this year. I barely scratched the surface of what she normally does. She has some pretty big shoes to fill and I almost think it is easier to train and ride the event that to fill them.
I look forward to next years Pow Wow and hitting the role of Event Director even harder.
Vickie Lukina
---
It does take a tremendous amount of time preparing for the event, from making all the awards (a tradition with the club), working on the trails, getting permits, arranging communication and emergency services, etc.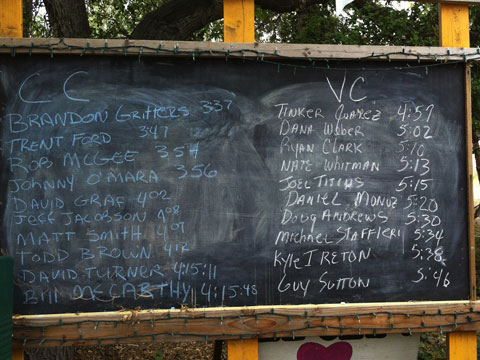 We have a great group of club members and volunteers who, without their help, the event would not be possible. We truly appreciate the support of our sponsors, especially Rock N Road Cyclery, Shimano and El Pollo Loco. Rock N. Road and Shimano have been with us almost from the beginning and we truly appreciate their many years of support. El Pollo Loco has been with us for a while too and we all appreciate the great food they provide.
Next year's event will be held on Saturday, April 5th.
It takes so much to put on this event, from the trail work to all the organization/logistics we have to contend with. We appreciate all our club members and volunteers/comm teams who spend 12 hours plus working the day of the event.
Special thanks to our event directors; Event Directors Vicki Lukina and Sherry Panttaja, Communications Director Joe Lopez, Finish Line Director Keith Parsons, Timing Director "expert" Suzanne Martin, Web Director and event shirt designer Barry Wood, Packet Director Jason Martin, Trail Directors Ned Reynolds and Gene Frial, and Treve Messimer and Kathy McNeill (who assisted with pre-event prep) and medical director Carrie "Medicine Woman" Harden.
We have always said, whether you finish or not the fact that you had the courage to train and attempt the event(s) separates you above those that do not even try. As our tag line on our emails state:
"Far better it is to dare mighty dreams, to win glorious triumphs, even though checkered by failure, than to take the ranks with those poor spirits who neither enjoy much nor suffer much, because they live in that gray twilight that knows not victory nor defeat!"
The Warrior's Society