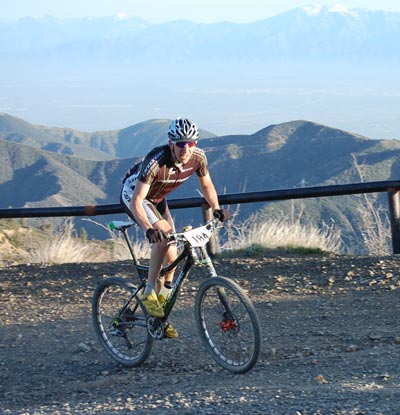 We had another year of great weather and great course conditions too! Our club members spend many hours working and repairing the trails in preparation for the events. Thanks to all of our club members and nominees for the hard work!
The great weather and course conditions showed in the record times. Jeremiah Bishop with Team Cannondale set new geared course record for the Vision Quest with a time of 4:45:14. Cameron Brenneman, the old record holder, broke his old single speed record with a time of 5:15:47
Troy Sladeck, who holds the record for the youngest person to finish the Counting Coup now holds the record, at age 12, as the youngest person to finish the Vision Quest with a time of 10:04:20. Mark Scheetz finished the Vision Quest on a 24" inch BMX bike with a time of 7:55:24.
Club member Calvin Mulder did what we now call the "Calvin Quest" in which he rode the Vision Quest on a Rigid Single Speed then after finishing ran the course backwards. His bike time was 6:30 and his run time 13:07 for total time of 19:37. Calvin also holds the Vision Quest single record for speed rigid and for trail running. Danny Munoz set new Counting Coup record with a time of 3:53:47 and Heidi Volpe set a new Counting Coup Female record with a time of 4:57:57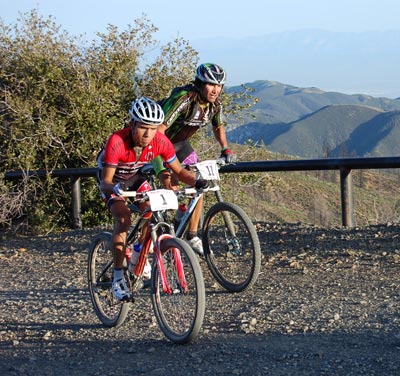 For the rest of the times check out the official times at:
Vision Quest times
Counting Coup times
As some of you know, Warrior's Society Chief and Club Elder Bob Haislett died in February from pancreatic cancer. Bob holds the record for the oldest person to finish the Vision Quest on both a geared bike and single speed. He was in his early 70's when he set these records. Bob was not only an accomplished athlete, he was also a bush pilot, gold medal shot gun champion, off-road motor cycle racer and off-road car racer. In his memory we dedicated the Annual Haislett Trophy given to the person(s) who most exemplified Bob's determination and extraordinary perseverance.
We awarded three people the Haislett Trophy, Club Member Erik Brown, who overcame major intestinal surgery in the fall of 2009 and still managed to finish the Vision Quest with little training time, Leigh Heyer, who discovered during training for the Vision Quest last year that he had prostate cancer and underwent treatment and finished the Counting Coup and Elaine Gold, who under went treatment for breast cancer last year and also finished the Counting Coup. You all have our respect.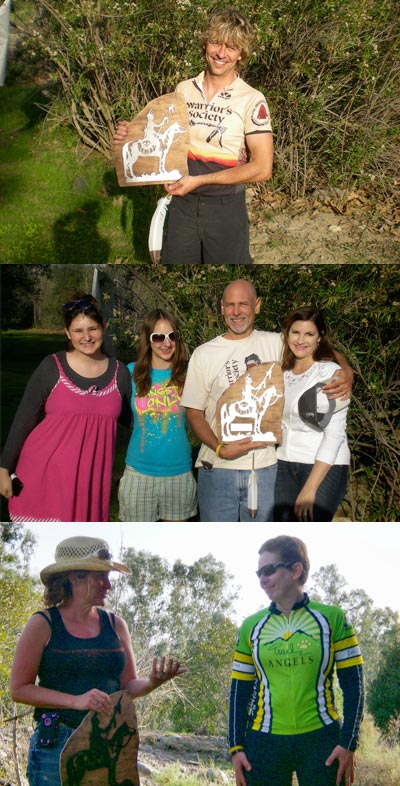 On another note, the event transfer fees raised a total of $700 for the Freedom Alliance Scholarship fund and $825 for the UCLA Foundations "Operation Mend."
We have some changes for next year. We plan on modifying our permit to allow overnight camping on Black Star Canyon Road. We plan on charging an overnight camping fee of about $10.00 to pay for a CHP officer to provide security for those camping on the road due to issues with people who drive down Black Star at night to party.
We had a problem with people, some belonging to local clubs, poaching the event and using the supplies at the Aid Stations that you pay for. Because of the problem with these poachers, we will have to secure our aid stations so only participants can access the supplies.
Here's a great article about the Vision Quest and Counting Coup written by Dave Whiting of the Orange County Register:
Because of the tough economic times, sponsorship was a real challenge this year. We are thankful for the support of our Major Sponsors El Pollo Loco, who provided and excellent lunch, Shimano (they've supported us from the beginning), Cannodale, O'Hara's Pub (the official watering hole of the Warrior's Society), Rock and Road Cyclery, Switchback Cyclery and The Other Room web design.
We'd also like to thank our minor sponsors, Reach Air, Cynergy Cycles of Santa Monica who provided their van for the shuttle, Okole Stuff, Denis Duty Fabrications, KHS, Serfas, Canari, BRC, Coca Cola, Hammer Nutrition and the SHARE Mountain Bike Club.
Thanks to our volunteers who helped make this event possible; Medical Director Carrie Harden, motorcycle support and roving EMT Jay Gentile, motorcycle support Gary Palmer, motorcycle support Tim Panttaja, Rachel Schmidt and Bob McCarter roving medical support.
Vicki Lukina Aid Station I Director, Kathy McNeill Assistant Aid Station I Director, Aid Station I volunteers Judy Brandt, Nathalie, Alison Rust, Bob Hale (who was also our shuttle director), Eron Boyer, Spencer Hurtt, Pete Allen (co-founder of the Warrior's Society who was also a shuttle driver), Dave Ross (who was also a shuttle driver) and Brian Empter motorcycle support.
Four corners check point Director Steve Foster, Sweep riders Keith Eckstein, Treve Misemer, Lubos Durdovic, Chip Leonard, and Brian Lewotsky.
Ken Rands Aid Station II Director and Communications, Aid Station II volunteers Matt Forest, Jeff Parish, Paula Hunsaker (Medical support), Jeanne Scheetz and Tony Beneventi.
West Horse Thief Check Point Director and cooker of burgers Brian Ephraim assisted by Gerry Huth.
Trabuco Check Point Director Bill Hines and his assistant Dave Zander.
Warrior's Society Co-Executive Director and Finish Line Director Sherry Panttaja, Timing Director Suzanne Martin, Regina Froemmling, Cheryl Hartmann, Jason Martin and club photographer John Early who took the finish line pictures and Jim Simescu, our Hospitality Director at O'Neill Park.
Of course we would not know what happening on the course if we did not have the support of our ham operators and the SOARA ham club. Thanks Communications Director Joe Lopez and his assistant Mike Morgan, operators Dan Pinvidic, Steve Bass, Josh Avila, Heiko Peschel, Patty Gentile, Mike Syverson, Mikkel Hanson, Clark Croisette, Tom Hobbs, Richard Saunders, and Donna Ducharm.
Special thanks to Virgil Mink and Debra Clark with the U.S. Forest Service for their support and thanks to the staff of O'Neill Park.
We'd also like to thank Third District Supervisor Bill Campbell for his support for the repairs of Black Star Canyon Road prior to the event.
Our next event is the Traverse on May 8th, which is sold out. We still have spots for the June 5th Toad Festival
Thanks again for your support!
The Warrior's Society