Our luck continues; the 13th Annual Mountain Bike Pow Wow was not delayed by rain! As a matter of fact the weather was perfect for riding with temps in the low 60's - and the participants took full advantage of it.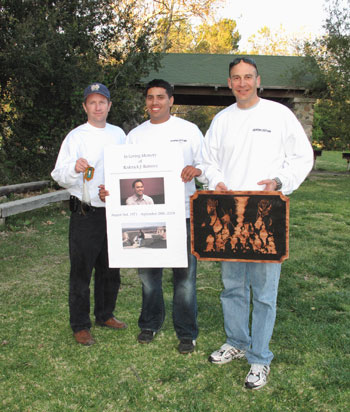 Every Pow Wow has stories that inspire you and make you realize how blessed you are - and this Pow Wow was no exception. Two special inspiration awards are given out, one for the Vision Quest and one for the Counting Coup. This year the Vision Quest Inspiration Award was given to the family and friends that rode in Memory of Rick Ramirez a past participant (he rode the Counting Coup in 07 finishing with a time of 8:00:43) who died of Kidney Cancer in September of 2008.
In January of 2008, Roderick "Rick" Ramirez had developed what he thought was a chest or bronchial cough. He was seen by a doctor and prescribed antibiotics to fight the cough. They thought it might be pneumonia. As the cough progressed, he realized that the drugs weren't working. By the end of February, chest x-rays were ordered and his doctor noticed that there were some spots on the film. Further probing was ordered and a CT scan was done. The radiologist saw more detail with multiple masses large and small on the scans and concluded that cancerous tumors were likely.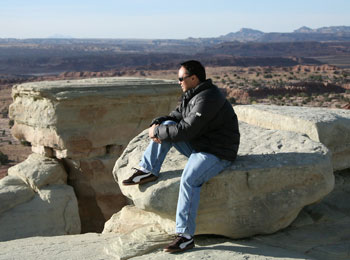 After battling kidney cancer for 6 months, Roderick "Rick" Ramirez succumbed to the disease on the evening of September 28th, 2008 at age 37. Ted Jung, Luis Fong, Jim Stayberg, Dave Kalina and Dustin Ojeda were the participants riding in his memory. In addition to the Vision Quest Inspiration Award we also gave his family a Vision Quest finishing feather to put with his award since he had planned on doing the event before he was diagnosed. Rick's drive was contagious and he inspired and brought joy to all that knew and loved him.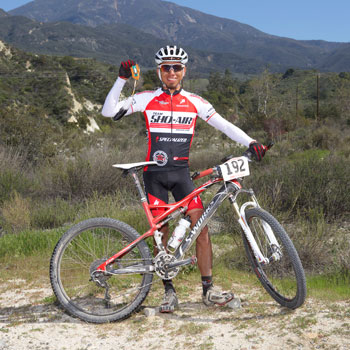 We awarded the Counting Coup Inspiration Award to Kevin Gaffney for riding after being diagnosed with MS in 1991. Kevin rides for those that cannot ride anymore. We thank Denis Duty Fabrication for providing the awards.
The first Vision Quest rider to reach the finish was Manuel "Manny" Prado, 27 years old, with a time of 05:14:45. In second place was Dana Weber, age 27, with a time of 05:28:35. In third place was Guy Sutton, age 40, with a time of 05:50:08 followed by fourth place finisher Nate Whitman, age 33, with at time of 05:53:48.
The first single speeder was Jon Fugitt, age 31, with a time of 06:12:01 and the first rigid single speeder was Kevin Abel, age 46, with a time of 07:07:54. The first female finisher was Danielle Brown, age 26, with a time of 08:04:15. The oldest finisher was Douglas Kubler, age 65, with a time of 10:31:01.
The Vision Quest finishing times can be found here.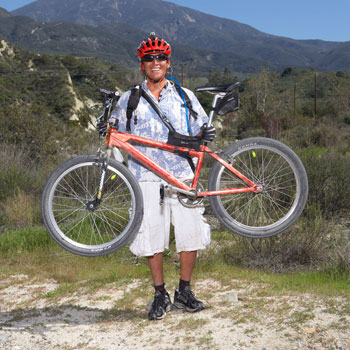 The first Counting Coup rider to reach the finish line was Matthew Perry, age 30, with a time of 04:20:45. Marco Arocha, age 31, was second with a time of 04:29:43. In third place was Eric Parks (the first single speed finisher), age 41, with a time of 04:31:53 followed in fourth place by James Walsh, age 31, with a time of 04:33:13.
Mario Correa, age 39, rode a 24" BMX cruiser and finished with a time of 05:07:40. Vicki Chernoff, age 43, was the first female finisher with a time of 05:22:00. The youngest rider was 15-year old Sean Small with a time of 05:48:38. Warrior's Society member Bob Rust, age 40, rode the first half of the course and ran the second half of the course and finished with a time of 06:36:42.
The Counting Coup finishing times can be found here.
Ed Evans attempted the Counting Coup on a beach cruiser but the descent down the Silverado Motorway to Aid Station I overheated and destroyed his rear coaster brake. He actually made the cutoff time! That brake was "smokin." Ed had these thoughts to share on riding the "Demon" bike:
"The beach cruiser is My Demon Bike. Demons don't often cooperate. I had a great time on the motorway listening to the THUMPS and sliding but smoked the rear hub. Up towards the end of the pavement on Maple Springs I thought the 50lb single speed (3x in hub but only 1 you can use on CC) had finally got to me... turning the cast iron crank was tough. Got off tried to spin rear wheel, no dice. Then started pushing the bike and the rear tire literally started skidding on the pavement. The single best moment of the race by a long shot–you saw. At the end of the motorway, embracing a dear friend Elaine Gold as we both laughed and watched the smoke come of the rear hub of the demon bike."

After the event we also initiated Erik Brown, Debbie Brown, Keith Parsons and Vicki Lukuna into the Warrior's Society. Warrior's Society Graphics Director and Web Master Barry Wood was recognized as an Warrior's Society Elder for his contributions to the success of the club and was awarded an Elder's ceremonial pipe.
We have so many volunteers to thank. The success of the event depends on volunteers such as these that are willing to get up early on a Saturday morning so that others can achieve a goal that they will never forget. Tim Panttaja, Steve Bass, Jeroen Bosboom, Lare-Dog, Bob McCarter, Mike Syverson, Clark, Tom Hobbs, Phil Pacier, Reed Price, Allison Rust, Donna Green, Brian Empter, Mike Slygh, Jeff Parish, Regina Froemmling, Bob Hale, Ken Rands, Barry Wood, Gregg Howard, Mike Morgan, Treve Messimer, Don Jackson, Matt Forrest, Mark Cluttey, Jason Martin, Mark Wilson, Lisa Doud, John Schmidt, Brian Ephraim, Bill Hines, Dave Zander, Brenda Gilbert, Mary and Erika Huth, Jay Gentile, Rachel Schmidt, Randy Profeta, Cathy Chilcote, Hal Sintov, Dave Ross, Pete Allen, Steve Foster, Jeff Bartel, Tom Morgan, Brian Lewotsky, Chip Leopard, James Hahn, Jacke Van Woerkom, Gerry Huth, Bill Hines, Dave Zander, Calvin Mulder, Dina Masters Jim Simescu, Richard, Tim, and Gary Palmer.
For those of you in the Vision Quest who made it to the top of West Horse Thief you can thank Brian Ephraim for the excellent hamburgers he provided. This has become a tradition with Brian who buys all the fixin's for his "Dog Soldier" burgers.
The club takes special pride in the fact that we hand make all the awards. Special thanks to our awards makers Tim Panttaja, Carrie Harden, Suzanne Martin, Gene Frial and Sherry Panttaja.
Thanks to the Forest Service and District Ranger Keith Fletcher and Special Uses Ranger Virgil Mink. We also thank the staff at O'Neill Regional Park for their assistance.
We thank John Early for taking the finish line photographs. Thanks to our Communications Director Joe Lopez (who was still suffering from a bout of pneumonia) and the SOARA Ham club for the use of their repeater and operators. We also thank Lt. Scott Byington of the County of Orange for use of their Orange County RACES (Radio Amateur Civil Emergency Service) Emergency Communications Response Vehicle.
Special thanks to our Timing Director Suzanne Martin, who did a great job pre and post event, our Event Director Sherry Panttaja for a great job in organizing the event and co-Event Director Reed Price for directing the shuttles.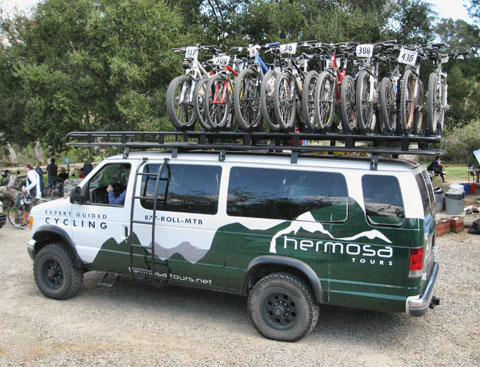 Thanks to Nate Whitman for use of the Hermosa Tours van. Hermosa Tours runs expert level guided mountain bike trips in Durango, Colorado and throughout Southwest Utah and Southern California. The company is run by Nate and so-cal transplant and multi-time Vision Quest finisher Matt McFee.
And last but not least thanks to Barry Wood for another great t-shirt design.
It is not only the event volunteers we need to thank. There is so much behind the scenes that goes on to prepare for the Pow Wow. We were able to do so much earth work on the Silverado Trail, Upper Holy Jim and Lower Holy Jim thanks to the rains before the event.
Our sponsors deserve a big thanks including our major sponsors Shimano, Rock N Road, Hammer gel and bars, Switchback Cyclery, The Other Room, E2 Hydro and El Pollo Loco for providing a great lunch. We have many other sponsors we like to thank on our sponsorship page.
We have a few changes for next year. Many participants would rather we move the start up time back 1/2 hour to 6:00 a.m. even if the cut-off times remain the same (9:30 at Aid Station I, 11:30 at Four Corners and 12:00 at Aid Station II) so this change will be made. It was also requested that we mark our support vehicles and motorcycles to identify them as support and this request will also be done.
Requests we cannot accommodate are putting port-a-potties at Four Corners and Aid Station I due to permitting issues, the cost to drive them up and bring them back and security (the port-a-potties at the Holy Jim Trail parking area were dragged and destroyed which forced the Forest Service to place barrier's to prevent this from happening again). Another request is that we delay giving the awards until everyone finishes. We use to do this but because of the long-day the vast majority of people would leave before the last person finished and we'd have to mail a tremendous amount of awards out. Participants also requested we move the finish to the staging area at O'Neill, but the County does not allow competitive events on park property, and traffic control on Trabuco Canyon Road would be a safety issue. We approached the model airplane club up from the finish line to rent their area, but that would require us to reserve the area for our back up dates too and they said it would be too much of a disruption. Plus, if we have a wet winter, it would be difficult for vehicles that are not high profile to access the area.
The passion of our members and volunteers in repairing the trails and supporting our events has been the reason why we are at the point where we are now, where we can dedicate two events (The Traverse and Toad Festival) to benefit the children of veterans wounded or killed in action and to help the Wounded Warrior Program. Not only are we able to maintain our trails and protect our access, but give back to our veterans who have made the ultimate sacrifice.
If you were challenged, if you were tested, or if you indeed have a Vision - it is these volunteers and sponsors you can thank.
And our next event the Traverse - which will be a benefit to provide scholarships to the children of our wounded or killed in action may be sold out by the time you read this wrap up.
Here are some other Pow Wow-related links:
Thanks to all those who participated and a special thanks to all our support staff and sponsors who helped make the 2009 Mountain Bike Pow Wow a success!
The Warrior's Society