For once it was not rain that threatened the Pow Wow, but fire instead. The fires of last October left its mark on the event, not so much by preventing us from staging it, but by limiting the participants from pre-running the 1st half of the course due to the fire closures. Luckily, the fire affected only a 1/4 mile section of Maple Springs Road near the top of the road at four corners - but the rest of the course was spared.
The weather, though cold and misty, was perfect in the eyes of many of the participants due to the fact that hydration would not be as critical. Although it was cold and misty below the Main Divide Road the clouds rose no higher giving the participants some warmth while they were up and out of the canyons.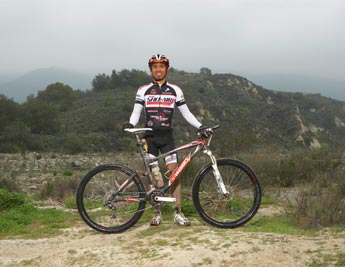 The roads were in the best shape ever because they were graded and compacted during and after the fires. The trails were also in the best shape ever as we did a tremendous amount of earthwork last fall and this winter. We had been forced to postpone earthwork for the past two years due to the lack of rain. The only trail with any real issues was the Silverado Trail because very little traffic had been down it since the fires and we needed to repair the damage that was done when the fire fighters dozed part of it as a fire break. In addition, the Forest Service placed two metal barricades on the lower part of the trail to prevent OHV's from accessing it. This necessitated us posting volunteers to warn participants of the barricade so they weren't surprised.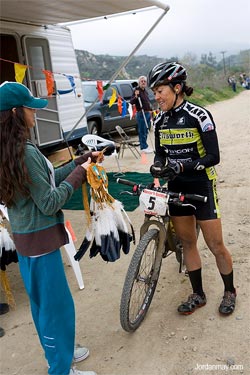 We had some great finishes in the event as well as a few records broken. In the Vision Quest (56.5 miles 11,500 feet of total elevation gain) after playing bridesmaid to Cameron Brenneman for two years, Manny Prado crossed the finish line first only seconds off Cameron's record time. Manny is a great athlete and outstanding person and we were very happy to see him finally get the #1 plate with a finishing time of 5:07:35.
Monique "Pua" Sawicki continued her reign as the fastest woman in the event with time of 6:10:30. John "Fuzzy" Mylne came in second after Manny and broke Cameron Brenneman's single speed record with a time of 5:36:59. Lynda Wallenfels also broke the female single speed record with a time of 6:22.23. Allen Louie was the first rigid single speed to cross the finish line with a time of 8:04.20. Greg Norombaba and Lisa Riehl set a new coed tandem record with a time of 8:34:47.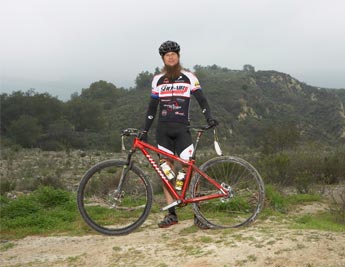 We had a few club members who wanted to try something different. Robert Rust did a bike-run-bike on the course riding to the first aid station, then running to aid station two, then getting back on his bike and riding the last third of the course. Robert finished with a time of 9:04.00. Calvin Mulder informally ran the course finishing at 11:04:16.
Debbie Brown was given the first of two special awards. Debbie had tried to finish the event last year to honor her friend and fellow Trail Angel Kristy Kirkwood who was killed in a tragic accident on Santiago Canyon Road while riding her mountain bike. Unfortunately she did not make the cut-off time and was heartbroken. This year she was determined to finish and after much training made the cut-off and finished the event. She was awarded the "Inspiration" award for putting so much heart into finishing the event and honoring Kristy.
In describing her two year goal Debbie wrote: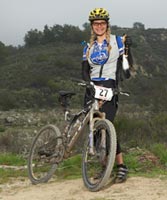 "Losing Christy Kirkwood has been bittersweet. In life she made me want to be a better person, and in death, she challenged me more than I ever could imagine. Little did I know she would be responsible for one of the worst & best days of my 43 year's...
CONGRATULATIONS to all those who signed up and competed in the VQ/CC, it takes WAY more than guts! Whether you met your goals or not, you all have our utmost respect and admiration as mountain bikers and human beings!
To end my perfect day, I was given a MAGNIFICENT award for overcoming obstacles. I was shocked and honored, but I'm very aware that is what everyone has to do if they sign up for the VQ/CC. Each person has their mission and sacrifice. We all have one common bond (W.E.I.T. baby!) We are willing to do whatever it takes."
There is a nice article in The OC Register about Debbie.
In the 44-mile Counting Coup event (with 8,000 of total climbing) Dustin Luton was the first back with a time of 4:20:56. The first female back was Susan Gibson with a new female record time of 5:54:56. Matt Ford, one of the owners of Rock N Road Cyclery, did a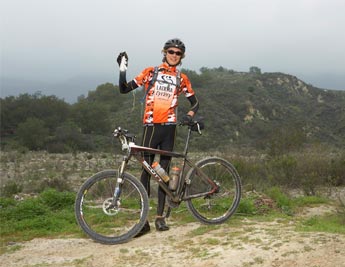 great job too finishing in third place with a time of 4:25:23.
15-year old Jantzen Oshier set a record for the youngest person ever to finish near the top with a fifth place finish and a time of 4:49:18. Eric Hunner set a new single speed course record with a time of 5:18:17.
10-year old Troy Sladeck added to the record he made last year when as a 9-old he became the youngest to finish the Counting Coup by finishing this year as the youngest participant to finish on a single speed with a time of 8:02:44.
In a feat of determination, despite severely breaking his wrist on Upper Holy Jim, Craig Kokesh refused to be DNF'ed and evacuated out. Instead Craig found the determination to descend down Upper and Lower Holy Jim and out Trabuco Creek Road to finish the event with a time of 7:00:51. Craig was awarded the "Determination Award" at the closing ceremonies. Doug from Geoladders accepted the award for Craig since he was at the emergency room having is wrist pinned.
Craig later emailed us with the following: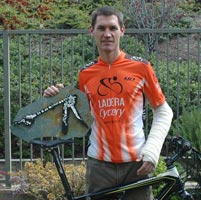 "Each time I ride the Counting Coup or Vision Quest it is a new adventure and this year was no different. Unfortunately Upper Holy Jim got the best of me this year and both my radius and ulna bones got fractured at the wrist in my fall. I was pleased to be able to finish and next year I'll be back to reach my sub 5 hour Counting Coup goal.
Thank you,
Craig Kokesh"
The Warrior's Society would like to offer a special thanks to Erik Vaaler #149 for stopping to help Eddie Medrano who suffered a bad crash on the back side of the peak. Eddie received one heck of a knot on his head and a concussion in the crash.
Erik has these wise words regarding the events and our thanks for helping Eddie:
"I think ultimately the mountain decides who finishes and who does not; if you don't show her respect you might just get slammed... Thank you majestic mountain for allowing me to spend time with you and finish my Quest for Vision..."
We have so many volunteers to thank. The success of the event depends on volunteers such as these that are willing to get up early on a Saturday morning so that others can achieve a goal that they will never forget.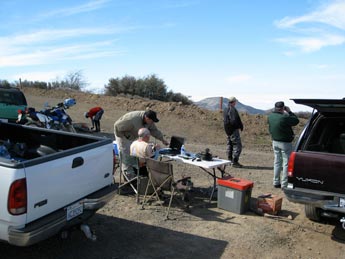 Tim Panttaja, Steve Bass, Lare-Dog, Bob McCarter, Matt Mendenhall, Andy Lightle, Drew Lazenby, Heather, Lubos Durdovic, Reed Price, Scott Tedro, Mr. Stephenson, Alicine Rust, Larry Harden, Donna Green, Brian Empter, Mike Slygh, Jeff Parish, Regina Froemmling, Bob Hale, Ken Rands, Barry Wood, Gregg Howard, Mike Morgan, Treve Messimer, Keith Eckstein, Don Jackson, Adelaide D'Ippolito, Jesse Vargas, Matt Forrest, Tony Beneventi, Angelika Drake, Nathalie Clericy, Jim Jennings, Mark Cluttey, Paul Miller, Jason Martin, Brian Ephraim, Andy Darragh, Robert Thompson, Bill Hines, Dave Zander, Matthew W. Sides, Jim Simescu, Jenny Hardison, Mary and Erika Huth, Camron Panttaja, Jay Gentile, Richard Saunders, Hieko, Patty and Gary Palmer.
For those of you in the Vision Quest who made it to the top of West Horse Thief you can thank Brian Ephraim for the excellent hamburgers he provided. This has become a tradition with Brian who buys all the fixin's for his "Dog Soldier" burgers.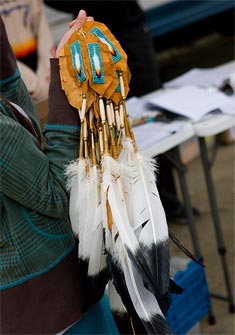 The club takes special pride in the fact that we hand make all the awards. Special thanks to our awards makers Tim Panttaja, Carrie Harden, Suzanne Martin, Keith Eckstien and Camron Panttaja.
Thanks to the Forest Service and District Ranger Keith Fletcher, Special Uses Ranger Virgil Mink and Fire Captain Tony from the Silverado Fire Station. We also thank the staff at O'Neill Regional Park including Ranger Scott Fegley and Supervising Ranger Ron Slimm.
Our sponsors deserve a big thanks including our major sponsors Shimano, Rock N Road, Sho-Air, Clif Bar, Switchback Cyclery, The Other Room, Cytomax and El Pollo Loco for providing a great lunch. We have many other sponsors we like to thank on our sponsorship page.
We thank John Early and Jordan May for taking the finish line photographs and posting them for all to view. Thanks to Our Communications Director Joe Lopez and the SOARA Ham club for the use of their repeater and operators. We also thank Lt. Scott Byington of the County of Orange for use of their Orange County RACES (Radio Amateur Civil Emergency Service) Emergency Communications Response Vehicle.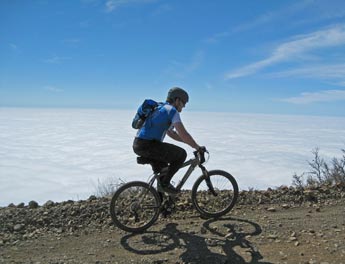 County Supervisor Bill Campbell was a big help in getting the permit fees waived for use of Black Star Canyon Road, not only for the Pow Wow, but for the Traverse event as well.
Special thanks to our timer Suzanne Martin who did a great job pre and post event, our Event Director Sherry Panttaja for a great job in organizing the event and co-Event Director Reed Price for helping set up the night before, working Aid Station #1 and directing the shuttles.
And last but not least thanks to Barry Wood for another great t-shirt design.
It is not only the event volunteers we need to thank. There is so much behind the scenes that goes on to prepare for the Pow Wow. We were able to do so much earth work on the Silverado Trail, Upper Holy Jim and Lower Holy Jim thanks to the rains before the event.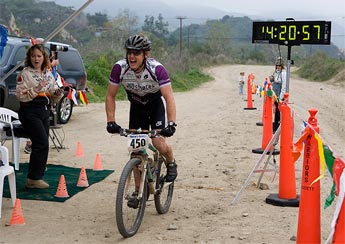 The passion of our members and volunteers in repairing the trails and supporting our events has been the reason why we are at the point where we are now, where we can dedicate two events (The Traverse and Toad Festival) to benefit the children of veterans wounded or killed in action and to help children afflicted with autism. Not only are we able to maintain our trails and protect our access, but give back to the community as a whole.
If you were challenged, if you were tested, or if you indeed have a Vision - it is these volunteers you can thank.
And our next event the Traverse - which will be a benefit to provide scholarships to the children of our wounded or killed in action veterans - is sold out.
Jordan May took some great candid pictures at the finish line as did Richard Saunders. John Early took finisher portraits at the Finish Line as well.
The 2008 Vision Quest results can be found here and the Counting Coup results here.
We truly appreciate all who took up the challenge of the Counting Coup and Vision Quest.
Your support has played a big part of what we've achieved.
Ya Ta Hey,
The Warrior's Society