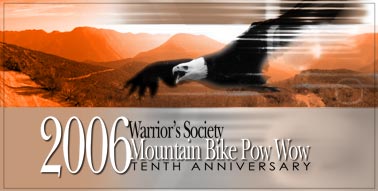 THE 2006 MOUNTIAN BIKE POW WOW
Story by Chris Vargas and Jeroen Bosboom
Photos by Barry Wood, Jeroen Bosboom and Sherry Panttaja
Web Editor Barry Wood

Well; we survived this year's Pow Wow - and we started on time much to the surprise of many who expected us to start late, and missed the start.

Although we were not completely free of mud, those of you that participated last year will agree that compared to the mud fest then, this year's Pow Wow was a walk in the park. Although it rained 1/2 inch the day before the event
the conditions were a 100 percent improvement over last year.

Although we take the weather conditions into account (up until the day before the event) to determine if we need to postpone, much more happens outside the weather that can throw a wrench into executing the event.

Participants need to understand the complicated dance that occurs behind the scenes; the keys provided by the Forest Service that do not open the forest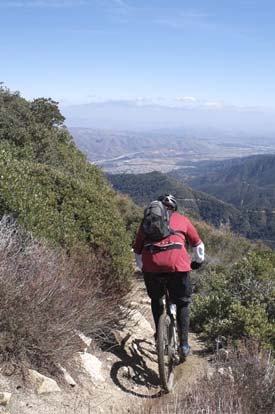 gates, the support vehicle that breaks down and the riders that have to be coaxed into being DNF'ed because they were so far behind in their event; and much, much more.

The weather intimidated many participants; but we must not forget that the Counting Coup and Vision Quest are held in the winter - and in one of the most rainy/snowy months of the year.

If these events were easy, the participants wouldn't be Counting Coup or having a Vision Quest; at times I lose patience with those that do not understand the passion behind these events and the acceptance of the unknown that they demand.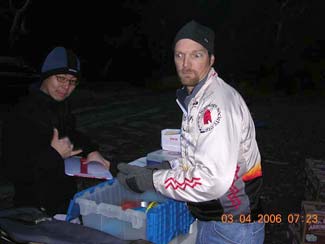 The Warrior's Society does not promise perfect conditions, we only promise you'll be challenged; to what extent is not determined by us but by the grace of God and fate. As I previously stated in my last event update; God smiled on us this year.

Over all we survived a very timid year, but that is a comfort found only in hindsight. The only defense and comfort I have found in promoting this very complicated event, without the benefit of hindsight, is in my volunteers; and my trust has always been well placed.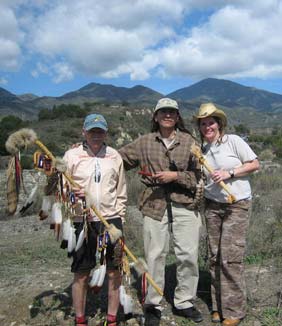 With the appointment of Sherry Panttaja as our 2006 Event Director and the help of Ned Reynolds (our 2006 Pow Wow supply and set-up Director), and Jesse Vargas (our 2006 break-down Director), things went off much easier; they were all a big help and key to the success of the Pow Wow - as were all those that they directed.

Due to the controlled chaos that I must deal with during the event I have little time to share in your experience of joy as you cross the finish line; or comfort yourself in the fact that at least you tried - and achieved a Vision Quest in the process.

I am grateful for the shared experiences, expressed to me after the event by both our support and participants, because they allow me to experience the Pow Wow in a most vivid and inspiring way.

This wrap-up will try to paint a picture, in the words of both the participants and support volunteers, of what defines the Counting Coup and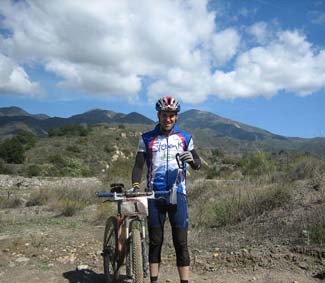 Vision Quest experience.

Some of the highlights of this year's Pow Wow:

Cameron Brenneman, the Vision Quest holder of the fastest time on a geared bike, captured the Vision Quest single speed record and finished first overall in the event. Manual "Manny" Prado, on a geared bike, was right behind him finishing second. We expect Cameron to return next year in an attempt to capture the unicycle record, or if he can clone himself, the tandem record.

Cameron's record performance did not come easy, as our time keeper Jeroen Bosboom explained: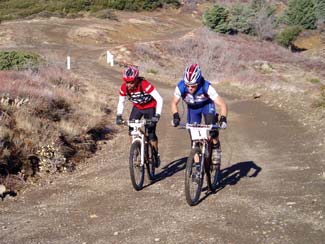 "...Cameron rode a converted Giant running 34/18 gearing. His official time was 5:38:28. Cameron started about 4 minutes late. He covered the course in 5:34 although his credited time is longer. That's an average speed of 9.75 MPH! Cameron told me he has no desire to use the single speed for the VQ anymore."

The irony of Cameron finishing just two minutes ahead of Manny is telling. If Manny had started on time he would have barely edged out Cameron.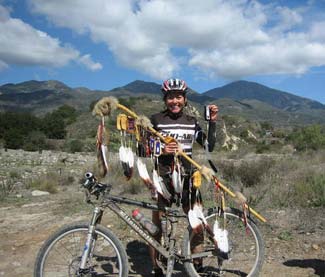 The first female finisher and Vision Quest women's record holder was Club member Monique Mata with a time of 6:35:45 and 8.34 mph! Monique had quite a bit of trouble with mechanicals on the motorway that delayed her a bit - but still finished with an outstanding time. The first female single speeder and women's single speed record holder was Club Member Leslie Williams with a time of 7:18:52 and a pace of 7.52 mph.

Rudy Nadler set a new course record on a fixed gear cyclecross bike with a time of 7:32:00 and pace of 7.32 mph

In the Counting Coup, Ty Kady came in first with a time of 4:11:55. His pace was an incredible 10.48 mph. He was followed by Johnny O'Mara with a time of
4:19:05. His pace was 10.19 mph. The first female Counting Coup participant to cross the line was Caroline Goulard at 6:29:23. Her pace was 6.78 mph. The first male single speeder to cross the line was Jason Miller with a time of 6:10:41, a new course record.

We also had the Counting Coup tandem team consisting of Ursula Callahan and Mark Weidenger. They crossed the finish line with a time of 7:54:11. Ursula finished right behind Mark and wins the Right Guard award for endurance!


Club member Troy Sladeck, at 8 year's old, was the first child to ever finish the 11 and under Vision Quest - From Black Star to the Motorway - with a time of 4:15.

Club member Lacey Maxwell, at 14 years old, was the first female to finish the 12 to 14 Vision Quest - from Black Star to Holy Jim - with at time of 10:00:13. She rode the full course and promptly crashed after the finish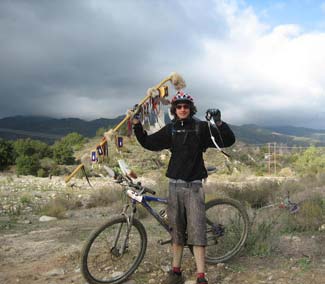 line. We barely got her slowed down or she would have ridden to O'Neill Park!

Club member Matthew Nourmohamadian, at 15 year's old, was the youngest person to finish the Vision Quest with a time of 10:44:25. His pace was 5.12 mph.

We are very proud of our Jr. Warrior's Society Race Team members, Lacey, Troy and Matt for their accomplishments in the 2006 Pow Wow.

Club member Larry "Lare-Dog" Branham was the last place finisher of the Vision Quest and the winner of framed "After the Battle" artwork made by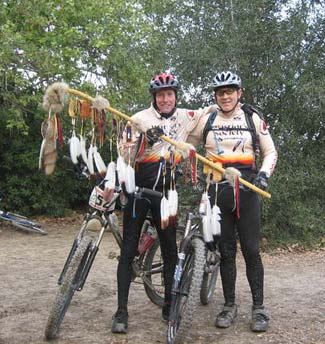 Dennis Duty. Larry set out to win an award and by God he did. Larry's finishing time was 11:59:59. His pace was 4.58 mph.

We had another son and father competing together in the Vision Quest, and I thought I'd share their experience with you as related to me by the wife and mother of this "team":


Dear Mr. Vargas:

One of Brandon's 16th birthday presents - as a rite of passage from adolescent to young adulthood, was the Vision Quest. His dad, Mike Lee, was going to ride with him.

A lot of our family and friends thought we had a "sick" sense of humor. However, we wanted Brandon to have something memorable for his 16th Birthday. We told him that this would be something that he would remember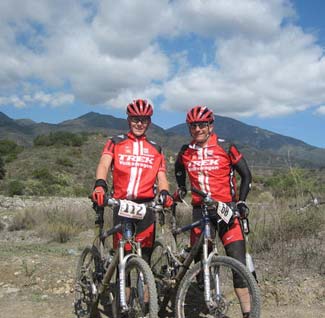 forever and if he accomplished this, he could accomplish anything in life through hard work and determination.

We did the early start because Brandon had a baseball game at 3:00 p.m. that day. He did really good on the first part of the race and toward the 4th hour, he started bonking. He had to dig deep and with a lot of determination and encouragement from his dad, he was able to accomplish his goal. He finally learned what it meant to "cramp."

The cheeseburger at West Horse Thief was definitely a life saver. Brandon said after the race, "That was the greatest cheeseburger ever!"

When he came through the finish line and was awarded the beaded Warrior feather, it made everything all worthwhile.

This was a special bonding trip for father and son. We had always told Brandon to be a "Warrior" when he was young. Now, he is definitely a Warrior by accomplishing the Vision Quest.

Thank you for putting on such a great event and giving people the opportunity to conquer their own "Vision Quest."

Sincerely, Pam, Mike and Brandon Lee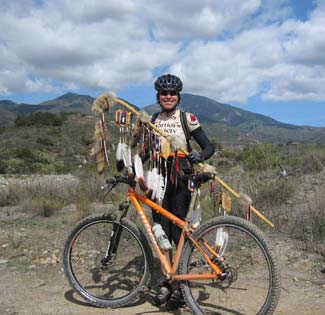 One last story before I tell you about the changes for next year and also acknowledge all those who helped make the 2006 Pow Wow a success.

From Club member and Vision Quest sweep rider Drew Lazenby:

"I don't know if Keith told you this... When we were sweeping the last riders on the West Horse Thief Trabuco loop, we ran into club nominee Dave Parrott, who defines the type of rider that pushes the limit for the personal goal of completing the quest.

He went for it last year and didn't make the cutoff. He came back this year and made the cutoff by 5 minutes. His enthusiasm was incredible. Here's the best part. As we were hiking behind him up West Horse Thief, we noticed a piece of webbing hanging from his left handlebar end. When asked what this was for, he told us that due to some nerve damage to his left hand, he has to tie his hand to the handlebar when riding.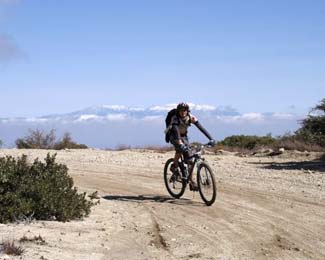 All of his controls (brakes and gears) were on the right side. Watching Dave descend and push on was inspiring. Dave made every cutoff this year and met his goal of finishing the VQ."

As far as changes for 2007, next year we will have only ONE 5:30 a.m. start. We also plan on purchasing 4 to 6 Propane heaters to keep you warm at the start. We will also offer you the option of either taking a shuttle from O'Neill Park to the start of the event(s), or a shuttle back to the start from O'Neill after you finish the event(s).

Many thanks to all our volunteers who prepared our registration packets, worked at our aid stations, the start, the finish line, drove or rode sweep on the roads and trails, provided medical support, helped set up and break down, load and drove the shuttle trucks, provided communications, cooked our excellent lunch and helped shuttle riders to back to the start.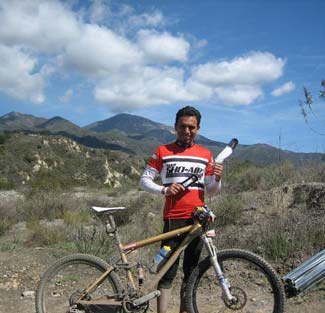 Many thanks to Art Zippel for the great t-shirt design and PA system at the start, to SHARE for the use of their trailer and to Robin Lemonds for hauling it out to the start and camping there overnight. Special thanks to Patty McLaughlin our Breakfast and Start Logistics Director.

Many thanks to Joe Lopez our Communications Director and all his volunteers. We also appreciate the support of our friends in the motorized off-road community; the 4-Play Jeep Club and the Orange County Dualies.

Thank you to all our trail work volunteers that worked hard to get the course in shape for the event. We especially thank Mike Caffrey, Ken Rands and Bob McCarter for their supervision of the Upper Holy Jim Rehabilitation Project. What many of you didn't know is that Bob was out there the day of the event doing final repairs on Upper Holy Jim. To quote Bob:

"My Checkpoint crew, consisting of my son Dylan and Treve Misemer, raced through the Maple Springs gate at 6:15 the morning of the event with a mission in mind. I had ridden the Upper Holy Jim trail the previous weekend and was disappointed to see how quickly our work on the switchback had fallen apart.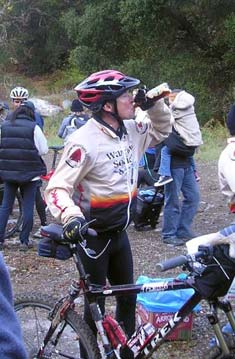 We had sandbags with us and we were intent on stabilizing the trail ahead of the day's participants. We arrived at the bottom of the new trail about 7:20 and the three of us hustled up to the switchback and went right to work.

While I cut in benches in the trail, my son and Treve filled the sandbags. After about 40 minutes of hard work we had the trail back in place. And, the repair held up fine throughout the day's event, still in good shape at the end of the day."

Hats off to our cooking staff of Jim, Gena, Alex and Genny; they did a great job of getting you all fed.

Many thanks to Frank Cain for providing the new orange plastic traffic control cones. We also thank Core chiropractic for providing massage for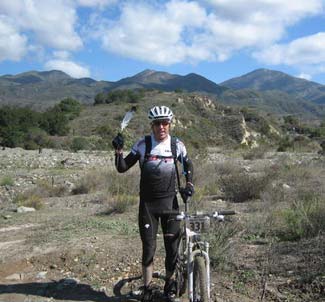 post race recovery with the popular DMS (deep muscle stimulator). Check it out on their website at www.choosechiro.com.

It is also the 10th anniversary of my Cousin Becky's support at the Pow Wow. She has been with me from the very beginning and is a big part of the history and success of the Pow Wow events.

Thanks to all our participants who, despite trepidation over the weather, put on a brave face and pushed themselves in the events. We truly appreciate your support!

And most of all, thanks to my wife Geriann, and son Shane, for putting up with me - and for their love and patience.

I leave you with a few words by our 2006 Event Director Sherry Panttaja: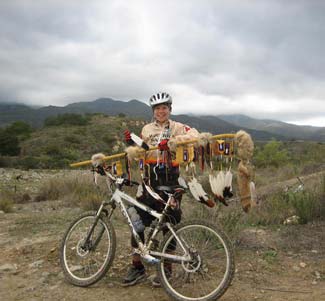 "As a volunteer for the event this year I enjoyed the event as a spectator rather than a rider and found that helping out can be just as enjoyable. Watching our fellow rider's come across the finish line and being there to congratulate them on their accomplishment that day was a moving day.

One rider came across the finish line, collapsed and was instantly comforted by his family, at which point I was in tears watching. Seeing his expression as he crossed the finish line knowing that he had accomplished his goal of the VQ and having his wife and kids' waiting for him was obviously an overwhelming experience for him. I too hope that someday I will have the will to accomplish the VQ and have the warm support of my family waiting for me.

I want to commend each and every rider who left that cold morning on a quest for the finish. Many of you were faced with challenges that did not allow you to come across the finish line...but to even attempt an event of this kind demonstrates that you have the will and passion to face challenges that test your body and soul."

Next week we will be announcing and providing you with the links to the rest of the events of our 2006 event season, including the Warrior's Society Flying B Series, which will crown a male and female Orange County Mountain Bike Champion.



» Vision Quest finishing times
» Counting Coup finishing times

Other pages with Pow Wow pictures:
» mtbikemike.com
» rickweller.com

---