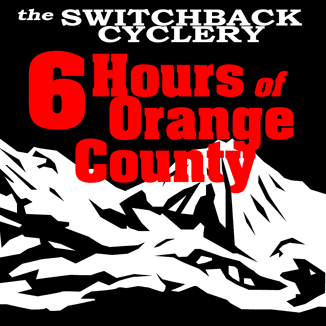 The 2006 Switchback 6-Hours of Orange County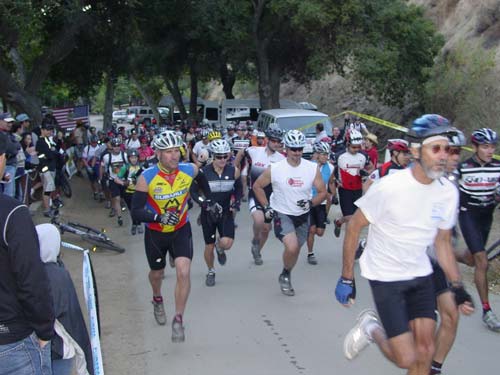 Story by Chris Vargas
Pictures by Barry Wood, John Early and Gerritt Slingerland
Web Editor Barry Wood

Thanks to all who participated in the Switchback 6-Hours of Orange County! We are always amazed and impressed by the participants in our events. Extending our race season has been a learning experience and the feedback and enthusiasm you have given us is greatly appreciated.

The one thing about having events in October is you don't know if it'll be hot or cold; and this year it was hot. The demanding course at 5.6 miles long and 1,253 feet of elevation gain per lap was made a little more difficult with temperatures in the mid 80's, which when compared to the temps at the 24-Hours of Orange County (over 100) must have seemed a cool for those who competed in both events.

Putting on events reminds me of the scene from the Wizard of OZ where the Wizard is amazing Dorothy and her companions with his abilities until the curtain he is behind is pulled away by Toto and the "Wizard" is revealed to be at the controls of his special effects machine furiously pulling levers and dials.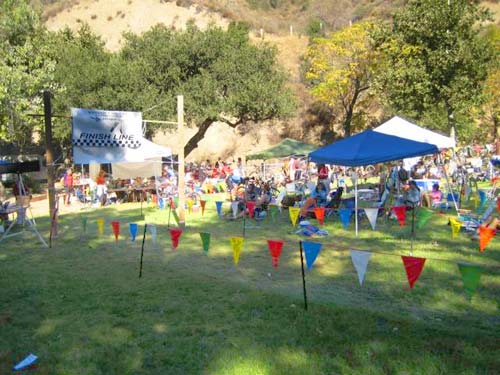 Though the events at their face may look like they run amazingly, in truth at times we feel like the Wizard; behind the "curtain" furiously pulling levers and twisting dials. This year was no exception. Two day's before the event it was discovered that workers employed by one of the property owners had graded a portion of the course causing extensive damage.

Scott Tedro, the CEO of our major sponsor Sho-Air, took the lead in repairing the damage. He was out there with his race team members on Friday furiously working to repair the damage in time for the event. The work was completed in time and Scott and his team saved the day. Scott was recognized at the awards ceremony for his help in making the event a success.

We had some great competitors at the event and two of the best were Manuel Prado in the solo 17 to 30 Expert Class and Warrior's Society member Mario Correa in the 31 to 45 Expert Class who both rode 9 laps (50.4 miles and 11,277 feet of climbing) winning their classes. Manuel's time was 5:45:49 and Mario's time was 5:46:46. Both Manuel and Mario are sponsored by Sho-Air.

Mario Correa wrote about his experience at the Switchback 6-Hours Of O.C. on his blog "Enjoying the Ride".


In the 31 to 45 Solo Female Expert Class Louise Kobin finished 1st with 8 laps (44.8 miles and 10,024 feet of climbing) followed by Fiona Peterson and Warrior's Society member Mary Huth who both completed 7 laps (39.2 miles and 8,771 feet of elevation gain). Fiona captured second place by finishing her last lap about 3 minutes before Mary.

In the Solo Male Expert 46 and up Class Warrior's Society founding member and Director Keith Eckstein finished 1st riding a rigid single speed with 6 laps (33.6 miles and 7,518 feet of elevation gain). In second place was Randy Profeta with the same amount of laps finishing his last lap about 11 minutes after Keith. Phil Kramer and Steve Ellis both finished 5 laps with Phil finishing in 3rd place due to his last lap being faster.

In the 2 Person Class the Sho-Air Single Speed team of George Muñoz and John "Fuzzy" Mylne and the Sho-Air geared team of Josh Smith and Jason First both completed 10 laps (56 miles and 12,530 feet of elevation gain) with the single speed team winning 1st place by finishing there last lap about 6 minutes faster than the geared team. In third place was Team Tandem Champs made up of Jeff Nelson and Spencer Hurtt (who hold the Vision Quest tandem record) who completed 7 laps.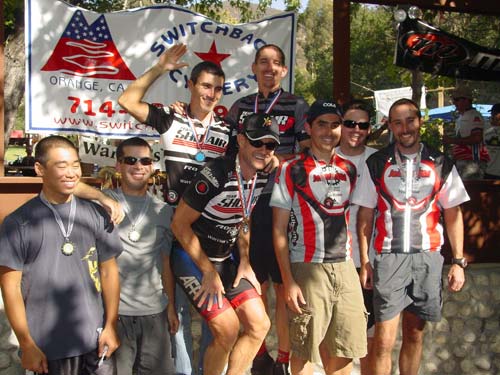 In the 3 Person Class the Sho-Air Team of Scott Tedro, Terry Best and Craig Hopps came in 1st with 9 laps (50.4 miles and 11,277 feet of elevation gain). The following 3 teams (team DRT, team Jenson/JAX/STR and team Lusardi) all finished 8 laps with team DRT (Dean Long, Rod Leveque and Thomas Stockton) and team Jenson/JAX/STR (Jeffrey Do, Matt Snow and George Gonzalez) coming in 2nd and 3rd based on the time they finished their last lap.

In the 2 Person Coed Class Gerritt and Kym Slingerland of team "The Wiener and the Whiner" came in first riding single speeds with 9 laps (50.4 Miles and 11,277 feet of total elevation gain). They were also the coed champs in 2005. In 2nd place was Team KHS made up of Bryan VanVleet and Brittany VanVleet with 7 laps with team Pylons made up of Greg Ackerman and Ann Ackerman finishing 3rd with 6 laps.  

In the Solo Novice 16 and Under Class 16 year old Matt Nourmohamadian came in 1st with 6 laps (33.6 miles and 7,518 feet of total elevation gain) followed by 13 year old Camron Pattaja with 4 laps. Both Matt and Camron are members of the Warrior's Society.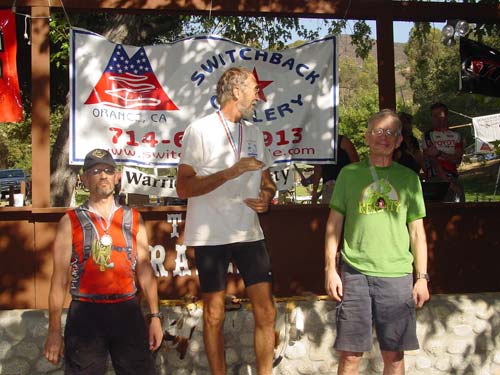 The oldest competitor was Douglas Kubler, at age 62, who came in second in the Solo Novice 46 and Up Class with 5 laps and Jud Oshier coming in 1st also with 5 laps (but with a faster time on his last lap). In third was Geof Sanberg who also completed 5 laps. 

After the 3rd event of our Orange County Championship Series Manuel Prado with 185 Points and Bernice Pierson with 195 points are the current leaders with only one event, the November Sho-Air / Rock N Road Fall MTB Classic, left. Both Manuel and Bernice are part of the Sho-Air / Rock N Road Race Team.

The complete results can be found on our web site here.

To view the Orange County Championship point standings go to our web site here.

Of course the Switchback 6-Hours of Orange County would not have been possible without the help of our club members, volunteers and sponsors. Most important of these volunteers is Sherry Panttaja our Executive Director in charge of events and sponsorship. Sherry has brought a new sense of drive, commitment and enthusiasm to the club. Sherry had the following thoughts to share: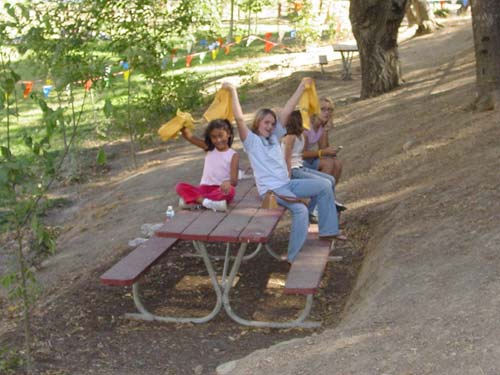 "I want to personally thank all my customers and friends who participated in the 2nd annual Switchback Cyclery 6 hours of OC. I love being in the timing and announcing watching you all come through transition with either a smile or a grimace. Thank you for your support by racing at our event and supporting our shop (Switchback Cyclery) over the last eight years. Without all of you out there racing we would not have been able to bring mountain bike racing in Orange County with The Warrior's Society."

Making Sherry's job easier is our timing Director Suzanne Martin and Course Manager Jason Martin. They have been key to prepping for the event and making sure the timing and scoring goes off without a hitch. Our timing staff of Jenny Hardison, Barry Wood, Annie Finken, Elsa Hutton and Adam Potter did a great assisting Suzanne.

Our Communications Director Joe Lopez, as always, kept us informed as to what was going on with this team of Bill Hines and Ken Rands.

Our course marshals, Suzanne Wilson, Mark Wilson, Bob Haislett, Serge Viau and Mark Cluttey did a great job keeping people on course and encouraged. Our logistics team of Reed Price, Bob McCarter, John Early and Matt Forest made sure the course was properly marked and quickly taken down after the event. Jeff Parish and Treve Misemer also stopped by Friday night to help set up the staging area.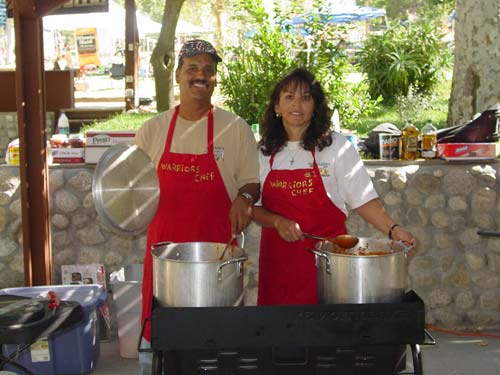 All of us were kept well fed thanks to our lead cooks Alec Martinez and Gena Vargas, who were assisted by Chip Leopard. The great t-shirt design was created by our Graphics Director Barry Wood, who always does an outstanding job, and screen printed by Salinger graphics, who also did a great job. We also thank the Sho-Air / Rock N Road "kids" cheer team who rooted for all the participants near the exchange area.

Many thanks to Core Chiropractic with their DMS massage, which the participants will attest affectively moved lactic acid and kept their muscles fresh during the event. Check out their website.

We also thank Larry "Lare-Dog" Branham, our Safety Officer, for overseeing our volunteers making sure everyone operated in a safe manner.

We are blessed with so many great and loyal sponsors, including our major sponsors, Shimano, Manitou, Clif Bar, Cytomax, Sho-Air, Switchback Cyclery, JAX, Rock N Road and Felt Bikes. For a complete list of our sponsors go to:

https://www.warriorssociety.org/sponsors.html

The pictures David Bourne took at the event for purchase have already been posted on his website.

They are listed under 6 Hours of Orange County. He has them organized by rider number and then the unidentifiable and general event photographs were placed in the gallery called Odds and Ends.

Sho-Air is having an amateur $5,000 bike sponsorship contest that is in the new Mountain Bike Action December issue and on their website.

All those wishing to take part in the contest have to do to enter is go to the site and write a brief story about how mountain biking has done something good in their life.

Thanks again for your support! See you at the Sho-Air/Rock N Road Fall Mtb Classic
---