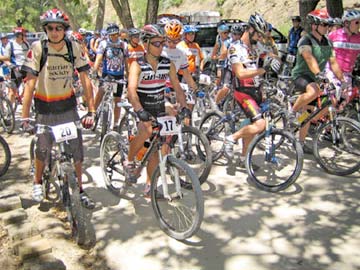 Story by Chris Vargas
Photos by Bob McCarter, Jenny Hardison, and John Early
Web Editor Barry Wood

The Sho-Air / Rock N Road / Specialized 24-Hours of Orange County went off far better than our expectations!!!

Although it was 95 to 100 degrees on Saturday that did not keep the racers (including 28 novice, intermediate and expert solo riders) from giving it their all on the demanding 5.6 mile course with 1,253 feet of total elevation gain per lap.

As experienced 24-hour solo racer and 24-Hours of Orange County Class winner Randy Profeta expressed to me:

"In my opinion, the course is not the deciding factor, Mother Nature is. The wild card in all of these endurance events is the weather."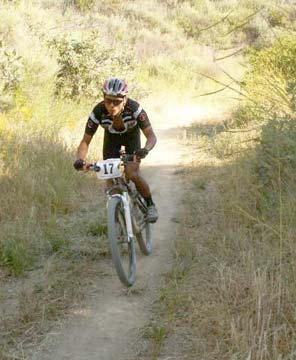 The fastest lap time (31 minutes) was set by John "Fuzzy" Mylne of the Sho-Air 5 person team. Sho-Air won the 5 person team class with a total of 36 laps (201.60 miles and 45,108 total feet of elevation gain. The other members of the Sho-Air Team were Terry Best, George Muñoz, Scott Tedro and Jason First. In second place was the Geoladders Team with 33 laps (184.80 miles and 41,349 feet of total elevation gain.

The winning two man team, John Hudspeth and Jose Alvarez won their class with 15 laps (84 miles and 18,795 total feet of climbing). The winning corporate team of Switchback Cyclery (with 9 members) completed 23 laps (128.80 miles and 28,819 total feet of elevation gain). Two of the Switchback Teams youngest riders, club/race team member Camron Panttaja age 12 and Ericka Huth age 13, busting out 58 to 1:02 minute laps!

In the solo class Manual Prado of Team Sho-Air was the top male rider (in the 17 to 30 Class) with 20 laps (112 miles and 25,060 total feet of elevation gain). Manual, who was 4th in his class at the Cytomax Spring Mountain Bike Classic last April, is leading the Warrior's Society / Sho-Air Male Orange County Championship Series with total points of 185.


He has two more races in the series left, the Switchback 6-Hours of Orange County on October 21st and the Sho-Air Fall Mountain Bike Classic on November 18th. It will be exciting to see if he continues to lead the series. Eighteen year old Ryan Ognibene was second with 16 laps (89.60 miles and 20,048 of total elevation gain). This is Ryan's last race with us this year as he's heading to Colorado for college in the fall.

Bernice Pierson was the top female solo rider (31 to 45) with 16 laps (89.60 miles and 20,048 of total elevation gain). Bernice also leads the Warrior's Society / Sho-Air Female Championship Series with 195 points with two events left in the series. Bernice wrote a race report on her experience at the 24-Hour event.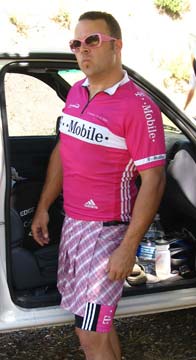 In second place (and in second place in the female Warrior's Society / Sho-Air Championship Series) was Warrior's Society club/race team member Mary Huth who completed 14 laps (78.40 miles and 78.40 miles) and trails Bernice in the Championship Series by 10 points. In third place was Shannon Simm with 7 laps (39.2 miles and 8,771 total feet of elevation gain).

The other notable top male solo riders were Warrior's Society club/race team member Eron Boyer riding his first solo 24-hour event in the intermediate 31 to 45 class, Warrior's Society club/race team member Matthew Nourmohamadian, also riding solo for the first time in the novice 17 to 30 class and Douglas Kubler who won the novice 31 to 45 class.

Eron had the second most laps for a solo rider with 18 laps (100.80 miles with 22,554 feet of total elevation gain) and he did it in style wearing a pink skirt. Eron is also one of the designers of the J.E.T Trail used in the event.

One of our youngest Warrior's Society Club/race team members, 16 year old Matt "Soaring Falcon" Nourmohamadian, had to be moved up to the 17 to 30 age group because there was no one else in his 16 and under class -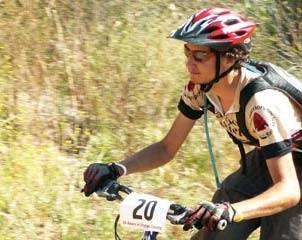 and he came in first with 15 laps (84 miles and 18,795 total feet of climbing). Mario Correa, our endurance expert who supported Matt had this to say about him:

"I think those of us out at the race saw a talented young endurance racer out on the course this weekend. It's impressive to see riding like that and to think that endurance racers don't even peak until they're in their early 30's. He's only going to get stronger and faster, there's a ton of potential there.

Absolutely awesome race Matt!! Next time you do a solo 24 I'll happily be your support for the full 24 hours. Having seen you race and your strengths we can put together a good game plan for the next one."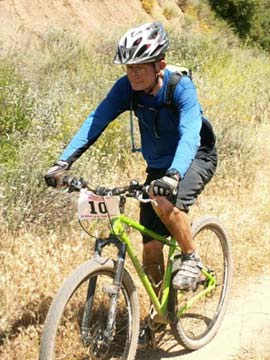 Douglas Kubler 61, riding a rigid single speed, had to be put in the younger novice 31 to 45 class because there was no other competitors in the novice 45 and up class. He won with 12 laps (67.20 miles and 15,036 feet of total elevation gain). Great job Douglas!!!

Other solo winners were Josh Smith in the solo expert 31 to 45 class with 11 laps (61.60 miles with 13,783 of total elevation gain, Randy Profeta in the solo expert 46 and up class with 12 laps (67.20 miles and 15,036 feet of total elevation gain) and Jeffrey Do in the solo intermediate 17 to 30 class with 12 laps (67.20 miles and 15,036 feet of total elevation gain).

Congratulations to all our class winners!

The event would not have been possible without the support of sponsors Rock N Road Cyclery, Sho-Air International and Specialized Bikes who sponsored the event as well as all our volunteers that worked as support. Rock N Road's owners Matt and Stuart were at the race to promote Specialized with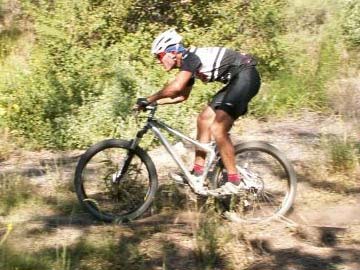 demo bikes and to spritz riders with his cooling sprayer as they crossed the finish line. Rock N Road also had a full support mechanic on the scene the entire 24 hours to keep the racers bikes finely tuned!

Thanks to Niterider for the use of their charging systems and thanks to Clif Bar for having support staff available for not only their tent but for manning our First Aide tent, which I am proud to say didn't need to be used. The Clif Bar staff even cooked for the event staff and riders.

And a special thank You goes out to Scott Tedro and his wife for a personal donation of $1000.00 to the Warrior's Society, which was presented at the awards ceremony to everyone's surprise. The Tedro family donation will be used by the Warrior's Society to continue its efforts to put on first class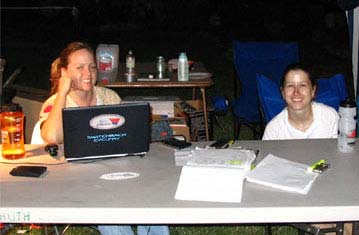 racing events in Orange County. This money will be used to help in improving the logistics of our events by helping with the purchase of a trailer that will be used at both our trail work as well as our races.

Our Event Director Sherry "Stands Her Ground" Panttaja, who oversaw all aspects of the event, played a big part in its success. Sherry's passion and drive is something I wish I could bottle up and sell.

The scoring was handled by our Timing Director Suzanne "She Who Watches Time" Martin, who quickly mastered the timing software for our cross country events. Suzanne even made the software work at the 24-Hour Event (even though she was told by the company that wasn't designed for a 24-Hour Event). Her efforts, combined with Sherry's organization of key checkpoints and timing support, resulted in the raffle and awards ceremony being done by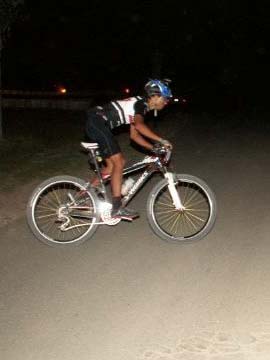 1:00 - one hour after the event ended. Can you think of any other 24-Hour event that does this?
Bob McCarter gives his thoughts on the event from a volunteer's point of view on his web site.
We had many volunteers, but a few key people were critical to the events success because they spent 30 or more hours working the event; Jason Martin, Tim Panttaja, Suzanne Martin, Eron Boyer, Sherry Panttaja, Bob McCarter, Reed Price, Joe Lopez, Bill Hines, Matt, Jady "Tink" Enomoto, Larry "Lare-Dog" Branham and Ken Rands worked their rear ends off.

Ned Reynolds, who worked his butt off organizing the back country trail Work this year, even showed up to break everything down and haul it up to the warehouse. Club member John Early and his friend Chip Leopard cooked breakfast for the support staff, pre-cooked the pasta for Sunday, and then cooked hot dogs for the event participants and cleaned up afterward.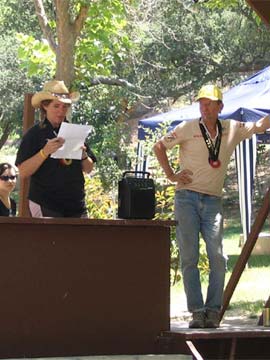 Our thanks go out to check point and timing volunteers Treve Messimer, Brian Lewotsky, Jeff Parish, Mark Olson, Drew Lazenby, Bob Rust, Matt Forest, Kevin Brown, Regina Froemling, Molly Hartsough, Calvin Mulder, Preston and Angelika Drake, Tammy Martin, Jenny Hardison and Andy Lightle.

We also appreciate the support of Dr. Shane from Core Chiropractic and his assistant who provided Deep Muscle Massage (DMS) to all the participants free of charge.

Thanks to the property owners of the Flying B Allen Dean and Dan Dulac for hosting the event and thanks to their ranch managers Amy and Mark Ferguson for all their hard work cooking and cleaning for the participants.

This "Vision Quest" to promote this 24-Hour Event has taught us all a lot, it tested us mentally and surprised us in ways that had us at times in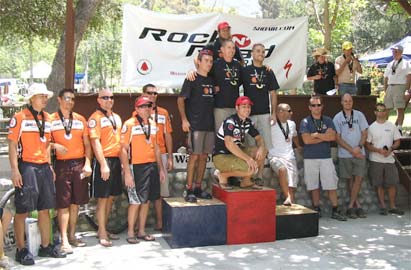 desperation. But the ultimate ending to where the Vision led - thanks to all who that participated in it - exceeded our expectations.

All our new events this year have gone smoothly, and from the feedback, very successfully; and we've learned a lot in the process.

The Warrior's Society is deeply grateful to all of you who participated in the event and those of you who worked hard to make it a success.

See you at the Switchback 6-Hours of Orange County on Saturday, October 21st.

Chris Vargas
Executive Director
The Warrior's Society