Troy win's XC and DH titles at the National Championships!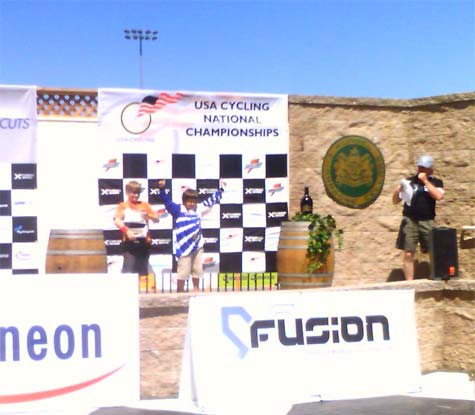 Photos and story by Jim Sladeck

The day of Troy's National Championship races started at 6:30 am. We got a few more practice runs on the DH course and Troy rode pretty solid. Since the course was so sloppy, my main focus was having him ride smooth without any crashes. Troy was a little nervous since the day before, he had several crashes and wasn't able to get in very many clean runs.

We switched bikes and put on a 26 inch front wheel. On his race run he came out solid, he passed a few racers and had a perfect run. He said he never even had to put a foot down. None of the other JR racers made it down without walking the most difficult section. Troy took first place by a good margin an won his first downhill national championship !!!!!!

We had several hours in between races. Troy was pretty pumped up and couldn't sit still. He was riding around, jumping in the bouncy house with his little sister etc. When it came time to start heading over to the starting line, he said he didn't feel good. his skin was hot and his eyes were drooping down. We watered him down, shot him with the air compessor and away we went. I climbed up a ways where I could see him take off and then ride along side him for a mile or so on the climb. If he didn't look good I was going to pull him out.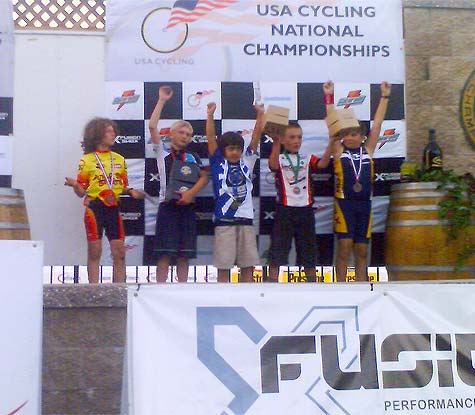 On the start, it was crowded and he got a little tangled but by the first turn, he passed everybody and was in the lead. I grabbed my bike and rode the next mile alongside him and he said he felt good.

He had 9 kids in his class, more than ever on a long XC course. Kids from all around the country were there and we heard one kid from Texas was super fast and was the state champion.

As I started to pull away to let him race, I reminded him to ride smart and not to crash on the downhill. I waited on the downhill for him and when he came around he was still in first place. He went across the finish line--- both hands in the air. The next kid was only 1:40 behind and was from AZ.

On a side note, The Texas champion had his TX socks on and Troy had his USC socks on. It would have made a great pic!!!!

Troy got another jersey and title.

Currently Troy is the US natl champion in trials, XC and DH at age 8.

We're in Whistler now riding everyday just having fun.

-James