The 24-Hours of Orange County - A Test of Both my Will and my Stamina
By Matthew "Soaring Falcon" Nourmohamadian
"The best moments in our lives are not the passive, receptive, relaxing times- although such times and experiences can be enjoyable, if we have worked hard to attain them. The best usually occur when a person's body or mind I stretched to the limit in a voluntary effort to accomplish something difficult and worthwhile optimal experience is something that we make happen. Such experiences are not are not necessarily pleasant at the time they occur, yet these could have been the best moments of life."
-Mihaly Csikzentmihalyi from Bike Magazine
I love to challenge myself and push my limits and when the opportunity of a local 24 hour race came up I had to take it. What could be more fun than riding your bike 24 hours? After many training miles and lots of preparing I woke up race day ready for a weekend of adventure and prepared for battle; a battle within me that would test my will power and fitness more and longer than it ever had before. This event was undoubtedly one of the greatest Vision Quests of my life.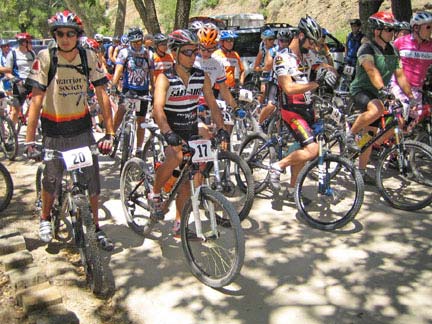 I put on my cleats, padded shorts and my Warriors Society jersey and loaded the car up with equipment, bikes, and food and headed to the ranch. With temperatures at my arrival already nearing triple digits I knew it was going to be hot a race. I met my friend and teammate Mario Correa (who was going to support me) and prepared mentally; strategy is just as important as fitness. Mario is a very accomplished racer and an endurance expert. I went off at a casual pace and rode the first lap with one of the course designers and teammate Eron Boyer who was riding in a skirt; I mean kilt and pink clothing.

Man it was hot, the canyons and high ridges were like furnaces. I generally do well in heat so I was fine. Around my third lap I started feeling cold and got chills, which I later learned can lead to heat stroke. Mario was giving to me extra electrolytes so I wouldn't cramp and he gave me a water bottle of cold water to dump on me during my laps to keep cool. The cool water definitely helped and kept me riding strong in the heat.

Later on the sun began to sink behind the red Vermilion Cliffs and I got Bob "Howls At The Full Moon" McCarter's lights put onto the bike with the help of course designer and volunteer Jason Martin. Thanks Jason and Bob! I Found out I had the lead and I had a strong will to win even if I would have to ride all the way though the night and till twelve the next day. I went out and did the first night ride of my life. Night riding is sooooooo much fun!

I went out for a second lap and the light began to dim right before the first down hill. I was guided back with the help of a small light from Manny Prado (another solo rider on Team Sho-Air) and a team Geoladders solo rider riding behind me. Then his lights went out and Jose (a two person team rider) guided us back the last quarter mile. I then got new lights from Bob Rust (thanks Bob!) and went out for a quite long and painful lap. I got the worst saddle sores ever and it hurt so bad to sit in the bike, I was starting to get sick of eating gels, sitting on the bike (I never thought that was possible); but the will to keep going and win rose above all of that.


When I came in at 12:45 a.m. Sherry suggested I rest and when I learned I had a 5 lap lead on 2nd place I went for a 2-3 hour break; but there was no way I'd fall asleep. I sat by the time crew and I learn more about butt'r and chamois than I ever wanted to. Parker from Rock n' Road threw a bottle over at me, (thanks dude) and tuned my bike up and I was off at three am. This lap was so much fun I had an insane adrenaline rush and felt so good I started hammering, and catching riders; the chamois butter was really helping.

At about 5:30 a.m. Mario came back and I had 12 laps. I went out again in an effort to get more laps before the heat. I came in for my 14th lap (my goal) and went out for a long hot fifteenth lap. I got back pretty overheated and at hour twenty two called it a day for I was drained and I had more than enough laps on second place to prevent them from catching me.

My team mates also all did very well. Mary Huth got second in her category with 14 laps. Nice job Mary! Mary and I would go back and fourth on the course for hours and we kept each other going. Eron won His category with 18 laps. Wow! My training partner and good friend Matt Kipper also did great and got second in his category.

I'd like to thank Mario and his friends, as well as Jason and Tim, for their help with support. I'd like to thank Warrior's Society Event Director Sherry "Stands Her Ground" Panttaja and Executive Director Chris "Dances With Hornets" Vargas who have both been some of my biggest supporters in my racing effort. I also thank the volunteers everyone cheering me on with encouragement; it really helped me.

This definitely was something I'd love to do again and many more times after that throughout my life - endurance mountain biking is a huge passion of mine. I don't think I stopped smiling the whole time. Great job everyone; it was an honor suffering and counting coup with you out there in the heat through the night and in the heat again.

Distance and climbing: 84 miles and 18,795 total feet of climbing (15 laps)

-Matt "Soaring Falcon" Nourmohamadian