Lacey Wins at The Firestone Walker Classic
Story and photos by Darin Maxwell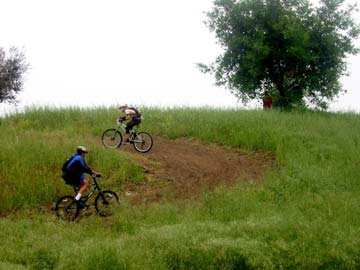 This weekend Lacey and I traveled the 3 hours to the town of Buellton so she could race at the 7th annual Firestone Walker Classic. We arrived early enough on Saturday to check into our hotel, and then go pre ride the 12-mile beginner's loop. The course was great, as it rolled trough the surrounding hills with some gradual, and some short steep climbs. The descents were all pretty straight away smooth and fast. Everything was just a little damp from all of the recent rains, and it would get a little muddier with the drizzle on Saturday night.

On the morning of the race we rode around to get the blood moving in her legs. She cracks me up, because when I asked he if she was nervous, she said "no not really". Excited? "Yeah, kind of". Well, how do you feel? "I just want to go ride!"

When they finally started staging the Beginner Women they had them broken up into age groups. But to our surprise, they started ALL of them, all ages, TOGETHER!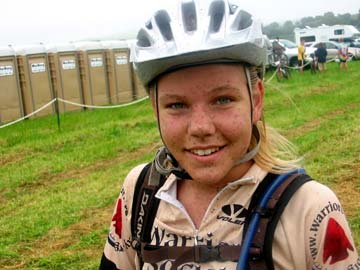 I've always reminded Lacey what Monique had told her once about not getting caught up in the going all out start. It really worked out well for her today. She said that she stayed with the other girls in her class on the climbs, then passed them, one at a time on the downhill. After riding with her on Saturday, I could see that she was really comfortable with going REALLY fast on the downhill sections of this course.

Then she crashed!

At the bottom of one of the descents was a tight right hand turn. With the drizzle on Saturday night, it was also slippery! One of the girls she had just passed, just passed her back! Lacey said she was able to get going without to much lost time, and was able to catch, and pass the girl again.

When she came around the corner were I was waiting to get a picture, she looked like she felt really good. I was then able to ride and get a few pictures of her towards the end of the race.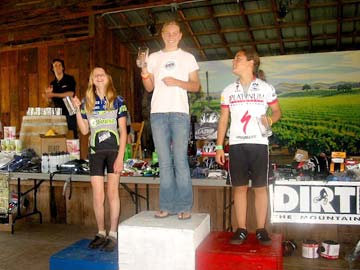 She is getting into a good habit of finishing strong, and today it showed. From the point of taking my first picture, to the spot where I took the last one, she had passed a couple more of the adult racers.

Her winning time for the Junior Beginner Women 14 & Under Long Course was 1 hour and 22 minutes for the 12-mile course.

Our next stop will be the NORBA National race in Fontana on May 6th.

Once again, the guys at The Path set her bike up in tip-top shape. No mechanicals!

And thanks to HOSS Tech gear for her duds. She looks killer in the camo!

-Darin