Jr. Race Team Member Lacy Maxwell competes at the Sagebrush Safari
Story and photos by Darin Maxwell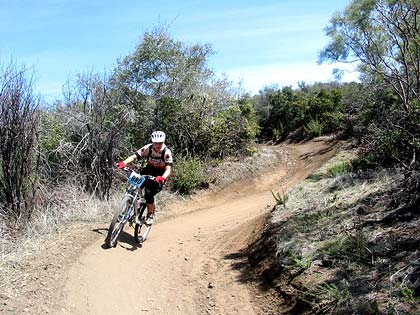 Lacey and I made our way down to San Diego over the weekend for the Sagebrush Safari. It's the first stop on the Cal State series. We have plans on getting her to as many of them that are within a 3 to 4 hour drive from here.

We went down on Saturday to pre-ride the downhill section of the course. After arriving and talking to a few of the people setting up, we decided to just ride up the pavement, which was actually the biggest climb of the course, and descend the Kernan trail, which would end up being the final DH of the course. These are the only parts of the course I'd ride with her, since I'd planned on just getting a few pictures of her while she was racing on Sunday.

The paved climb was a little like riding up Maple Springs so to Lacey it was really nothing new.

Now for the DOWNHILL!

All I can say is WOW, what a cool trail that Kernan trail is! With a couple of short technical climbs at the beginning to get the blood going, the fun really begins! With short steeps to drop in on, and berms, and whoops, this was a fun fast DH! Lacey was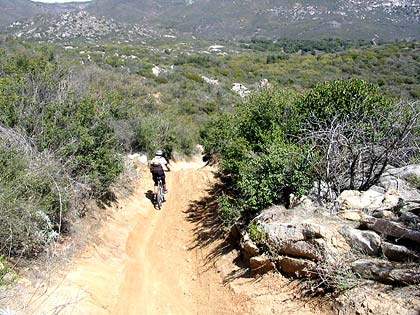 pretty giddy by the time we got to the bottom of it on Saturday.

On Sunday we met up with Troy and his family. After watching Troy beat up on the older kids, it was getting close to time for Lacey to race. That meant it was time for me to take off ahead, to get into position for pictures.

Lacey said when she lined up there was another girl her age racing, but she had a different number marked on her leg, so she didn't know weather she was racing her or not. She said she had a good start, and that the other girl kinda stumbled at the start, and she never saw her again after that. Lacey looked liked she felt good at the top of the climb, and as she took off into the middle section of the course that we hadn't ridden, she looked like she was really having fun.

The next time I would see her was halfway down the Kernan trail. She completely caught me off guard! Little Troy had just came by, then another couple of boy's, then Barb, Troy's Mom, rode by saying that she couldn't believe that the kids were riding this trail! As she said that, just let me mention, she also had a big smile on her face! Then I heard more racers comming down, and to my surprise, one of them was Lacey!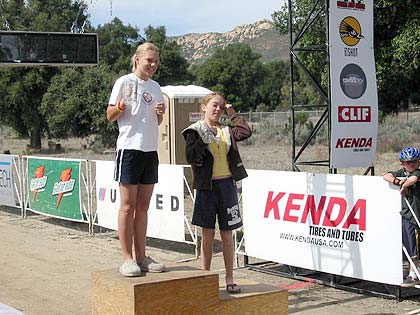 She was really moving! BEAUTIFUL!

After getting a couple of pics, I took off thinking that I would catch her, and ride the end of the race with her. NOT!

I didn't see her again until the finish line. After deciding that there wasn't any way that I was going to catch her, I turned and rode in on the pavement, to stay out of the way of the racers.

Lacey ended up taking 1st place in the 14 and Under Jr. Beg Womens class, with a time of 1 hour 15 minutes for the 9 mile, 850 feet of elevation. The girl that was racing with her ended up with 2nd, and a time of 1 hour 47 minutes.

Next stop is the Cytomax Spring Mountain Bike Classic on April 22, then the Firestone Walker Classic in Santa Barbara on April 30.

A big thanks to Tani and all of our freinds at The Path for keeping her bike working great, Mark at HOSS Technical Gear, and The Warrior's Society for all their support.

-Crash Maxwell