Lacey at Snow Summit AM Cup #4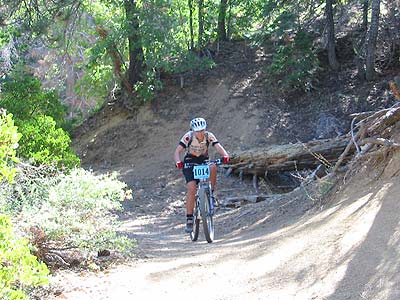 by Darin Maxwell

On Saturday Sept. 25, Lacey raced in the Snow Summit AM Cup # 4. It was the last race of the four race series.

The course was the same as AM Cup #2 which was 12.5 miles with 1700 feet of elevation gain and took Lacey 2 hours and 24 minutes to complete. This time, on her Path-built Kona Kikapu, she did the same route in 1 hour 59 minutes. She was all by her self in her category again but she still went all out against the clock. There was no getting off the bike to walk up the climbs because she was tired. Sure, she had to stop, and take a rest here and there but she rode up everything! She even caught a little "air" heading into the Pirate's trail. Oh yeah, and then there was THE BOY! Sander is the 12 yr old Jr. Boys Long Course winner. He started off staying ahead of Lacey at the beginning of the race. Lacey then passed him on one of the climbs and was able to stay pretty far ahead of him for most of the race.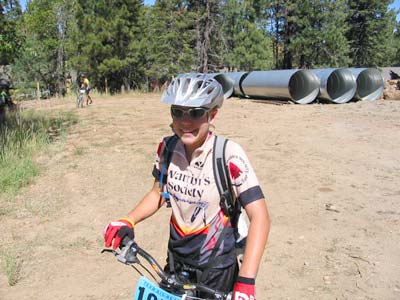 Then came the Fern trail. If you haven't ridden it, you've missed out on some nice semi-technical single track thru the trees. In fact, the last time Lacey went down the Fern trail, she was real careful. Not this time! Once I let her know Sander was making a hard charge, she loosened up, and let her Kona FLOW! I've never seen her ride like that, and I have to admit, she was making me nervous! Every time he got close enough to say "on your left", she'd yell back, "I don't think so", and take off. It finally came down to a short rocky climb at the end of the trail. Lacey was just barely ahead of him when they hit it. She was trying to sit and spin up it in too hard of a gear. "Stand up and mash 'em Lacey", I yelled. She did, and he just couldn't do it! He gave her a lot of motivation! She finished just over 1 minute ahead of him.

Her win gave her enough points for the Series Overall 14 and Under Jr. Women's Title. She wasn't always the fastest girl out there, but, she was the most consistent! Needless to say, I'm VERY VERY proud of her.

-"Crash Dad" Maxwell