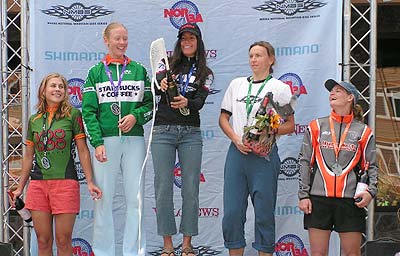 Schweitzer to Snowmass
by Ron Sawicki

SCHWEITZER

Race day was beautiful, 70's and lots of sun. The day prior it had hailed on the beginners and down poured on the pro xc field. Pua took the lead immediately and never saw another girl the whole race. The gap grew from 2 minutes on the first hill to over 17 minutes in the end!

SNOWMASS

The day started with a 2 hour drive to Snowmass and Pua losing her contacts. We rigged up some elastic hair ties on her glasses to keep them from falling off during the race. She is practically blind without them! This and the altitude made for a tough race. The field was smaller this time, but the competition was great. Our Monique found herself against another Monique, Monique Merrill, one of the toughest females in endurance racing on the planet.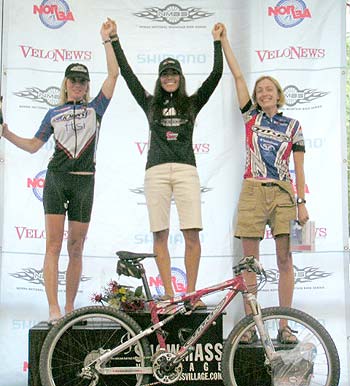 Merrill lives at altitude so she destroyed the first hill and left Pua behind! Pua chased and eventually caught her at about 15 miles into the race. Merrill did not want to follow Pua and passed her back within minutes, Pua let her go and Merrill pounded out a 2 minute gap by the 35 mile point. Pua would not slow down and by the 45 mile mark, Merrill was out of gas. Pua shot by her and put 6 minutes between them in only 5 miles. It was a great race!

Pua is now by far the Marathon Series Points leader, we only need to show up at Snowshoe to win the National Series Title. She was asked to join the US Team for the Marathon World Championships, but we had to decline due to it being on the same weekend as the NORBA Series Finals at Snowshoe.

We have only 3 races left:

Snowshoe Marathon Series Title
24 Hour Solo World Championship Title
NORBA National Marathon Championship Title

She will be featured in an article in Bike Mag due out in September, and also 2 new ads for Kenda and DT Swiss due out now. Lots more is in the works and I will be in touch with you soon with all the details. Thank you for everything!

-Ron
www.teammata.com