Scout Adventure Race
By Molly Hartsough

Our adventure begins at Wahoo's for a little pre race meeting dinner. I sat there and looked at Drew, Calvin, and Keith and could see the silent anticipation in their eyes, I felt it too. I must begin my tale by saying it was a complete honor to race with these men. I respect them not only their athleticism, but for who they are as people.

We arrive at the pre race meeting and Baker was a buzz with activity. I don't recall seeing the place so alive. The meeting started at 8:15ish. We get our maps and instructions. Oh, yes.. start time, 3:30am! After the meeting, Drew transferred the check points to our topo map and we discussed our routes. 11pm.. time for bed.

1:30 am wake up, we all meet at the park at 2:30. Keith camped and scored us a sweet spot in the transition area. We make sure we have what we need, review the map and we head to the start. Drew and Calvin are our navigation experts, so they get the map.

3:30 Start!

Leg 1- Trek 4 check points/ in any order we want

We opted to go backward from D-A. Down the canyon we go past the dumpsters, then up a trail that is part of the sprint course. Up..up..up we go. Drew and Keith are leading us up the hill. We arrive at our first check point. It is dark and very foggy. We take off to the second. At this time we made a navigational error and took a dead end road.. Dang! Okay back down.. no, wait.. are we sure that was a dead end? Back up, crap it's a dead end.. We finally figure out where we need to go. Up, Up, UP we go to the top of the hill climb. Calvin, in his wisdom gently reminds us not to blow ourselves up too early. On our way, we realized we missed the first check point.. not a huge deal, we'll get it at the end. We arrive at the top and then proceed down the other side down the ridge. Steep, loose single track with lots of ruts. We go get our signature at the first check point we missed and return to transition.

To our surprise we had a little obstacle to do.. two wood beams, which we all had to stand on and move across a sand pit, down and back with out touching the sand. Half way across the first side, woops! we slipped off. Start over... this time we nailed it.

Leg 2 - Bike/Trek/Bike 8 check points must get them in order

We go to leave on our bikes and we had to do a gear check with race officials. Dang.. we are missing one bike tube! 10 minute penalty. 10 minutes later, we leave in 22nd place.

We pedaled up a wash and ended up on part of the 12hr course. Nice climbs, nothing too steep. We get two check points and hike up the warrior's trail (that super steep single track) to the top. Calvin was my hero he tied a bungee to my bike to help me get up the trail. At the top, we dropped our bikes and headed back down for the trek. Check point 6 half way down. We got to the bottom and as I came around the corner, there was Drew, in the bushes! He lost control running down. We all laughed. We chose to take an old drainage ditch that runs strait up the side of the hill.. this was a complete scramble but it was the shortest route and super fun! We get our next check points and get our bikes and head back to transition for Leg 3. On our last check of this leg, we are told we are in 4th! I don't believe it.

We roll in to transition and confirm we are now in 4th!

Leg 3- Bike or Trek.. teams can take 0, 1, or 2 bikes

We opt to run. The next check point was at the cross. We grab our shoes and take off. On our way out they announce we beat 3rd place out of Transition, we are now 3rd! We need to move... The next leg was a bike out of the flying B down the canyon to Irvine lake, and we are all on singlespeeds. We're all worried about this.

We start running up Dan's driveway, man.. my legs are getting tired! Superman Calvin gets out the bungee and helps tow me up the hill. Keith also helped but putting a hand on my back. We finally reach the top and get to our check. Time to go back down. I'm ready to move, with no running left, I am going to give it all I've got getting down this hill. On our way down, we see team 4.. they have two bikes! Uh oh .. move.. move.. move! We finally get back.

Leg 4- Ride to the Lake

We grabbed our PDF's and our bikes and off we go. Spinning our legs off to get to the lake.. It was a bit of a struggle for me. Calvin decides we need a tow line for the way back. Keith on his 29er helps by pushing me some.

We arrive at the Lake, drop of our bikes and hit the Kayak

Leg 5- kayak aprox 4 miles, 4 check points

We can see number 2 leaving the first check point.... We start our paddle. Arrive at CP1, hanging on a tree in the lake.. got it, on to 2. At #2 I had to get out of the Kayak... Doah! The leg cramps bad.... Breath molls... okay check, on we go. We arrive at the next one and Drew realized we missed one! Dang... the good news is it was on our way out. On our way to the one we missed, there is team 4, 5, and 6. We've got to move. We picked up the pace big time and cruised back to the lake shore to pick up our bikes.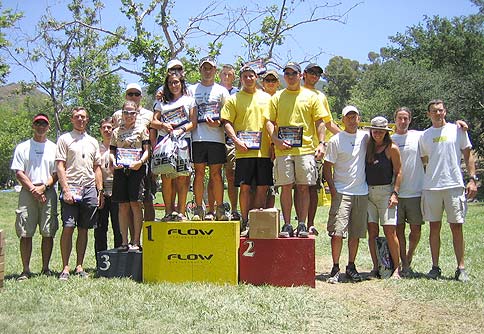 Leg 6 - bike back to Baker and finish

I am stressing about team 4 catching us. I could barely get out of the kayak.. it is so hard running and biking all that way and having to sit for 90 minutes. Here we go, I am so determined not to lose 3rd, that Calvin did not have to tow me. We go as fast as we can back to the ranch, then up one more small dirt hill... Oh, man.. no more hills! Whew the top.. down the other side.. into the finish!

To go from 22nd to 3rd was such a great feeling. Keith was so awesome, his first race of this length, and he was incredible! Calvin and Drew were as solid as rocks. I am so proud of the team. We all raced with hearts of warriors. It was a fantastic experience, I can't wait to do it again.

I wanted to make special mention of Tani and The Path for helping sponsor the race. There were many great sponsors out there, we appreciate them all. I'd like to say a special thanks to Tani, he does so much to support all of our events. For him to support this event which isn't really a mountain bike event was so cool. So, thanks Tani!!

-Molly