Lacey at the Amateur Cup 2, Big Bear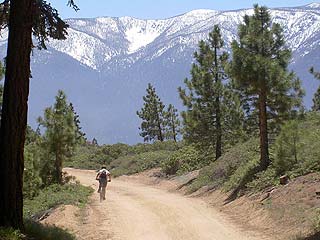 By Lacey Maxwell

On Sunday June 5, 2005 my Dad and I woke up at 6:30am for the long drive up to Bear Mountain for the AM Cup 2. It is a series of 4 races. I missed the first race because I was racing at Fontana. Even though I missed the first race, I could still race the remaining three races to get the points for a chance to win the series.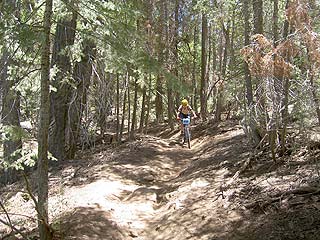 I entered the Junior Women's 14 - and Under Short and Long Course race's. The Short Course was a sprint race, three laps around the short course (not sure of the distance). There was a hill climb at the beginning of the course that I thought was challenging, especially after the first two laps! I took second place out of three girls. I liked this race because I got to compete against other kids my age. This was also the first time that I got to ride with Troy, he is VERY FAST!!!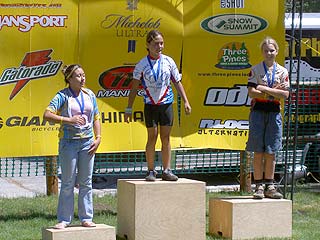 The Long Course was just under 12 miles, and it seemed like the climbs were never going to end! It reminded me of one of my Dad's favorite AC/DC songs, "It's A Long Way To The Top, If You Want To Rock'n Roll"! I was ready to "rock'n roll"!!! I loved the singletrack descents through the woods. My Dad said that I was going down the fire road so fast that it was scaring the heck out of him! =0 I took third place out of three girls. My Dad said to mention that I was the only girl who did both the races.

I can't forget to say that Troy was amazing! He also did both the races and beat me on the Long Course! =0 & =)

-Lacey