The Warrior's Racing Team Competes At the Sea Otter
By Chris Vargas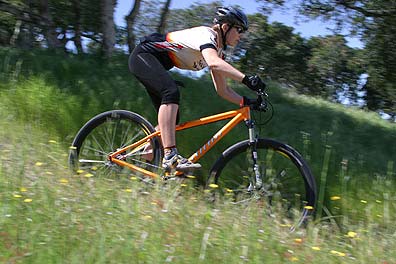 We had 6 team members competing at the Sea Otter and are pretty happy with the results despite two of our team members suffering mechanicals that put them out of contention in their events.

Race Team Captain Ron Sawicki suffered a near catastrophic mechanical failure when his handle bars snapped on technical downhill in his Expert XC Event. After getting thrown over the bars at 30 MPH he was fortunate and suffered only cuts and bruises. Two other participants crashed on this section of the course and suffered severe injuries that necessitated being medivac'ed out by helicopter.

Mario Correa, after coming off his Men's Solo win at the 12-Hours of Orange County, was the second team member to drop out due to a mechanical failure but fortunately not to the same extent as Ron. A spring in his derailleur broke that rendered it useless.

Club member Monique Sawicki finished the Pro Women's XC event in 18th place with a time of 2:53:05. Monique was also coming off her Women's Solo win at the 12-Hours of Orange County. Monique is also defending her 2004 NORBA National Woman's Marathon Series championship in 2005 and is off to a strong start.

Warrior's Racing team member Jeroen Bosboom had a top 20 finish in the Men's 40-44 Expert XC Event with a 19th place finish and a time of 3:14:44.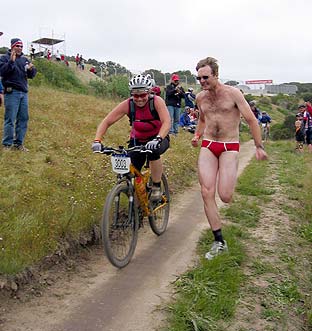 Jason First scored a top 10 finish in his 19-24 Men's Expert XC Event with a time of 3:07:10 and 7th place. Jason has really been riding strong and is improving with each event he enters.

Leslie Williams scored a top 5 finish in her Women's Pro/Expert Single Speed Event with a 4th place finish and a time of 3:32:31. Leslie is a phenomenal XC rider who is also no slouch when it comes to downhill or competing in downhill events.

Erik Williams rode the beginners Clydesdale class riding his singlespeed against all the gearies just to keep it a fair fight. He placed 1st out of 22 Clydesdales beating out 2nd place by about 2 minutes.

Our other Race Team Captain, Andy Lightle, did not compete in a XC event at the Sea Otter but instead took the opportunity to train for his side-job as a Chippendale Dancer by stripping down to his BVD's and running the course during a men's cross-country event.

He had planned to run it in his g-string but it was stolen by Club member Tammy Martin who took it as a souvenir from the last strip performance Andy danced prior to heading out to the Sea Otter.

It was reported that Tammy has had the g-string bronzed and it is now one of her most treasured possessions.

-Chris