Jeroen Bosboom competes in the 40-44 Expert XC Final
Finishes third overall in the series
By Jeroen Bosboom

Background: This race is part of a 4 race local series, best of three points total wins. The series is also part of a state wide 8 race series, confused yet? This is my first full racing season and I entered in the expert class for kicks. I was a few points behind third overall going into the race. Finishing ahead of third place would put me ahead and clinch third place overall for the series. It doesn't sound like too big a deal unless you know how hard fought these races are. I can tell you that nothing is held in reserve if you want to win or even podium. When the race is on the line it's really a fight to finish to see who can suffer the most and win.

The Race: Fall was in the air and it was a reminder that cold dark days lay ahead of us so enjoy the warm days while you can.

Although it was chilly and breezy at the start this was actually a bonus for the racers. The course ahead of us was about 26 miles with lots of loose descents and difficult climbing. I lined up with the usual suspects, uh I mean my competitors and I were let go in waves according to age and class. Eddie Arnet decided to lead the first section and I settled into third behind eventual winner Bert Blanchette.

At the pace Eddie was going Bert and I drafted him and we quickly dropped the pack behind us. Leading for a few miles is fun but really takes a toll and you can quickly go anaerobic and loose many positions before you recover. Eddie faded as the climbing got more intense. I followed Bert and we reeled in some of the field I lost touch with Bert and a few riders on the sandy decent (Clark's Grade Road) and about 3/4 down Eddie caught me. I had a nasty "tank slapper" entering a sandy corner but recovered with out crashing. Eddie being the character that he is he offered his trademark "sorry" as he slipped by and did his best to drop me. We still had plenty of racing left so I wasn't too worried and gave him told him "no problem" knowing I'd catch him on the climb.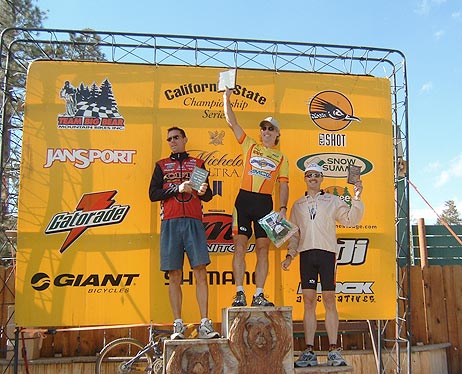 During the descent the rear cassette hub started to make a loud whirring sound. I guess I should have cleaned it. I knew the bearing would hold and not act up on the climbs from past experience. At the bottom of the mountain we had several miles of rolling climbs through sandy fire road before we headed back up Radford for six miles. In a few minutes I saw Eddie and not long after that passed him for second place. About ten minutes latter I saw Bert and after resting on his wheel a minute I passed him for first place. If I had any chance to win the race I would have to put a lot of distance on him before we crested the top of Radford.

The climb has lots of slow rocky sections that destroy rhythm and momentum but peg heart rates. At the aid station we were given water bottles and I poured most of mine over my back and shoulders for extra cooling. I watched my HR monitor over the course of the race and apart from down hills it registered over 180-182 the whole race. That's right at or slightly above my lactate threshold level. The average HR for the 2:29 race was 174! I passed a few riders including my semi-pro buddy who had used up his mojo trying to keep in contact with his pack. At the very top of the grade Bert reappeared and he charged past to deter any attempt to keep pace with him.

We started down a very fast and rough fire road section; my chain did a hop off the big chain ring and (unknown to me) became knotted. I nudged it back on with my shoe but was unable to pedal after that. After all that work I could still come up short. I decided to keep my momentum and coast to Fern trail and try to fix it there. When I got off the bike I found a knot in front of the derailleur and behind the crank set. The derailleur seemed skewed too far back and probably led to the chain being looser. I've never seen that happen before and it was like trying to fix a rubrics cube at the WORST possible moment.

I remembered that the chain had jumped off the big chain ring and the trouble originated with that. So I took the chain off the front of the crank and was somehow able to reverse the knot. I hopped on the bike and prayed it would withstand the pounding coming down a rough single track, somehow it did! The bike sounded like a bull at a stud ranch whenever I coasted. I lost second place while I untangled the chain but was still ahead of third place (by three minutes) in the overall points chase! I held on to third place in the race and the first and second place finishers congratulated me on the race. I want to thank the organizers and my sponsors for their support.

-Jeroen Bosboom