24 Hours Of Hell In Paradise - The Hawaii 24 Hour Race
By Drew Lazenby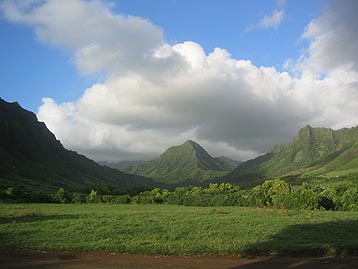 It was more like 12 hours of paradise and 12 hours of hell... Five of us from the Warriors Society Race Team (Ron and Monique Sawicki, Andy Lightle, Drew Lazenby, and Brian Blair) left the mainland for Oahu, Hawaii, last week to compete in the third annual 24 Hours of Hell in Paradise endurance event. Supported by Monique's most gracious parents during our stay, our time spent in Hawaii could not have been more fun. Our plan was simple-to arrive with plenty of time to soak up the rays, eat tons of pokie, ride with some locals, spend some quality time snorkeling, race, and then repeat as much as possible until our time ran out. We'll stick to the race for this writeup, but we can share many more stories over a pint and some more pokie.

Starting a 24 hour race at 9am and finishing at 9am the following day is the way to go. We decided as a team on Friday to wake up early on Saturday morning and head off to the race, rather than camp the night before. (We're on vacation here too and no one wanted to pack for two more meals.) Waking up at 5am is easy in Hawaii and I can't tell you why. Maybe it's the thought that you will soon be riding your bike around one of the most beautiful places on the island. Or maybe it's because at any moment you can pick up a face mask and swim with Nemo, or pick up some shaved ice from Matsumoto's, or...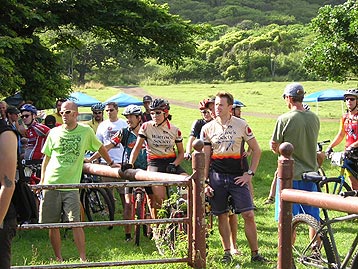 Driving out to the race location was incredible in itself and our first look at the type of terrain we'll soon be riding on. After a quick 45 minute drive, we went from one side of the island to the other and were soon on the east coast near an island nicknamed Chinaman's Hat. Taking our official hand written map, complete with handy directions and lock combinations, we opened the gate and drove about a half mile on a dirt road until the valley opened up. You could tell why this location was chosen for filming of Jurassic Park. Steep cliffs as green as could be surrounded us on the north, west, and south while the Pacific Ocean bordered on the east. We couldn't believe that we were about to race on this land when all you wanted to do was chill on a hammock and watch the grass grow.

After setting up camp and watching out for the cow pies, we began mixing with the other racers, including riders from team ASS (Aloha Single Speeders). Scott, the event organizer and essentially a one man timing system, called for all racers to meet for a quick pre-race meeting. Half of the race course was on fireroad, while the other half was on trails that we would be creating, lap by lap. Our directions were obvious, red ribbons are always on your right. If you don't see ribbons, you're off course. Ten minutes later, we received our 5 minute air horn warning for the race to begin. Scott pretty much decided during the pre-race meeting that we should use a LeMans start, complete with a 30 yard dash to your bikes.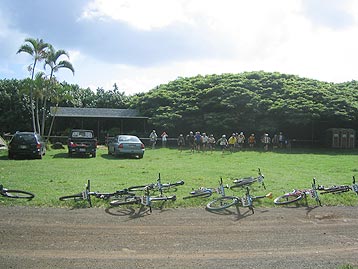 Monique was up first. After the air horn sounded, it was a quick run to the bikes and off to the course. Good thing the cows were grazing elsewhere or we would have had ourselves a stampede. The course consisted of three up front climbs, some undulating fireroad, and a singletrack finish. I have to admit, we all went into the race thinking that a 6 mile course couldn't be that challenging-it was, and Scott created one sweet race course.

The tricky parts were the third climb and the singletrack. The third climb was a steep, direct line straight up a grassy ridge to another fireroad. It was steep enough in sections for singlespeeders to walk, although it took one of us to admit it first before we all opened up and said we walked. This climb would be hideous if it were wet. Of course, the most fun part was the singletrack. It kept you on your toes and always looking no more than 10 feet in front of you. The best part was when you finally broke out of the tree cover and all you could see was the valley and the ocean straight ahead. After negotiating the grass covered rock sections and the slippery roots crossing the trail in every direction, the trail seemed to smooth out until you hit some more interesting sections. It was the part of the course that we would look forward to most and also the part to be most careful with. At any moment, your tire could fly off the trail or you would endo over the hidden rocks. Again, this section would be treacherous in the rain-thank goodness it was clear and warm, for now.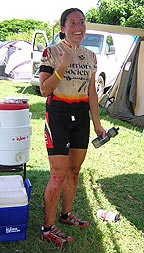 Thirty minutes later, Monique finished her opening lap in second place, 2 minutes after the leaders from The Bike Factory, a local bike shop, who we rode with in the jungle a few days earlier. It was Drew's turn next and when he finished we were tied for the lead. Then went Ron, Brian, and Andy and by the end of our first rotation, we had a lead of about 8 minutes. We all kept pulling some quick lap times, challenging each other along the way and joking who would be the one to break the rhythm first and slow down to a more reasonable pace. But in the end, it was Mother Nature that had enough and put a halt to our sub-30 minute laps and felt we should be on the course for much longer.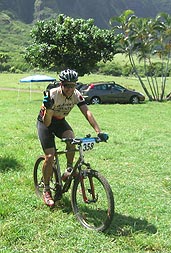 We decided as a team to ride single laps until nightfall when Monique would stop racing, then we would double up on laps to give each other some rest and time for food to settle. Monique would be racing again 4 days later in her first NORBA Nationals, and her coach, Ron and the rest of us fully supported her decision to race for the first 12 hours. We were stoked to have Monique pull some of the fastest splits on the course and even more grateful when she became our new crew chief. Or chef I should say-those were some kick ass peanut butter and honey sandwiches and not to mention the chicken hekka (or however you spell that).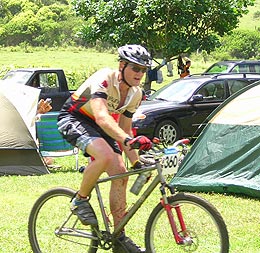 Come nightfall we started our double laps and had a comfortable 2 lap lead. However, we all knew that anything can happen during a 24-hour race-flats, broken chains, injuries, getting lost, the list goes on. We rode through our order again-Drew, followed by Ron, Brian and Andy. By the time Andy was on the course and in the middle of his second lap, it was as though all the rain California didn't receive over the past two years dumped out over the course in a matter of minutes. Literally, in 10 seconds, the roofs of our tents were collapsing with the weight of water. While we were salvaging what we could of our campsite, Andy was out there in the first of what would become many more laps of rain, wind and mud.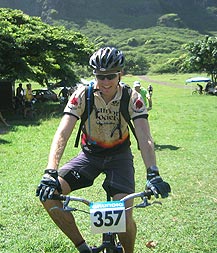 Once Andy returned from his double lap, Drew was up next and sure enough, the course had changed entirely. We were no longer talking about sub-30 minute laps. The climbs became tougher with an inch of wet mud to ride through and the singletrack was treacherous and muddy. Not to mention having to ride through this at night and constantly trying to keep the mud from flying up into your eyes. It took some considerable effort just to complete the two laps and each time you returned to the start/finish, it was straight into the showers, clothes and all. Oh it was awesome!


We continued this way, with the rain pouring off and on, until the morning. Each time one of us returned, it seemed the course got muddier and muddier. It wasn't until Brian was on his second double lap that we realized how crazy the course had become. Brian rode through our campsite after his first lap with a drive train that was caked in mud and grass hanging and twisted in his cranks. Brian politely asked if anyone was ready to ride since he could barely turn the cranks. Being the good teammates we were, we denied him and sent him on for what must have been one long lap! I would suspect his bike doubled in weight, but nothing that his 29er shouldn't be able to handle...

One by one we finished the last of our double laps until Drew and Ron finished the race up with a single lap each. Once Ron had crossed the finish line with 20 minutes left on the clock and not enough time for another lap, we took a tally of our race. Each of each must have gone through at least five changes of clothes (and not just because they were dirty), our bikes were in dire need of a serious overhaul, and we all got lei'd at the finish line! After throwing our wet stuff in a trash bag that must have weight 100 pounds when done, we ate some breakfast (eggs and Portuguese sausage, courtesy of Monique's father) and started packing up the site. Twenty minutes later, Scott called the racers over for the awards ceremony.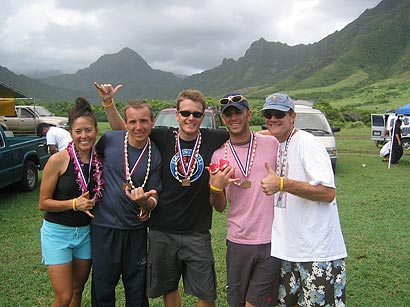 After a brief awards ceremony, raffle (from which Brian won a set of Phil Wood singlespeed hubs) and congratulations all around, it was time for some quick team pictures and goodbyes to some of the local racers that we got to know over the 24 hours we spent in hell and paradise. Our team took first place overall with a new course record of 43 laps. It was a well deserved win for the entire team.

I think I can speak for my teammates that racing on Oahu was an incredible experience and we all came away with some great stories. When all is said and done, taking advantage of opportunities like the one we were given is what we should all be riding for. Hopefully the friends we made in Hawaii will think the same and will join us for next year's Pow Wow.

Mahalo

-Drew