NORBA National Marathon Series Final
By Ron Sawicki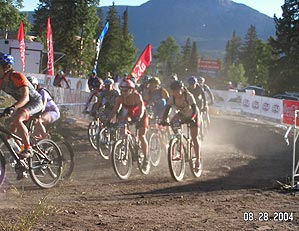 Durango is one of the most incredible places to hold a mountain bike race. Huge mountains, giant trees, steep climbs - and thin air. We traveled to Durango with members of our family, including three nieces and a nephew, one of which was sick when we left.

The morning of the race the bug found me in a big way, I found myself at 6:00 a.m. praying to the porcelain god. Monique was sick to the stomach although not as bad. We made it to the race start and at 7:45 am and they were off.

The first part of the race was 10 miles of the XC course, which was some of the steepest climbing I have seen at a Nationals event. One of the first things to go wrong was caused by the lack of (or complete absence of) proper course markings.


Two racers, one from Titus and one from Moots went the wrong way within the first 10 miles and ended up ahead of the lead motorcycle. Others ended up on routes that took them out of their way instead of taking them on a short cut.

Monique and one other male rider followed an arrow for a different course, costing them both around 10 minutes for their mistake. After the riders completed this section on the XC course they moved onto the outback section; 30 miles with one final long climb to 11,000 feet, ending with 21 miles of mostly downhill to the finish.

Most sections with choices of routes were manned by course officials but a few were not. Riders found themselves staring at their choices and making group decisions on which to take. In the end Cesar Grajales (Maxxis) was able to tear up the course with a time of 2:49:14 with Dave Wiens (RLX Ralph) right behind with 2:53:33.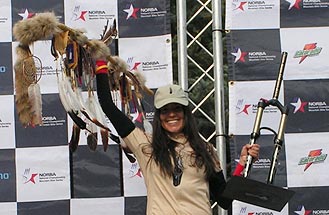 Our local Orange county champ and Vision Quest record holder Cameron Brenneman finished out the top three men with 3:01:14. In the Women's category Mellissa Thomas (Tokoyo Joes) took first with 3:27:36 and Kelli Emmitt (Specialized) held on to second after racing strong the day before in the cross country. In third place was Christy Kopasz.

Monique was able to catch up after her deficit and come in fourth. This was not her best finish of the series but enough to win the National Series Champion title for open women and Dave Weins was able to clinch the title in the men's open division. Next are the races at Mammoth where the National Champion will be crowned.

I'm sure this will prove to be another dramatic race.

-Ron