Story by Dances With Hornets
Pictures by John Early and Dances With Hornets
Web Editor Barry Wood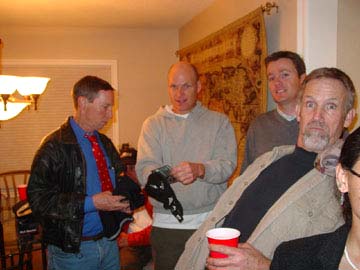 We've had a lot of fun events in the final months of 2006; from the "Howls at the Moon Rides," the "S&M" rides, the Christmas Tree Ride and finally our 1st Annual Christmas Party. The Christmas Party started at 5:00 and by the time the food arrived at 6:00 (salad, rice, beans, chicken asada, steak asada, tortillas, beer and wine) it was in full swing. Ned was kind enough to let us have the party at his house and it was a perfect place for a party. Ned has a backyard overlooking Santiago Peak and a fire pit in the backyard to make it cozy. His dogs, Jake and Clyde, also helped out by being roving "dropped food picker uppers" for any food accidentally dropped by the guests.

Drew Lazenby had a special treat for us; a bottle of aged scotch straight from Scotland. Our safety officer, Larry Branham, quickly approved the scotch for consumption by the club. As you all know, Larry spent an enormous amount of time taste testing beers to find the right one for the party and settled on Fat Tire Ale. Larry will continue his duties as club safety officer in 2007 and will be assisted by Andy Lightle, no slouch himself when it comes to safety.

At the Club Christmas Party Lare-Dog volunteered to support the top four riders by riding his bike and keeping up with them. But after several servings of Drew's seven year old scotch - Andy insisted on taking that support role.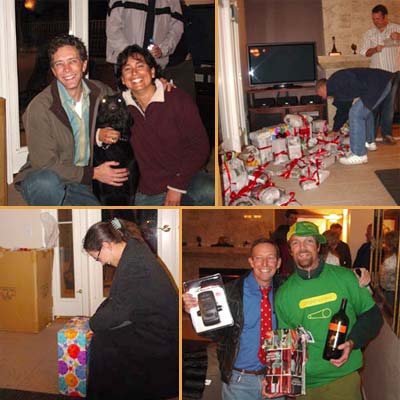 After downing his 10th glass of aged scotch at the party Andy was told by Lare-Dog that Cameron Brenneman (Vision Quest geared and single speed suspended record holder), Manny Prado, Mario Correa (2006 Vision Quest Top 5 finishers) and Monique "Pua" Sawicki (Vision Quest female record holder) were entered in the Vision Quest, to which Andy stated responded:

"Camzzron Bredaeman, Bammy and Maro hath nofin on meee - and Puaas a grill"

The next morning Lare-Dog woke up very thankful to Drew for bringing that scotch and for sticking to drinking the "Fat Tire Ale."

Andy woke up crying and cursing Drew for bringing that Scotch; I guess that's why Lare-Dog is the Chief Safety Officer and Andy is his assistant.

Lare-Dog was trained as a navy medic and has recently earned his ham radio license. He knows how to sew you up and get your a## out off the mountain.

As I previously said, Our Assistant Safety Officer, Andy Lightle, is no slouch when it comes to support having been trained as a life guard and EMT. Andy will be in charge riding along and supporting the Vision Quests top four participants - so he'll have to pedal his a## off and keep that "grill" Pua Sawicki in his sights.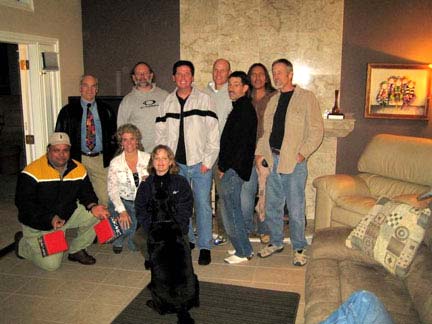 After everyone had their fill of food it was time for the "White Elephant" game to give out the swag. I cannot tell you how hilarious this game was, especially with Andy doing his best to get anyone to steal his prize, an AM/FM radio made to be mounted on a bike's handle bars. Eventually someone stole Andy's prize and he picked another, plus was able to acquire a single speed hat and shirt. The most "stolen" gifts were the earth toned camelback and helmet, which soon reached steal number three for each, taking them out of the game. There were plenty of other great gifts, such as tires, pedals, jerseys and other clothing.

We ended the game with an introduction of the club officers for 2007, which included Communications Director Joe Lopez, Graphics Director and Web Master Barry Wood, Treasurer Ken Rands, Events and Sponsorship Executive Director Sherry Panttaja, Timing Director Suzanne Martin, Flying B Trails Manager Jason Martin, Back Country Trails Manager Ned Reynolds, Front Country Trails Manger Keith Eckstein, Advocacy and Trail Work Executive Director Chris Vargas and Event Support Director and "Howls at the Moon" ride organizer Bob McCarter.

Thanks again to Ned for hosting the party, to the Path and the Bike Company for providing the gifts and thanks also to Eron Boyer for wrapping up the gifts for the "White Elephant" game. It was a great party and I'm looking forward to our 2nd Annual Christmas Party in 2007!

- Chris