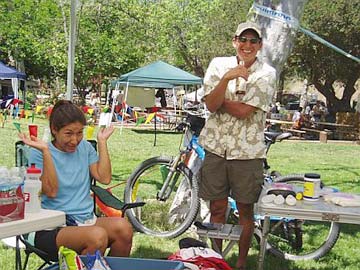 By Bernice Pierson
Pictures by Mario Correa and friends
Web Editor Barry Wood

Mention that you are doing the 24 hours of OC and most people would think you are going to sit on your couch and watch back-to-back-to-back episodes of The OC for 24 hours. Can you imagine that? Sitting on your couch watching TV for all those hours with no sleep? How about walking your dog around a park for 24 hours non-stop? What about sitting at your computer surfing the net for 1,440 sleepless minutes? It's hard to imagine doing any one thing for one entire day and night.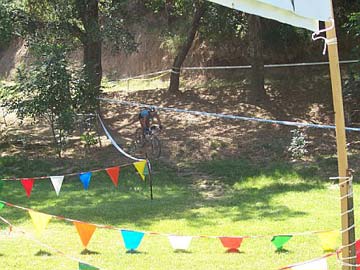 So why did I do a solo 24 hour mountain bike race? Well, I know it's cliché, but I did it just to see if I could. I'm relatively new to the endurance mountain bike scene, but I've heard of many of these races in which a competitor rides around a set course of about 5-10 miles and the one who completes the most laps in 24 hours wins. The competitor can rest and sleep whenever she wants, but the time does not stop.

Being that it was my first 24 hour race, I was not sure what to expect. About a week and half out, I really had no plan. I was not so much concerned with my physical ability to complete the race since I've completed many 24 hour adventure races consisting of mountain biking, kayaking, and trekking. I was not even worried about staying awake the entire time. My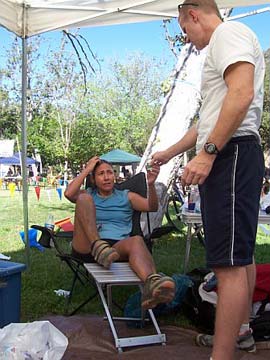 true fear was my mental strength. Could I keep myself motivated to continue riding the same brutal course lap after lap, so many times?

That's when "Super" Mario Correa came in handy. Mario is an incredible mountain biker and a highly achieved endurance rider, as well as my friend. So when I called him frantically asking how I should be preparing for this race, he quickly began coaching me. He gave me guidelines for my physical and mental preparation for the week before the race and a nutritional guide and support crew info for during the race. He also scheduled himself to be there to assist me. Without the advice and mental support from Mario, I would have gone in to the race blind.

So the most important thing I learned about preparing for a 24 hour mountain bike race is that I must always have a plan; a pre-race and a race day plan. Execution is key, so I must be sure that my support crew keeps me as close to that plan as possible. And of course, I must plan for success!


The Rock-n-Road, Sho-Air, Specialized 24 Hours of OC is organized by the Warriors Society and is held at the Flying B Ranch. The course may very well be the toughest 24 hour race course in all of California. It is 5.6 miles long with 1253 feet of elevation gain. The very technical singletrack up and down is exposed with very little shade from the sun in the canyons.

The weather cleared nicely in SoCal for all the beach lovers, but for those of us riding our bikes through the canyons, the clear skies and scorching sun brought brutally hot temperatures into the mix. The race started at noon on Saturday and for the first six hours, racers suffered through the heat.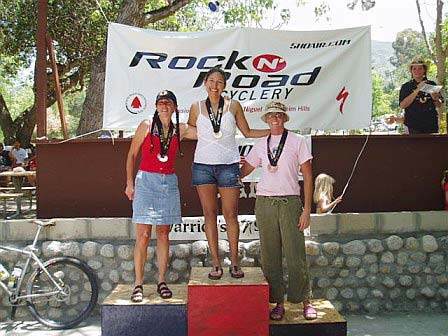 My goal for this race was to ride my best and finish as well as I could no matter what the other girls did. I mean, don't get me wrong, I was well aware that my biggest competition, Mary Huth, would be racing and that she was a talented and strong rider. But my goal was to do my best whether it meant first place or last place. I even told my crew not to tell me how my competition was doing. But as the race progressed and I grew tired, I sought that info so that I could calculate my break times accordingly and still remain competitive.

Competing solo in a 24 hour mountain bike race is very different from my usual four person team adventure races. In a 24 hour adventure race, I am always moving with my teammates. I can depend on the guys to physically and mentally pull me through my difficult times on the course. I can always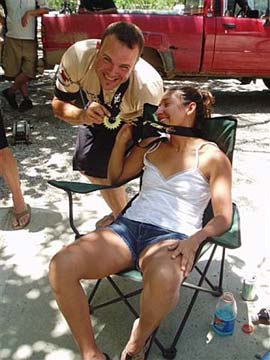 look forward to a new discipline. When my back and bottom start hurting on the bike, I know that soon I will change to trekking or kayaking. And usually I can look forward to moving faster so that our team can finish the race in less than 24 hours.

On the other hand, in a 24 hour mountain bike race I must keep myself motivated. I can not reach for a tow from one of the guys when I get too tired to climb a hill. I can not chat with my teammates about the meaning of life to keep my mind off the pain. I can not look forward to moving from the bike to the kayak. And I know that no matter how fast I ride, I will still have to go for 24 hours.

For my first 24 hour mountain bike race, I planned for success and success is what I achieved. I was the first place solo female finisher with 16 laps which translates into 89.6 miles with 20,048 feet of elevation gain. I'm always amazed at what my mind and body can do and I satisfied my question about my mental ability to complete the race.

But none of this could have been possible without the other folks involved. Mary Huth and Shannon Simm were out there giving it their all and with incredible endurance and strength, they also made the podium. Chris, Sherry, Suzanne, Jason, Tim and all of the Warriors Society built an incredible course. Rock-n-Road, Sho-Air and Specialized sponsored the event. Dr. Shane from Core Chiropractic worked on my body with the DMS. And Mario, Gilly, Erin, Greg, Curt, Christie, and my riding buddy Eron supported me through it all.

- Bernice