The 2007 Mountain Bike Pow Wow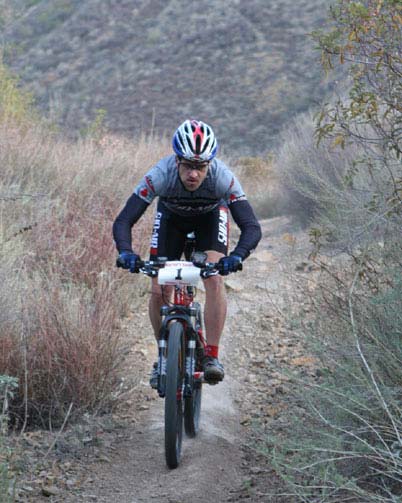 By Chris Vargas and Sherry Panttaja
Photos by Jason Martin, Dayle Landford, Paul "Ratt" Rudman and Bourne Photography
Web Editor Barry Wood

Thanks to all the participants and volunteers who helped make the 2007 Pow Wow a success. Although the wind played a little havoc on the Main Divide, it was much more tolerable than the mud we've experienced in past years. At the start it was relatively "warm" with temps in the high 50's, but at the top of the Main Divide it was in the 40's to low 50's with a cold wind blowing; the wind was not as bad on the last 3rd of the course.

The condition of the course was the best it's been in years. The roads were in great shape and the trails brushed clear thanks to the two major trail work projects we had in January. The "problem" spot was the back side of the peak with icy conditions and snow. Our mobile paramedic/CHP Sergeant, Jay Gentile, was concerned with this "ice chute" and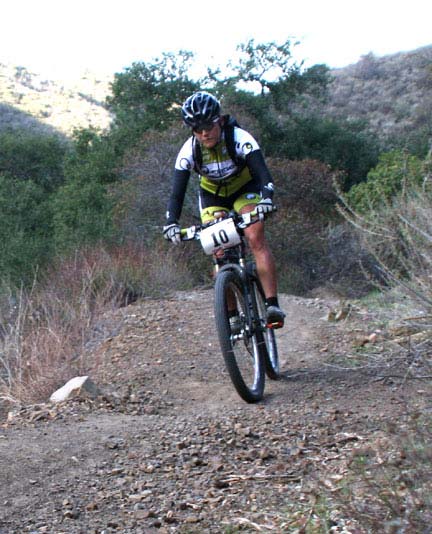 was surprised we did not have more severe injuries occur here besides "dirt road rash." One thing we do not skimp on is medical support on the course with three stationary medical stations with trauma kits and five mobile paramedics between these points. We also had a communications network with ham radio operators at 12 points on the course.

We had 5 records broken in the Vision Quest and three records broken in the Counting Coup.

Cameron Brenneman of Team Sho-Air continued his four year domination of the Vision Quest setting a new geared course record with a time of 5:07:16. Club member Monique Sawicki also broke her female geared record with a time of 6:01.29.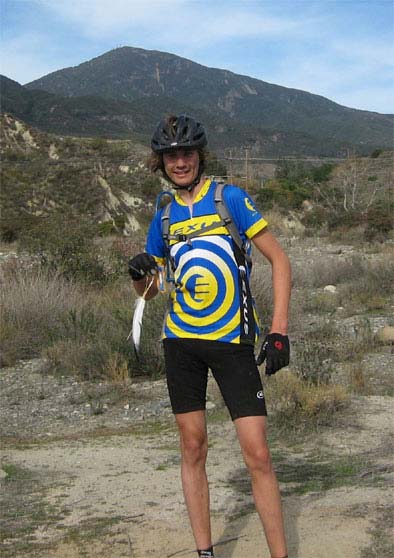 Two single speed records were also broken. Leslie Williams set a new female single speed record with a time of 7:05:02 and Club member Calvin Mulder set a new fixed rigid gear record in the Vision Quest with a time of 6:42:09. Calvin also holds the running record for the Vision Quest that he set in 2004 with a time of 9:30:00.

Jantzen Oshier at 14 years old set the record as the youngest person to finish the Vision Quest with a time of 9:31:31; we expect big things from him in the future. John "Fuzzy" Mylne was the first single speeder with a time of 5:56:35 and Douglas Kubler was the oldest finisher at age 62 with a time of 9:56:12.

Ty Kady was the first finisher of the Counting Coup with a new record time of 3:54:31 and Amanda Eakins was the first female Counting Coup finisher setting a new female record time of 5:15:44. Sarah Jensen was the first single speeder in the Counting Coup to cross the finish line with a time of 6:17:06. Club member Troy Sladeck (at 9 years old), broke the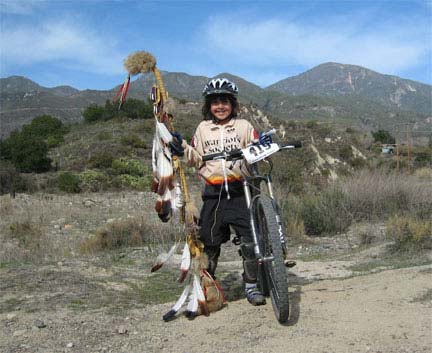 record as the youngest person to finish the Counting Coup with a time of 8:53:22.

One person that did not finish was our Trails Director and Club Elder Keith Eckstein, who missed the cutoff by minutes. He stopped too many times to help a club member with several mechanical failures and to pick up trash dropped on the course by other participants. Keith is an amazing athlete/ multi-time single speed finisher of the Vision Quest - but also and amazing person who gives so much back to the mountain bike community. Keith was recently honored by the Forest Service for donating so many volunteer hours maintaining the trails in the Santa Ana's.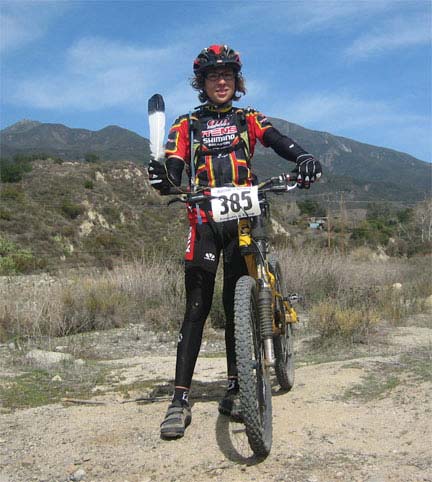 Another inspiration was 14 year-old Landon Gold who took the challenge and finished the Counting Coup despite suffering from a congenital connective tissue disease. He has amazed his doctors by his hard work on a mountain bike to overcome the disease and hold it at bay.

Challenging ourselves as Landon and all the participants in the Pow Wow did is what has come to define our human existence. The Warrior's Society sees challenge as a taste of the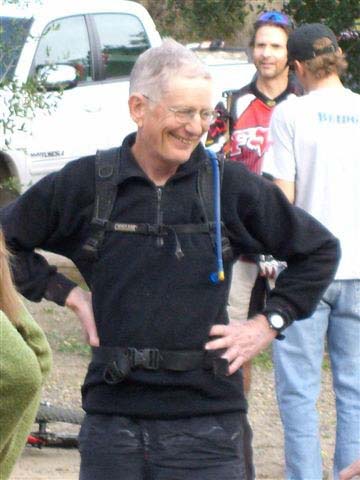 vivid color we will see in heaven, not in this life. We also understand that the freedom to challenge ourselves is built on what we give back to sustain it; Freedom is not free.

We are most alive when the physical challenges of life truly become vivid to us. Absent of free will - which gives us the ability to challenge ourselves both mentally and physically - that vividness would be but a dream. For free will to be sustained it must be built upon the bedrocks of self-responsibility and sacrifice, not just for personal benefit, but for civic benefit as well.

We could not hold this event if not for those volunteers who give back to the mountain bike and trails community. We had a tremendous turnout at our two trail work projects before the events and the trails are in excellent shape; many thanks to our trail work volunteers.

This year the club took over making the event awards after three years of farming out the work; our thanks to Becky, Suzanne, Ken, Jason, Sherry, Tim (and family) for making the awards. It takes great patience to cut, tie, bead and tie feathers for enough awards for the 300 participants.

Thanks to all our volunteers who helped pack the race packets, volunteered at the Aid Stations, act as sag riders, man our FCC licensed ham emergency communications network, provide medical support, time the event and buy, prepare and serve the lunch.

Special recognition to the following Club members:
Sherry Panttaja – Warrior's Society Executive Director of Events/Sponsorship and club Elder
Jason Martin - Assistant Event Director
Joe Lopez – Warrior's Society Director of Communications and club Elder
Suzanne Martin – Timing Director
Jim Simescu – Hospitality Director/Lead Chef
Barry Wood – Graphics Director, Web Master and event t-shirt designer
Mark and Suzanne Wilson – Aid Station #1 leaders and S&M Ride organizers
Jesse Vargas and Robin Lemonds – Aid Station #2 leaders and club Elders
Brian Ephraim – Dog Solder Burger cooker at the top of West Horse Thief
Reed Price – Assistant Event Director
Ken Rands – Assistant Event Director, Treasurer and Club Elder
Tim Panttaja – Lead Award maker
Ned "Lone Wolf" Reynolds – Back Country Trail Work Leader and club Elder
Keith Eckstein – Warrior's Society Trails Manager and club Elder
Bob Haislett – Warrior's Society Senior Chief/Club Elder and Thai Master
Lare-Dog – Warrior's Society Safety Officer and Club Elder who provided medical support and kept a constant watch on Black Star to keep it drained prior to the event to prevent the mud from building up
Bob "Howls at the Moon" McCarter – Mobile Medical support and "Howls at the Moon" ride organizer
Paramedic/CHP Sergeant Jay Gentile and his fellow CHP officers/paramedics who provided mobile medical support on Dual Sport Motorcycles and all our other dual sport course marshals
Thanks to the SOARA Ham Radio Club for the use of their repeaters to create our communications network and to their members who manned it. We also appreciate the help of Randy Matson and the Holy Jim Fire Department who helped keep the roads clear and provide medical support at Aid Station 2. We also thank District Ranger Keith Fletcher and Recreation Officer Virgil Mink of the U.S. Forest Service as well as Ron Slimm and his staff at O'Neill Regional Park.
And thanks to all our volunteers who helped out!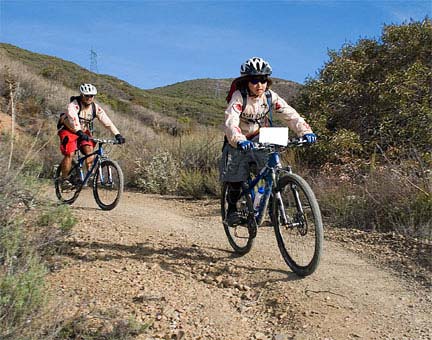 Many thanks to all our sponsors including our Major Sponsors Shimano, Manitou, Clif Bar, Cytomax, Rock N Road Cyclery and Sho-Air International. Many thanks to our contributing sponsors Switchback Cyclery, Coca Cola/Simply Orange, Thrifty Vegetable, Core Chiropractic, The Other Room Web Design, The PATH, BikeMine, Share, Trails4All, The DiPasquale Family, EdgeCycle Sports, Voler, Hoss clothing and Hint.

The action photos taken at the event for sale have been posted here.

We have a lot of lost and found items at Switchback Cyclery in Orange where we also have club and "Vision Quest" finisher hats for sale. To see if we have a lost item of yours call the shop at (714) 628-3913.

Our next event will be the Toad Festival in early May (date and course to be determined) to benefit the Juvenile Bipolar Research Foundation followed by "The Traverse" on Saturday, June 9th. Registration for both these events will open up in early April.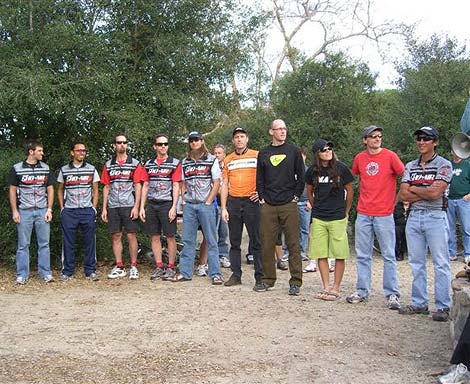 While all the attention may be focused on the top finishers, we want to remind you that the Vision Quest and Counting Coup are not about who finishes in the top 20. The most inspiring stories are those of participants that never attempted events such as the Counting Coup and Vision Quest. The worry on their minds is not of finishing in the top 20 in their event; it is in just finishing.

The joy they express is what defines the soul and purpose of the Counting Coup and Vision Quest; to provide an opportunity to achieve a triumph that will never be forgotten.

For those of you that did not finish we leave you with this thought; though failure is the fear of all of us, the absence of failure, like the absence of suffering for our decisions made of our own free will, would be a life not of choice but one of pre-destination; to us a gray and dark life not worth living.

We do not know the mind of the Great Spirit - but we try to understand him in the life he has placed us - and always find ourselves blessed by his grace and the paradox of his wisdom.

The one lesson we have learned is that triumph cannot be achieved without taking that first step of believing in your self; and that is the first victory on the road to success.

As was stated in the opening ceremonies - we leave you with these wise words spoken by President Theodore Roosevelt:

"It is better to try big things, even though checkered by failure, than to rank with those poor souls who neither enjoy much nor suffer much."

Ya Ta Hey!!!

Chris Vargas and Sherry Panttaja
AKA "Dances With Hornets" and "Stands Her Ground"
Executive Directors of the Warrior's Society
---
The Night Before Vision Quest
Author unknown

Twas the night before Vision Quest, and all through O'Neill Not a creature was stirring. Not even!? For-real! The bikes were all strung in the trailers with care, in hopes that Mr. Vargas soon would be there;

The spinners were nestled, all snug in their beds, while visions of finishing danced in their heads; And Nagaredama in his Giro, and I in my Bell, had just settled down before tomorrow's long hell,

When out on the tarp there arose such a clatter, I sprang from the sack to see what was the matter. Away to the zipper-door I flew like a mole, tore down the zipper and looked out the hole.

The moon on the blades of the newly-grown grass Gave the luster of mid-day, like a hucker's bared ass, when, what to my wondering eyes should appear, But a miniature peloton, all grinding nine-gears,

With a mop-haired leader, so red-eyed and gloss, I knew in a moment it must be Downhillross. More rapid than eagles his coursers they came, and he Dude!ed, and high-fived, and called them by name;

"Now, MAXWELL! Now, LACEY! PSHLOSS and OCRIDER! On, LBMTB! On CHELLE! On, SAUCE and LADDJASPER! To the top of the Divide! To the top of the Peak! Now dash away! Dash away! And get you some sleep!"

As oak leaves that before the wild hurricane fly, when they meet with an obstacle, mount to the sky, So up to Black Star the coursers they flew, with packs full of water, and CLIF bars stashed too.

And then, in a twinkling, I heard on the street the clip and unclipping of each little cleat. As I drew in my hand, and was turning around, in the tent Downhillross came with a bound.

He was dressed all in lycra, from his head to his foot, and his clothes were all tarnished with ashes and soot; a small sack of nugs he had brought from Bombay, and he looked like a roadie, just a wee bit fay.

His eyes -- how they squinted! his dimples how merry! His cheeks were like roses, his eyes red like cherry! His droll little mouth was drawn up like a bow, he pulled out a Bic and worked on his glow.

The stump of a pipe he held tight in his teeth, and the smoke it encircled his head like a wreath; He had a broad moon face and a big munchie-belly, that shook, when he laughed like a tube of Hammer-Gelly.

He was chubby and plump, a DHer in tight spandex, and I laughed when I saw him, as I glanced at my Rolex; with a wink of his eye and a twist towards the floor, he pursed his lips together and blew smoke out the door.

He spoke not a word, but went straight to his work, air-filled the tubeless; then turned with a jerk, and laying some pro-link along each chain, he bled all the hydros and prayed for no rain;

He sprang to the Chumba, gave his cow-bell a jingle, in spite of the bike, he still looked like a dingle. But I heard him exclaim, as he rolled out of sight,

HAPPY VISION QUEST TO ALL, AND TO ALL A GOOD-NIGHT!!!



» Vision Quest finishing times
» Counting Coup finishing times

Other pages with Pow Wow pictures:
» www.egofoto.com

---