Shimano Sundown Sprint Series - Race #2 Wrap-up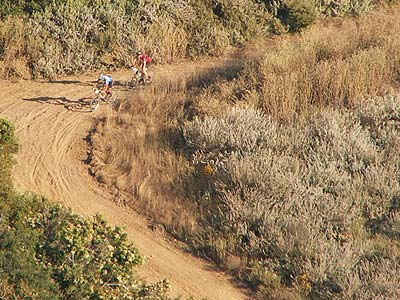 Story by Chris Vargas
Photos by Club photographers Bob McCarter and Mark Cluttey
Special thanks to Doug at Geoladders for the podium photos

The Shimano Sundown Sprint Series can best be summed up by Sherry Panttaja of Switchback Cyclery:

"What more can I say but 'What Fun!'...we had so much fun tonight at the race... the atmosphere is great, friends are great, racing is great, everything is fun fun fun!!!

Thanks for putting on this series...we only hope there will be more for us all in the future... ummm Cyclocross locally sounds great...

And thanks for this opportunity for Camron to shine! I can't tell you what it has done for his self esteem....he has been watching all the Lance Armstrong stuff and now he says he wants to be like Lance... hang on for the ride!"

Treve Misemer also weighed in on the series:

"As always, thanks again for putting on another great event. I tried to thank as many of the volunteers on the course as possible, but with little oxygen available, it was a tad difficult.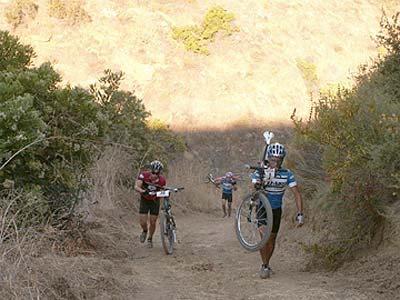 The thing that I have noticed after the two events is the fun atmosphere as we all suffer together. The 'hey, how ya doin' or even 'good job' from fellow racers as we pedal on. I and two other racers were trying to figure out how the hike-n-bike could be harder as we pushed along. We decided that it should be a little steeper, softer, and we should push 40lb downhill bikes instead. This distracted us for at least 50 ft of the hill.

I know that your goal is to have this be a fun event, and as my report from the bike seat has shown, it is working.

Thanks again and long live the non-lemans start."

So far by vote the participants have avoided a Lemans start. But at the next event we'll make sure that there are no cars blocking access to the start from the baseball field; we will have a Lemans start.

Many participants commented that the course was faster thanks to all the bike traffic from the first event (and the pre-view rides) that have compacted the trails and fire roads used in the course. We also lucked out with no severe injuries on the Warrior's Trail, although one participant did get a little road rash on his face from a get-off; but that did not stop him from finishing 3rd in his class.

Rachel Park was not so fortunate at the first race of the series. She had a bad get off on the Warrior's Trail - and because of her attitude after the crash - was awarded the Oakley "No Pain No Gain - Blood and Guts Award" at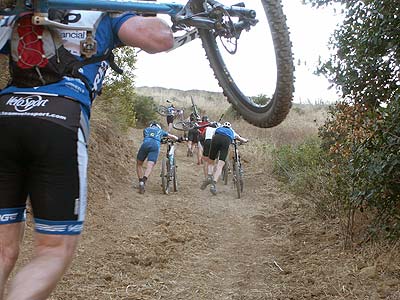 the Series #2 awards ceremony. Rachel, still recovering from her crash, volunteered as medical support (she's a nurse) at the base of the Warrior's Trail.

We had enough kids under 14 to have a separate 14 and under class, which was won by 11-year old Camron Panttaja, a member of the Warrior's Society Junior Race Team. The was the first race for Loren Wood, the daughter of Club Director Barry Wood, and Ericka Huth, the daughter of Warrior's Society nominees Mary and Gerry Huth. Ericka's mother Mary is the only female competing in the Shimano Sundown Sprint Series and is one heck of a rider! The kid's course did not include the Warrior's Trail; they rode a bypass to the base of it and then continued on (much to Camron's disappointment).

We also had our free kid's race, which was well attended. The funniest thing is all the kids that live in the mobile home park at the Flying B are constantly asking one of our club members that also lives there about the next race. They were so jazzed at being able to race at the 1st race that they could hardly wait for the second event.

As far as the hammer-heads, it was a real battle for the two Open Race leaders with a new course record set.

Manual Prado had the fastest time finishing at 24:33. Manual also had the fastest time at the first race of the series with a time of 25:15. Manual and the second place finisher Dana Weber really battled it out for first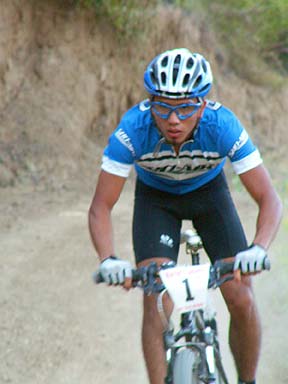 place; it was a photo finish with Manual beating Dana by only 1 second! Club Photographer Bob McCarter, who positioned himself on the last downhill, noted:

"Towards the end, where I was getting shots on the last down hill, I was surprised how far in front of the 'pack' (if you could call it that), the leaders were. Manny and Dana Weber passed me and it was 3-5 minutes before I saw the next rider. Then, the riders trickled through almost one by one, spread out by at least 30 seconds apiece, maybe a minute. Rarely did I find 2 riders in my viewfinder."

The fastest Singlespeeder was Brad Stephenson with a time of 26:44. The complete finishing times, by class, are listed below. Adam Maywhort had the distinction of having the slowest times but this is deceiving. Adam had the misfortune of returning from pre-running the course 13 minutes after the race started.

Adam has had terrible luck pre-running events. Last winter Adam, along with a few friends, was pre-riding the Vision Quest course doing the section up Maple Springs; they were force to turn back due to lighting and rain. On the return trip down Maple Springs the creeks rose so bad that he and another rider lost their footing trying to cross them and they lost their bikes (and almost themselves) to the rushing water. Luckily Adam and the other rider were not injured; but they never recovered their bikes (Adam's bike was brand new.)

Adam is a nominee of the Warrior's Society and has been instrumental in protecting mountain bike access in the County Park System working with Supervisor Wilson to complete the Resource Management Plan for Aliso Woods,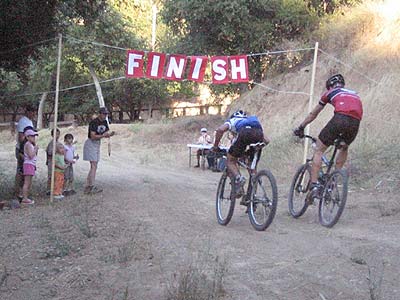 which will determine how the park's trails will be managed and what trails currently closed will be re-opened.

The series final is on Thursday, July 14th. If you're not racing the series consider showing up for the final awards ceremony. We provide a great pasta dinner to the participants for free; but food (salad, pasta, rolls, soda and beer) can also be purchased by non-participants for $5.00 for those 13 years old and up, $3.00 for kids 13 to 6 and children 5 years and under eat for free. As a special treat ice cream floats will be served for dessert at the series final.

It is important to the Warrior's Society that we create a fun family oriented atmosphere at our events; from the feedback we've been getting we have accomplished our goal, which would not have been possible with out the support of our volunteers and the help of Dan and Diane Dulac, Amy and Mark Ferguson and Alan Dean, who operate the Flying B Adventure Park. Dan and Diane even cooked dinner for the participants.

The Warrior's Society "Score Girls," Brenda, Tink and Sheryl, did another great job completing the scoring as did our Communications Director Joe Lopez and all the volunteers who acted as course marshals or medical support on the Warrior's Trail. Larry "Lare-Dog" Braham, the Chief of the Warrior's Society Dog Soldiers and Co-Event Director also kept things moving and organized during the event.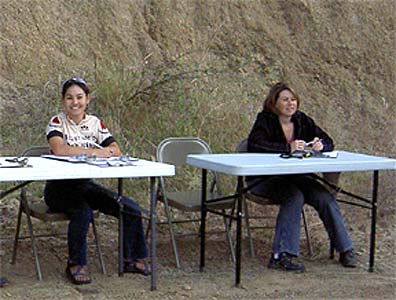 Special thanks to our official DJ Art Zippel. With the music he provided he reminded us once again of his Warrior Society name "Keeps Good Spirit." It's told that Art is the only DJ to have as many scars from riding as other DJ's have CDs.

From playing Co-Event Director Jessie Vargas' favorite ACDC to Club Director Keith Eckstein's Peter Gabriel - Art kept us in music and in stitches. In honor of the Warrior's Society Dog Soldiers (who designed the course) Art played "Who Let the Dogs Out." The Dog Soldiers consider it a compliment.

Art contributes much of his free time designing event t-shirts for SHARE and the Warrior's Society as well as providing music at their events. Remember; support those who contribute to mountain bike advocacy and support grass roots events.

If you ever need a DJ, I can heartily recommend Art. Take a look at his web site at: www.artthedj.com.

Many thanks to all our major Sundown Sprint sponsors, including, Shimano, Oakley, Manitou, Clif Bar, the Path Bike Shop, Switchback Cyclery and Cytomax. Special thanks to Red Bull for providing their energy drink to "kick start" the contestants before the event started.

For a 3D map of the course (click to enlarge) and the race #2 finishing times in Chronological order see the Geoladders web site.
Novice 36-50 years

Rick Grebner - age 42 - 34:25
Steve Ellis - age 48 - 35:54
Tom Jones - age 40 - 36:18
Treve Misemer - age 39 - 35:58
Marty Taylor - age 41 - 37:06
Adam Maywhort - age 50 - 1:00:43

Novice 19 to 35 years

Joe Crouch - age 30 - 28:48
Stuart Ames - age 33 - 30:42
Charlie Marinko - age 31 - 36:17
Winston Walker - age 34 - 38:20
Arty Azadgan - age 23 - 39:01
Carlos Ulloa - age 28 - 1:00:44

Novice 14 and under

Camron Panttaja - age 11 - 41:27
Loren Wood - (female) age 11 - 55:47
Erika Huth - (female) age 12 - 58:48

Open 36-50 years

Pablo Garcia - age 36 - 29:38
Donald Jackson - age 48 - 32:46
Mike Foy - age 40 - 32:49
Robert Walker - age 43 - 32:51
Paul Vujovich - age 43 - 32:55
Ed Runyon - age 41 - 35:18
Mary Huth - age 43 - 38:19

Open 18 to 35 years

Manuel Prado - 24 - 24:33
Dana Weber - age 24 - 24:34
George Munoz - age 22 - 26:17
Noah Holcomb - age 21 - 31:11
Michael Morrell - age 33 - 31:38

Novice 18 to 15

Kyle Schwartz - age 18 - 33:08 (on singlespeed)
Trung Nguyen - age 18 - 37:13

Open Single Speed

Brad Stephenson - age 40 - 26:44
Josh Jacquot - age 31 - 27:21
Drew Lazenby - age 28 - 28:16
Mark Scheetz - age 43 - 29:10
Keith Eckstein - age 47 - 30:01

The Sundown Sprint Series final is Thursday, July 14th.

The cost the series final is $25.00 and includes dinner (salad, rolls, pasta, beer and soda) after the event. If you entered at least two of the events of the series you will receive a pair of Warrior's Society bike socks.

At the end of the series the participants with the top 3 fastest times will be awarded the following prizes:

Fastest time - Shimano components 2nd Fastest time - Manitou Shock 3rd Fastest time - Oakley sunglasses

We will also be recognizing the fastest female, fastest singlespeeder and youngest racer.

Larry "Lare-Dog" Branham, the designer of the course and the leader of the Warrior's Society "Dog Soldiers" will be awarding beaded gold, silver and bronze Coup Feathers to the top 3 series finishers in each class.

In addition, the top 3 finishers in each Open Class will receive free 2006 Vision Quest event comps and the top 3 finishers in each Novice Class will receive free 2006 Counting Coup event comps.

We will have same day registration open from 4:30 p.m. to 6:00 p.m. The course will also be open to pre-ride from 4:30 p.m. to 6:00 p.m. the day of the event. Only those registered to race will be allowed on the course.

You can register for the series final on July 14th on Active.com

You can also print out an application.

The read the wrap-up on the first race of the Shimano Sundown Sprint Series (with pictures) on our web site.