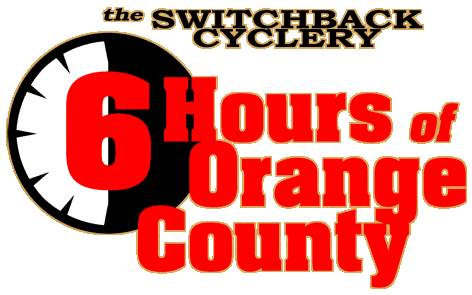 The Switchback 6-Hours of Orange County
By Chris Vargas and Sherry Panttaja
Photos by Jeroen Bosboom, Darin Maxwell, Mike Caffrey, Bob McCarter, Kim Slingerland, Scott Tedro
Web editor Barry Wood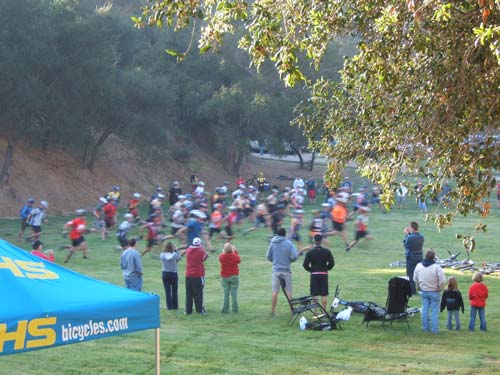 Little did I know that the donation Sherry and Tim Panttaja gave the Warrior's Society after the last race of our Sunset Sprint Series would result in one of the most successful events we have ever promoted, especially considering we had never promoted this type of event.

When I first proposed using the money to promote an event Sherry and Tim suggested a 6-hour event and Sherry stepped up and became a Co-Event Director responsible for the transition area, timing and the final scoring of the event. She also took in last minute apps at her shop, and with the help of Suzanne and Jason Martin, made all the lap count punch cards. Sherry also rounded up all the volunteers, including her employees, to help her with the timing and scoring. I can say with all honesty that the event would not have been possible without the support of Sherry and Tim. Switchback Cyclery is well known for their dedication and support of grass-roots mountain biking.

I asked Sherry to share with you all some of her thoughts:

An experience I will never forget... after competing in several 12 and 24 hour events in my last 10 years of mountain biking who would have thought I would have been putting on a 6 hour endurance race...

Why 6 hour? Tim and I wanted to do a 6 hour race to introduce the sport of endurance racing at a level that recreational riders might try. 6 hours is less intimidating then riding for 12 or 24 hours.

With the help of the Warrior's Society this all became possible for us to give to our friends, customers and fellow biking population an event they'll remember, and overall, walk away with an accomplished feeling.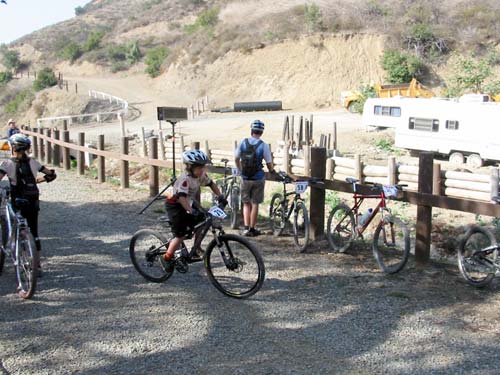 It was a wonderful feeling to have participants patting me on the back and commenting on how much fun they were having. Everything ran as smooth as can be expected for such an event with 179 participants. And with the experience of this race under our belts we are already planning on next year's event.

Memorable moments:

Of course for me it is seeing the Jr. rider's out there tearing it up. Our youngest rider, Troy Sladeck (at 8 years old), pushing the pace of all the adults. It was great seeing the Warrior's Racing Jr. team pushing their hardest and little Ericka Huth offering up to do another lap because her next rider wasn't in the transition area yet.

Watching Warrior's Racing Jr. Team Captain Camron Panttaja pack up his camelbak to take supplies up to the top of the Lare-Dog Trail to give snacks to the course Marshall who said he was hungry. In the middle of his race he was worried about others...too darn cute.

Watching the husband and wife team of Garrett and Kym Slingerland tear it Up on the course on their ridgid singlespeeds and do 12 laps...only one Other team beat them and that was Manny Prado and George Munoz with a total of 13 laps.

Watching the participants in the 56 and up category and hoping that I am ever in as good of shape as they are.

What impressed me the most was all the support from our volunteers. It wouldn't be possible without them. The poor girls being bombarded by sweaty punch cards and Suzanne and Jenny keeping it all together with the times (a job I would never be able to do). Those first few laps were scary with so many riders coming thru the timing station all at once.

The support staff out on the course for 6 hours...that is longer then Any other endurance race expects out of a single person - and not one of them complained.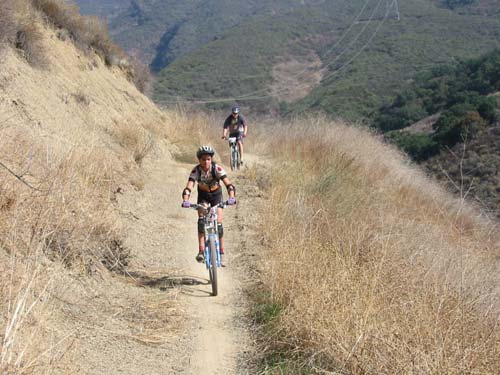 A special round of applause to the parents Tim Panttaja, Maxwell and Jim Sladeck for pacing the kids the whole day and making sure they were safe. They deserve an award for sitting in the background while their kids get the spot light.

I could go on and on with memorable moments. A special thanks to all our customers at Switchback Cyclery for participating in the event after being pressured by me every time you came in the shop.

We will never forget our 1st Switchback 6 hours of O.C. ...I look forward to the many to follow.

Sherry @ Switchback Cyclery

The event would also not have been possible without the support of the leader of the Warrior's Society Dog Soldiers, Larry "Lare-Dog" Branham, who designed the Lare-Dog Trail as well as all the club members and nominees who donated their time on Tuesday and Thursday evenings to build it.

Club Marketing Director and Web Master Barry Wood did a great job of designing the Switchback 6-Hour Event t-shirts as well as setting up the registration on Active.com. Our Communications Director Joe Lopez and crew kept us well informed whenever anyone went down or had mechanicals on the course. Luckily, the only injuries we had was one minor concussion and many abrasions as several participants paid the price of going down on the Warrior's Trail.

We are also grateful to the "Official DJ of the Warrior's Society," Art Zippel, for providing excellent entertainment at the event. Core Chiropractic also did a great job of providing massage to the participants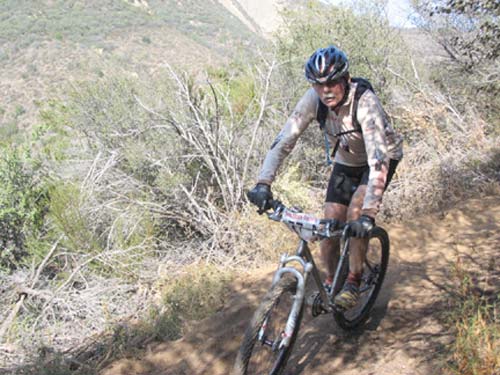 using a new technology that most professional teams (and many elite athletes) now use called DMS (deep muscle stimulator). We hope to have Core Chiropractic at our 2006 Mountain Bike Pow Wow.

Of course without the support of the Flying B Ranch, including Amy Ferguson, Mark Ferguson, Dan Dulac and Diane Dulac, we would not have a venue for the 6-hour event and the 3 new events we have planned in 2006; the Cytomax Spring Mountain Bike Classic, the 24-Hours of Orange County and the Fall Mountain Bike Classic.

We had a wide range of ages participating in the event. The oldest competitor was club member Bob Haislett (73 years old). Bob holds the record for the oldest person to finish the Vision Quest, both on a geared bike (at age 70) and on a single speed (at age 71). Bob and his partner Terry captured the 2 Man 55 and older class at the event.

As Sherry mentioned, the youngest competitor was club member Troy Sladeck (8 years old), who was part of a 3 person coed Warrior's Racing Jr. Team made up of Lacey Maxwell and Erica Huth (2 laps a piece for a total of 6 laps). Troy had a 41 minute lap time on the Novice Course. Troy is the 2005 NORBA National Trials Champion for his age group and holds several 2005 series championships.

Our youngest Solo Expert racer was Warrior's Society Jr. Race Team Captain Cameron Panttaja (age 11), who did 4 laps. Cameron was also the series champ for his age group at the Sunset Sprint Series.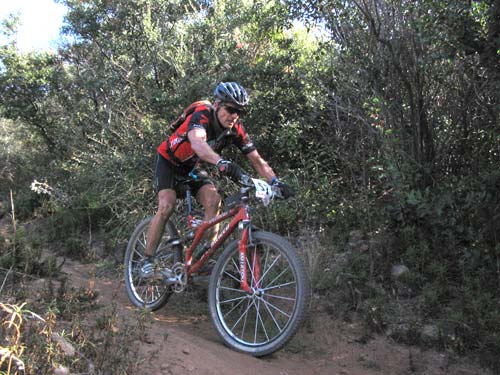 Our oldest male Solo racer was 61 year old Preston Drake (7 Laps). Preston is a very competitive athlete who has also volunteered at our trail work events along with his wife Angelika, also no slacker when it comes to endurance.

The riders with the fastest lap times (25 minutes) were the winning two man expert team George Munoz and Manny Prado.

We are very thankful to everyone who participated. We received great suggestions from you to improve our future events at the ranch. It is important to us to listen to your feedback and give you events you'll never forget; we aren't like regular promoters - your input counts.

Our Trails manager at the Ranch, Larry Branham, will be supervising cross-country trail designers Eron Boyer and Jason Martin in the construction of two new single tracks to be used for our future cross-country events at the Flying B. Larry will also be working with James Sladeck, our downhill course designer to try to get our downhill course constructed so we can have a downhill event at the Cytomax Spring Mountain Bike Classic in April.

In my discussion with Sherry we talked about what drives the Warrior's Society, both physically and mentally and what we hope to impart on our event participants and volunteers. This drive is best summed up by Theodore Roosevelt:

"It is better to try big things even though checkered by failure, than to rank with those poor souls who neither enjoy much nor suffer much."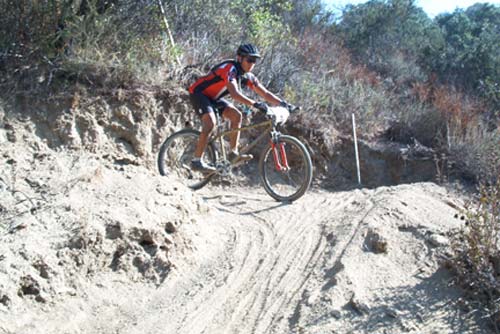 The Warrior's Society is driven to challenge ourselves in trail work, advocacy and events; and sometimes it is a wild ride. To not challenge ourselves would be a safe existence - but would it be a satisfying one?

If mankind has a purpose, what purpose would mankind have if there is no chance of failure? Would our events be as fun for you if there was no chance of failure? Would they be challenging?

Would life be worth living if no matter what the outcome or our actions we would be safe and contented?

How can man achieve true greatness if there is no risk of failure?

I have come to realize that living life on "edge" can scare the hell out of you - but the alternative of accepting a "dull" life is indeed a self imposed hell.

And from the performance of our participants at the Switchback 6-Hours of Orange County it is apparent that living life on the edge is what drives them; they rose to the challenge.

Our next event is the 2006 Mountain Bike Pow Wow to be held on Saturday, March 4th. The Mountain Bike Pow Wow consists of two events;

The Vision Quest - 56.5 miles with 11,000 feet of total elevation gain and 2 miles of hike a bike.

The Counting Coup - 40 miles with 8,000 feet of total elevation gain.

Participation is limited to 250 and we sell out every year so if you are up to the challenge and like living life in the edge register ASAP to insure a spot in one of the events.

You can download an app for the Vision Quest here or you can register for the Vision Quest on Active.com

You can download an app for the Counting Coup here or you can register for the Counting Coup on Active.com

Club member Jeroen Bosboom posted the pictures he took on the Warriors Trail on his server.

To view the results click on this link.

To pick up your individual solo and team score sheets (with your lap times) visit Switchback Cyclery in Orange on Chapman Ave at Prospect (southeast corner). While you're at Switchback thank Sherry and Tim for helping to make this event happen.

Many thanks to the our Major Sponsors; Switchback Cyclery, The Flying B Adventure Park, The Other Room Web Design, Manitou, Shimano, Cytomax and Clif Bar.
---