By Chris Vargas
Photos by Winston Walker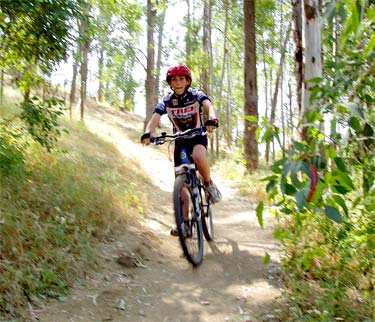 We had a great turnout on a beautiful day to ride! All the kids were excited and raring to go and after a few instructions on safety and trail etiquette by ride leader Sherry Panttaja, the owner of Switchback Cyclery and one of the sponsors of the rides, we were off.

We started off riding an easy trail that went around the northwest side of Peter's Canyon Reservoir for a quick warm up. We soon came upon our first climb, a short but steep one, and the kids went for it. Although only one of the "Young Braves" climbed it without walking (Camron age 11, Sherry's son) they all made it to the top.

We came to our first descent and the kids were game. One of the mothers that joined us for the ride, after a little instruction in body positioning when going downhill, for the first time rode this section without walking. All of the kids gave it a try, even one of the younger girls on a single geared bike. Although she ended up walking it was great seeing her attempt it.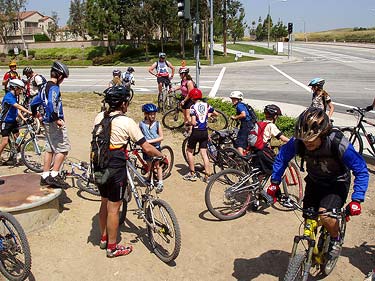 Now it was time for "Big Red," the hardest climb in Peters Canyon. All but the youngest kids attempted it and Camron (who is like the Eveready Rabbit when it comes to climbing) made it.

We then climbed and descended the east ridge of Peters Canyon to the back of the park and returned via the dirt road that runs through the park. On the way back to the parking area we stopped at the base of "Big Red" and several of the kids decided they wanted one more climb and attempted to climb it again. If we could only bottle these kids's energy and enthusiasm we'd make a mint.

Tani Walling, owner of The PATH Bike Shop and one of the sponsors of the "Young Braves" program entertained us with his trials skills, hopping up on various obstacles.

Watching the kids ride brings out the kid in all of us, and as a parent, that is what is so great about our "Young Braves" rides.
-Chris
---